Shopping vouchers for breastfeeding set for wide-scale trial
 Over half of all eligible mothers signed up to the feasibility study
A third of mothers claimed vouchers for breastfeeding their baby up to eight weeks
Large-scale trial will now be offered to more than 4,000 mothers
A pioneering project aimed at boosting breastfeeding rates in areas where levels remain stubbornly low will be tested in a large-scale trial by researchers at the Universities of Sheffield, Dundee and Brunel.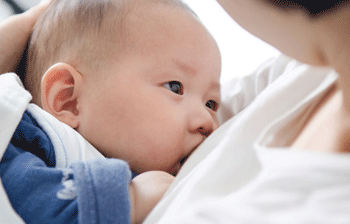 The NOurishing Start for Health (NOSH) scheme offers women £120 of shopping vouchers if they breastfeed their baby for up to six weeks and a further £80 if they continue breastfeeding to six months.
Breastfeeding has a wide range of benefits for both mothers and babies and can help prevent illnesses in children1 and also reduce the costs to the National Health Service2.
However, breastfeeding rates in the UK are among the lowest in the world with six to eight week breastfeeding levels as low as 12 per cent in some areas. If more women breastfed for longer the NHS could save more than £17 million every year in hospital admissions and GP visits2.
The wide-scale trial builds on the success of the initial feasibility phase, launched in November 2013 with over 100 women living in three areas with low breastfeeding rates in Derbyshire and South Yorkshire.
Over half of all eligible mothers signed up for the scheme, of whom almost two thirds claimed vouchers for breastfeeding their baby at six to eight weeks.
Mothers in the study reported that they felt acknowledged for their effort, with one mother describing her experience of the NOSH scheme as: "Getting something good for doing something good."
The scheme was designed by researchers and local healthcare professionals to complement existing breastfeeding support.
In the feasibility phase more than 50 midwives and health visitors helped women sign up to the scheme. One midwife commented: "If more mums breastfeed because of the scheme, then it's worth doing."
Midwives and health visitors co-signed the forms used by breast-feeding mothers to claim the shopping vouchers. A Sheffield midwife said: "I don't think it's difficult to tell if a woman is breastfeeding as you are talking to them about breastfeeding anyway."
Mothers taking part in the project reported spending the vouchers on groceries as well as nappies, baby clothes and toys. Some women used the scheme to set personal goals, and saw the vouchers as a reward for breastfeeding for two days, 10 days, six weeks, three months and six months.
One mother in the feasibility study said: "Sometimes you think 'should I just move on to the bottle now?' and then I think 'oh but then I won't get the money to be able to treat them', so it does help."
Principal investigator Dr Clare Relton from the University of Sheffield's School of Health and Related Research (ScHARR), said: "For several decades now the majority of babies in the UK have not been getting enough breast milk, and despite many efforts, this situation has not improved. Now we need to conduct the full trial to find out if offering vouchers for breastfeeding can significantly increase our stubbornly low breastfeeding rates and be a cost effective use of UK public funds.
"Last year, there was a lot of controversy about the scheme and we didn't know if it would be acceptable, so we have been delighted to see how enthusiastic local mothers and healthcare professionals have been."
Mary Renfrew, Professor of Mother and Infant Health at the University of Dundee said: "In areas where most babies are bottle fed women need support to breastfeed. This scheme could make a difference. It's great to be able to test it properly in a large trial."
The forthcoming trial will now offer the NOSH Scheme to more than 4,000 mothers in Yorkshire and Derbyshire.
Additional information
Dr Clare Relton explains the NOSH project-video
View the full paper at theLancet.com
1 Research has shown that breastfeeding has a wide range of short and long term health benefits for both mothers and babies.
Breastfed babies have:
• Less chance of diarrhoea and vomiting
• Fewer chest and ear infections and having to go to hospital as a result
• Less chance of being constipated
• Less likelihood of becoming obese and therefore developing type 2 diabetes in later life
• Less chance of developing eczema.
Health benefits for mother include:
• Naturally uses up to 500 calories a day
• Saves money
• Helps to bond with your baby
For more information please visit NHS.uk
2 Potential savings to the NHS
If mothers breastfed more and for longer, then the NHS could save a minimum of £17 million every year just for avoiding the costs of treating four acute disease in infants (GI infections, URTI infections, Otitis Media and NEC).
For more information please visit UNICEF
Financial incentives have been shown to be effective in promoting positive health behaviours. For example, financial incentives for breastfeeding have been routinely provided in the Quebec region of Canada since the late 1990s.
NOSH
The NOurishing Start for Health (NOSH) research costs are funded by the National Prevention Research Initiative (NPRI).The vouchers are supported by Public Health England (PHE).
The proposal has been peer-reviewed and the reviewers agreed that it would be valuable to understand whether financial incentives would have an impact on breastfeeding rates in areas where breastfeeding rates are low using a rigorously planned study. Specifically, the study seeks to determine whether it is possible to boost breastfeeding through financial incentives in areas where six- eight week breastfeeding rates are less than 40 per cent.
The components of the scheme were determined through work with local midwives, health visitors and mums. Participants do not get the full payments straight away and payments will not affect welfare payments.
National Prevention Research Initiative
The National Prevention Research Initiative (NPRI) is a national initiative made up of government departments, research councils and major medical charities that are working together to encourage and support research into chronic disease prevention. The initiative is co-ordinated by the Medical Research Council and the award for this study was supported by the following organisations: Alzheimer's Research Trust; Alzheimer's Society; Biotechnology and Biological Sciences Research Council; British Heart Foundation; Cancer Research UK; Chief Scientist Office, Scottish Government Health Directorate; Department of Health; Diabetes UK; Economic and Social Research Council; Health and Social Care Research and Development Division of the Public Health Agency (HSC R&D Division); Medical Research Council; The Stroke Association; Wellcome Trust; Welsh Assembly Government; and World Cancer Research Fund.
Public Health England
Public Health England exists to protect and improve the nation's health and wellbeing, and reduce health inequalities.
It does this through world-class science, knowledge and intelligence, advocacy, partnerships and the delivery of specialist public health services. PHE is an operationally autonomous executive agency of the Department of Health.
The University of Sheffield
With almost 26,000 of the brightest students from around 120 countries, learning alongside over 1,200 of the best academics from across the globe, the University of Sheffield is one of the world's leading universities.
A member of the UK's prestigious Russell Group of leading research-led institutions, Sheffield offers world-class teaching and research excellence across a wide range of disciplines.
Unified by the power of discovery and understanding, staff and students at the university are committed to finding new ways to transform the world we live in.
In 2014 it was voted number one university in the UK for Student Satisfaction by Times Higher Education and in the last decade has won four Queen's Anniversary Prizes in recognition of the outstanding contribution to the United Kingdom's intellectual, economic, cultural and social life.
Sheffield has five Nobel Prize winners among former staff and students and its alumni go on to hold positions of great responsibility and influence all over the world, making significant contributions in their chosen fields.
Global research partners and clients include Boeing, Rolls-Royce, Unilever, AstraZeneca, Glaxo SmithKline, Siemens and Airbus, as well as many UK and overseas government agencies and charitable foundations.
The University of Dundee
The University of Dundee is internationally recognised for the quality of its teaching and research and has a core mission to transform lives across society.
Dundee has particular strengths in life sciences and medical research. In Medicine, Dentistry and Nursing the University is at the vanguard in preparing doctors, dentists, nurses and researchers for tomorrow's huge healthcare challenges. The University has a significant international impact, in both teaching and research, across the health sciences, including strategic partnerships with high quality institutions in China, East Africa, India, Kuwait and Malaysia.
More than 17,000 students are enrolled at Dundee, helping make the city Scotland's most student-friendly. With high-quality teaching, world-leading research, and a £200 million investment in a compact, friendly campus with an unrivalled position in the heart of the city centre, the University of Dundee has been rated number one in Scotland and in the UK Top 10 for the past five years in the Times Higher Education Student Experience Survey.
For more information visit Dundee
Contact
For more information please contact:
Amy Pullan
Media Officer
University of Sheffield
0114 222 9859
a.l.pullan@sheffield.ac.uk