Pulling, not pushing, silk could revolutionise how greener materials are manufactured
University of Sheffield researchers have identified that silkworms 'pull' material from their bodies
Insight into how nature produces silk could influence better material manufacturing processes
Silk is a 'greener' material as it does not require the high temperatures and chemical processes of synthetic fibres
Study addresses a long-held misconception that silk is squeezed or propelled from the body
New insights into how animals spin silk could lead to new, greener ways of producing synthetic fibres, according to academics at the University of Sheffield.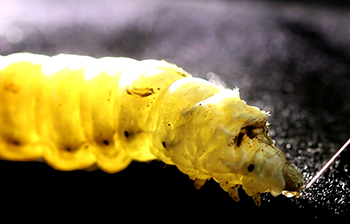 Researchers from the University of Sheffield's Department of Material Science and Engineering have shown that animals spin silk by pulling rather than pushing it out of their bodies. They suggest that if this process can be copied in an industrial setting, it could improve how synthetic materials are processed and offer more environmentally-friendly alternatives.
Conventional synthetic textiles are made by extrusion - pushing a liquid feedstock through a dye and then using high changes in temperature and exposure to harsh chemicals to solidify. However, silk can solidify into a fibre at room temperature and leave only water - therefore causing less environmental damage.
The new study, by academics at the University of Sheffield, is published in the journal Nature Communications.
Lead author Jamie Sparkes, a PhD student in the University of Sheffield's Natural Materials Group, said: "Silk is one of the most promising green biomaterials, and could be the perfect replacement for nylon and polyester based clothing.
"Traditional production process for silk is both arduous and time-consuming, but if we can bypass that by mimicking nature in an industrial setting, we could improve not only silk, but also how we process our synthetic materials."
Researchers examined how animals, including silkworms and spiders, push materials like silk out of their bodies.
Dr Chris Holland, Head of the Natural Materials Group, said: "While it is easy to assume that silk is propelled out of the body like we see in comic books, we wanted to put that to the test."
He added: "By combining computer models with experimental data and practical measurements, we determined the forces needed to squeeze unspun silk down the animals' silk gland and spin a fibre."
Jamie Sparkes added: "We found that to spin silk by extrusion (pushing), means a silkworm would have to squeeze itself hard enough to generate more pressure than a firing diesel engine.
"This isn't possible as the animal's body would be unable to contain that pressure. It seems that you can't squeeze silk like a tube of toothpaste."
However, by measuring the forces required to pull silk from the animal's body, the researchers found that it was well within the capability of the silkworm to pull a fibre, a process they refer to as pultrusion.
The researchers achieved this by adapting a rheometer, a machine used normally to measure the viscosity of liquids, into a highly sensitive spinning wheel, capable of measuring the forces needed to spin.
Dr Holland said: "If I gave you a piece of chewing gum and asked you to make me a fibre, you wouldn't push it through your teeth as it's too stiff. You'd grab one end and pull it out - and that's what the silkworm and spider do."
The research was conducted by the Natural Materials Group in the Department of Materials Science and Engineering at the University of Sheffield. It has received funding from the European Union's Horizon 2020 research and innovation programme under grant agreement No 713475, and Engineering and Physical Sciences Research Council grant EP/K005693/1.
Additional information
The University of Sheffield
With almost 27,000 of the brightest students from over 140 countries, learning alongside over 1,200 of the best academics from across the globe, the University of Sheffield is one of the world's leading universities.
A member of the UK's prestigious Russell Group of leading research-led institutions, Sheffield offers world-class teaching and research excellence across a wide range of disciplines.
Unified by the power of discovery and understanding, staff and students at the university are committed to finding new ways to transform the world we live in.
Sheffield is the only university to feature in The Sunday Times 100 Best Not-For-Profit Organisations to Work For 2017 and was voted number one university in the UK for Student Satisfaction by Times Higher Education in 2014. In the last decade it has won four Queen's Anniversary Prizes in recognition of the outstanding contribution to the United Kingdom's intellectual, economic, cultural and social life.
Sheffield has six Nobel Prize winners among former staff and students and its alumni go on to hold positions of great responsibility and influence all over the world, making significant contributions in their chosen fields.
Global research partners and clients include Boeing, Rolls-Royce, Unilever, AstraZeneca, Glaxo SmithKline, Siemens and Airbus, as well as many UK and overseas government agencies and charitable foundations.
Contact
For further information please contact:
Hannah Postles
Media Relations Officer
University of Sheffield
0114 222 1046
h.postles@sheffield.ac.uk