Soapbox Science event to inspire women to pursue STEM careers
Event aims to inspire a new generation of female scientists and engineers and encourage women to pursue careers in STEM.
The talks will showcase a diverse range of research by women at the University of Sheffield through engaging scientific stories.
Soapbox Science is open to all ages and backgrounds and hopes to engage audiences and spark an interest in science.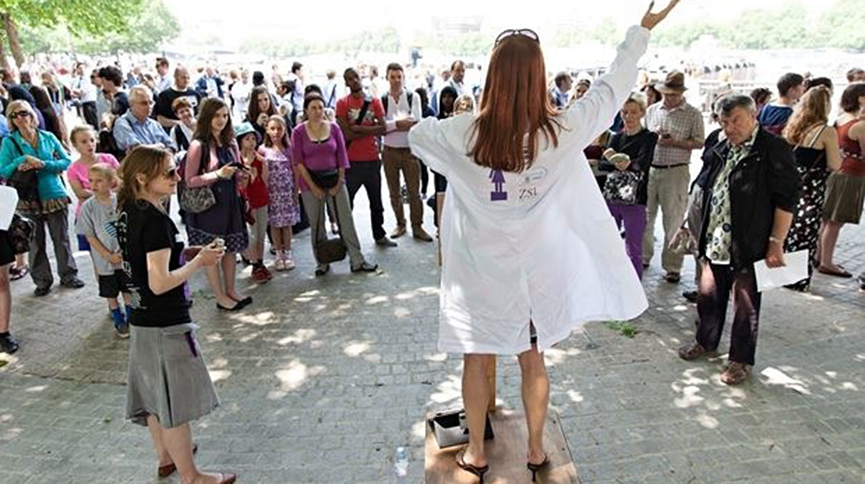 An event featuring talks from female academics at the University of Sheffield will highlight research from women in STEM (Science, Technology, Engineering and Mathematics), aiming to inspire a new generation.
Soapbox Science is taking place on Saturday 22 September outside The Moor Market in Sheffield City Centre and is open to all and free to attend.
Talks will cover a variety of topics from cosmic explosions to stem cells and Star Trek to peanut butter. Speakers will be representing different areas, including Physics and Astronomy, Animal and Plant Sciences, Bio-Medical Sciences and Civil and Structural Engineering.
The event aims to highlight the research being conducted by women at the University of Sheffield's STEM departments and bring their work to a wider audience, including those that may not usually be engaged in science.
Dr Claire Esau, the organiser, said: "Soapbox Science is almost science-based busking, aiming to draw in audiences who may not ordinarily attend a science event or even consider themselves interested in science.
"This event gives women in science and engineering a platform to promote their work and to challenge stereotypes - there is no such thing as a 'typical' scientist. I want to encourage more females, of all ages, to consider a career in science."
Highlights from the event include a talk on the power of stem cells from the Department of Biomedical Science's Dr Ivana Barbaric, the genetics of beauty across the animal kingdom from Dr Alison Wright in the University's Department of Animal and Plant Sciences and the lifespan of stars from Heloise Stevance from the Department of Physics and Astronomy.
Heloise Stevance, a PhD student in Astronomy, said: "In this talk, the crowd will learn how stars live and die, and how their deaths create some of the most powerful explosions in the universe, called supernovae, and how this amazing phenomenon releases the stardust that our planet, our bodies and everything around us are made of.
"STEM subjects still lack diversity and gender parity is still far from being achieved. If you miss out on 50 per cent of the population, you're going to miss out on 50 per cent of the talent. All fields benefit from diversity and so it is something that I am very passionate about and that the Department of Physics and Astronomy is actively encouraging."
The talks will give people the chance to meet the scientists and learn about their work through stories, discussions and interactive props whilst showing the diverse range of women working in science.
Dr Esau, from the University's Department of Physics and Astronomy, said: "There is a gender imbalance amongst professional scientists and engineers which increases further with seniority. Some young children I've spoken to have said that they've never seen a female scientist before. The preconception that only men can be scientists needs to be tackled from an early age.
"Girls can be incredibly self-conscious, and thinking that science is a 'boy subject' can put them off. We need to increase the visibility of women in science to show girls, and even their parents who can strongly influence their children's interests, that scientists can be absolutely anyone from any background."
The event will also feature talks from speakers at the University of Liverpool, Liverpool John Moores University, Aston University and the University of Manchester.
The afternoon will see 12 women step up to soapboxes to discuss their research. A full list of the talks being given on the day can be found below:
The Power of Stem Cells (Dr Ivana Barbaric, University of Sheffield)
Open Source in Evolution: how bacteria share genes (Dr Laura Carrilero, University of Sheffield)
Science Fiction to Science Fact: How Star Trek changed the world (Dr Aimee Paskins, University of Sheffield)
The Ugly Duckling: Valorisation of industrial waste (Dr Mercedes Regadio, University of Sheffield )
Stellar Deaths and Cosmic Explosions (Miss Heloise Stevance, University of Sheffield)
The Peacock's Tail and Other Stories - the genetics of beauty across the animal kingdom (Dr Alison Wright, University of Sheffield)
Why being kind to yourself can make you a better person: The science of self-compassion (Dr Fuschia Sirois, University of Sheffield)
A black carbon material "biochar" as a low cost alternative for soil remediation (Rosa Soria Penafiel, University of Sheffield)
Mirror, mirror on the wall who is the 'thinnest' of them all? A lifespan journey into body shape (mis)perception (Dr Valentina Cazzato, Liverpool John Moores University)
Peanut butter, palm oil and peat; getting un-stuck in the mud (Dr Lydia Cole, University of Liverpool)
Why men should be asking for the cervical cancer/HPV vaccination (Dr Gillian Knight, Aston University)
Fungi – how they help us make better biofuels (Dr Jolanda van Munster, University of Manchester)
Additional information
The University of Sheffield
With almost 29,000 of the brightest students from over 140 countries, learning alongside over 1,200 of the best academics from across the globe, the University of Sheffield is one of the world's leading universities.
A member of the UK's prestigious Russell Group of leading research-led institutions, Sheffield offers world-class teaching and research excellence across a wide range of disciplines.
Unified by the power of discovery and understanding, staff and students at the university are committed to finding new ways to transform the world we live in.Sheffield is the only university to feature in The Sunday Times 100 Best Not-For-Profit Organisations to Work For 2018 and for the last eight years has been ranked in the top five UK universities for Student Satisfaction by Times Higher Education.
Sheffield has six Nobel Prize winners among former staff and students and its alumni go on to hold positions of great responsibility and influence all over the world, making significant contributions in their chosen fields.
Global research partners and clients include Boeing, Rolls-Royce, Unilever, AstraZeneca, Glaxo SmithKline, Siemens and Airbus, as well as many UK and overseas government agencies and charitable foundations.
Contact
For further information please contact:
Harry Clulow
Media and PR Apprentice
University of Sheffield
0114 222 1047
h.clulow@sheffield.ac.uk