UK's first liquid gallium SAXS instrument opens in Sheffield
A new £2 million laboratory opens at the University of Sheffield today (7 October 2016) providing Northern Powerhouse scientists with the ability to analyse the structure of nanomaterials in unprecedented detail.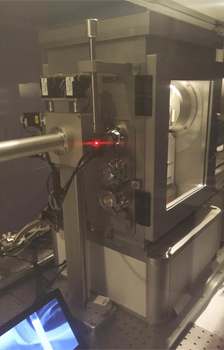 Experiments which previously had to be scheduled many months in advance at the Diamond Light Source, the UK's synchrotron facility in Oxfordshire or the European Synchrotron Radiation Facility in Grenoble, France, can now be conducted immediately in Sheffield.
The Soft Matter Analytical Laboratory (SMALL) – part-funded by the Engineering and Physical Sciences Research Council – will use rheology and X-ray scattering techniques to enable faster advances in the study of polymers, soft matter and colloids. This research has applications in industrial sectors as diverse as medicine, energy, chemicals, cosmetics, engine oils, food and electronics.
The centrepiece of the new SMALL facility is a Small Angle X-ray Scattering (SAXS) instrument, built by French company Xenocs, the first of its kind in the UK to use a liquid gallium MetalJet X-ray source. This state-of-the-art design produces a high-intensity X-ray beam that enables scientists to study changes in larger structures over shorter time scales than previously possible.
Senior scientist, Dr Oleksandr Mykhaylyk, who will manage the facility, explains: "Conventional solid metal anodes cannot be easily cooled and can melt if used at high power. Because gallium is liquid at room temperature, this problem is avoided with the MetalJet, producing an X-ray beam that is up to 100 times brighter than our old instrument.
"This means we can analyse samples within minutes, rather than several hours. The smallest structures that we can study are close to the size of atoms, while the largest structures are up to 700 nm, which is approximately 100 times smaller than the width of a single human hair."
Professor of Polymer and Colloid Chemistry at the University of Sheffield, Steve Armes says: "This instrument will significantly enhance our soft matter research capability because it will enable Sheffield scientists to perform measurements at their own institution with 24/7 access."
The new SAXS instrument also enables analysis of the dimensions and structure of thin films, such as semiconductors or the active components of solar cells. "Such measurements were previously only possible at a synchrotron facility, but we can now perform these experiments in Sheffield, instead of waiting for several months to access to specialist equipment elsewhere." says Dr Mykhaylyk.
"This new SMALL facility will ensure that Sheffield scientists remain at the forefront of research in polymer chemistry, soft matter physics and materials science for the next decade."
Professor Philip Nelson, Chief Executive, Engineering and Physical Sciences Research Council (EPSRC), said: "The opening of this laboratory represents an important step forward in the study of nanomaterials in the UK. Despite the minute size of the matter that will be analysed, work at SMALL could have a big impact and wide-ranging implications, with potential applications in fields ranging from medicine to energy.
"Funding for SMALL followed an EPSRC Experimental Equipment Call designed to update and upgrade specialist equipment in universities across the UK and support our portfolio of world-class research."
The laboratory officially opens on 7 October 2016. As well as being available to researchers across the University of Sheffield – a major centre for materials research – this facility will also be open to scientists from the other N8 universities: Leeds, Manchester, Durham, Liverpool, York, Lancaster and Newcastle.
Additional information
The Engineering and Physical Sciences Research Council (EPSRC)
As the main funding agency for engineering and physical sciences research, our vision is for the UK to be the best place in the world to Research, Discover and Innovate.
By investing £800 million a year in research and postgraduate training, we are building the knowledge and skills base needed to address the scientific and technological challenges facing the nation. Our portfolio covers a vast range of fields from healthcare technologies to structural engineering, manufacturing to mathematics, advanced materials to chemistry. The research we fund has impact across all sectors. It provides a platform for future economic development in the UK and improvements for everyone's health, lifestyle and culture. 
We work collectively with our partners and other Research Councils on issues of common concern via Research Councils UK. www.epsrc.ac.uk
The University of Sheffield
With almost 27,000 of the brightest students from over 140 countries, learning alongside over 1,200 of the best academics from across the globe, the University of Sheffield is one of the world's leading universities.
A member of the UK's prestigious Russell Group of leading research-led institutions, Sheffield offers world-class teaching and research excellence across a wide range of disciplines.
Unified by the power of discovery and understanding, staff and students at the university are committed to finding new ways to transform the world we live in.
Sheffield is the only university to feature in The Sunday Times 100 Best Not-For-Profit Organisations to Work For 2016 and was voted number one university in the UK for Student Satisfaction by Times Higher Education in 2014. In the last decade it has won four Queen's Anniversary Prizes in recognition of the outstanding contribution to the United Kingdom's intellectual, economic, cultural and social life.
Sheffield has six Nobel Prize winners among former staff and students and its alumni go on to hold positions of great responsibility and influence all over the world, making significant contributions in their chosen fields.
Global research partners and clients include Boeing, Rolls-Royce, Unilever, AstraZeneca, Glaxo SmithKline, Siemens and Airbus, as well as many UK and overseas government agencies and charitable foundations.
Contact
For further information please contact:
Sean Barton
Media Relations Assistant
University of Sheffield
0114 222 9852
s.barton@sheffield.ac.uk