Innovations in soil science will grow the solutions to global food security
Soil science will be fundamental in overcoming the growing threat of global food and fuel crop shortages as the world's population continues to rise, according to innovative research by a University of Sheffield expert.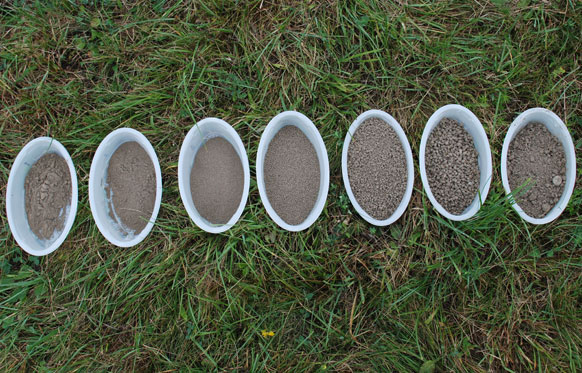 Professor of Environmental Engineering Science Steve Banwart, of the University's Department of Civil and Structural Engineering, collaborated with the Natural Environment Research Council (NERC) and the Environmental Sustainability Knowledge Transfer Network (ESKTN) in a report published by the Royal Society of Chemistry (RSC).
The report says soils will play a central and critical role in delivering enough food and fuel crops to sustain the increasing global population.
Securing Soils For Sustainable Agriculture highlights a number of actions that must be taken to ensure that the UK soil research is at the forefront of technological advances in this area.
Professor Banwart, who co-authored the report, said: "Our research consortium has shown how plants and soil fungi work together to direct the solar energy captured by photosynthesis into the root zone to target and extract specific nutrients from soil minerals.
"Advances like this are paving the way for precision agriculture, where crops and soil are managed together to gain a much more targeted and efficient uptake of nutrients. It's exactly the type of science that the UK can utilise for new agricultural technology that increases production and reduces the demand for energy and chemical inputs to fields."
UK research is well-positioned to support the development of new soil technologies to enable this. The UK has a strong international reputation in soil science and an unrivalled catalogue of soils data. It is also an important location for research and development and production for a number of multinational agricultural technology companies.
The report calls for long-term, sustained funding for soil science, and recommends four priority areas around which clear interdisciplinary research can be developed in the near-term to generate new technologies that will increase crop production and reduce resource use:
• Biosignalling and sensors for precision monitoring and control of crop conditions
• Closed-loop systems for recovering plant nutrients such as phosphorus from waste
• Integrated computational models of plant-soil-water to design new crop technologies
• Innovation in plant nutrient and water use efficiency to reduce resource demands.
Other recommendations include the need for improved interdisciplinary working between the industrial agricultural sector, higher education institutions, environmental non-Government organisations, and Government, as well as across the disciplines of chemistry, biology, physics and engineering.
Additional information
The report, Securing Soils for Sustainable Agriculture – a science led strategy, can be downloaded from the Royal Society of Chemistry website: http://www.rsc.org/ScienceAndTechnology/Policy/Documents/SustainableSoils.asp
The University of Sheffield
With nearly 25,000 students from 125 countries, the University of Sheffield is one of the UK's leading and largest universities. A member of the Russell Group, it has a reputation for world-class teaching and research excellence across a wide range of disciplines. The University of Sheffield was named University of the Year in the Times Higher Education Awards 2011 for its exceptional performance in research, teaching, access and business performance. In addition, the University has won four Queen's Anniversary Prizes (1998, 2000, 2002, and 2007).
These prestigious awards recognise outstanding contributions by universities and colleges to the United Kingdom's intellectual, economic, cultural and social life. Sheffield also boasts five Nobel Prize winners among former staff and students and many of its alumni have gone on to hold positions of great responsibility and influence around the world. The University's research partners and clients include Boeing, Rolls-Royce, Unilever, Boots, AstraZeneca, GSK, ICI, Slazenger, and many more household names, as well as UK and overseas government agencies and charitable foundations.
The University has well-established partnerships with a number of universities and major corporations, both in the UK and abroad. Its partnership with Leeds and York Universities in the White Rose Consortium has a combined research power greater than that of either Oxford or Cambridge.
Contact
For more information please contact:
Paul Mannion
Media relations officer
The University of Sheffield
0114 222 9851
p.f.mannion@sheffield.ac.uk