Solar cell fabrication is simplified by spray painting
Solar cells made using a process like spray painting have been developed by a research collaboration between scientists at the University of Sheffield.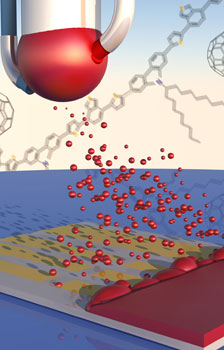 The method could potentially reduce the cost of solar cells significantly meaning the technology could be provided to people in developing countries and perhaps one day be used on glass in buildings or car roofs.
Experts from the University of Sheffield's Department of Physics and Astronomy and the University of Cambridge have created a method of spray-coating a photovoltaic active layer by an air based process – similar to spraying regular paint from a can – to develop a cheaper technique which can be mass produced.
Professor David Lidzey from the University of Sheffield said "Spray coating is currently used to apply paint to cars and in graphic printing. We have shown that it can also be used to make solar cells using specially designed plastic semiconductors. Maybe in the future surfaces on buildings and even car roofs will routinely generate electricity with these materials.
"We found that the performance of our spray coated solar cells is the same as cells made with more traditional research methods, but which are impossible to scale in manufacturing. We now do most of our research using spray coating.
"The goal is to reduce the amount of energy and money required to make a solar cell. This means that we need solar cell materials that have low embodied energy, but we also need manufacturing processes that are efficient, reliable and consume less energy."
Most solar cells are manufactured using special energy intensive tools and using materials like silicon that themselves contain large amounts of embodied energy.
Plastic, by comparison, requires much less energy to make. By spray-coating a plastic layer in air the team hope the overall energy used to make a solar cell can be significantly reduced.
At present devices are coated onto flat surfaces; however there is nothing to stop us coating curved surfaces that could be used in a number of applications. The main restriction however is that at present such surfaces need to be very smooth.
A downside to using the plastic as solar cell materials – needed for the spray technique – is that they are not currently as efficient at generating electricity as cells made from silicon. The vast majority of solar panels found in the UK are made from silicon and are expected to last over 25 years.
It is unlikely that plastic cells will ever be this stable, but if the energy cost of plastic cells can be lowered enough they will become more effective than silicon over their life cycle.
Professor Lidzey added: "Increasing the energy conversion efficiency and lifetime of plastic cells are significant issues that many groups are working on. It should also be noted that the cost of silicon solar panels have reduced significantly over the last few years so plastic solar cells will have to catch up with these improvements."
Additional information
To view the paper online please visit: http://onlinelibrary.wiley.com/journal/10.1002/(ISSN)1614-6840
The University of Sheffield
With nearly 25,000 of the brightest students from 125 countries coming to learn alongside 1,181 of the world's best academics, it is clear why the University of Sheffield is one of the UK's leading universities. Staff and students at Sheffield are committed to helping discover and understand the causes of things - and propose solutions that have the power to transform the world we live in.
A member of the Russell Group, the University of Sheffield has a reputation for world-class teaching and research excellence across a wide range of disciplines. The University of Sheffield has been named University of the Year in the Times Higher Education Awards 2011 for its exceptional performance in research, teaching, access and business performance. In addition, the University has won four Queen's Anniversary Prizes (1998, 2000, 2002, 2007), recognising the outstanding contribution by universities and colleges to the United Kingdom's intellectual, economic, cultural and social life.
One of the markers of a leading university is the quality of its alumni and Sheffield boasts five Nobel Prize winners among former staff and students. Its alumni have gone on to hold positions of great responsibility and influence all over the world, making significant contributions in their chosen fields.
Research partners and clients include Boeing, Rolls-Royce, Unilever, Boots, AstraZeneca, GSK, ICI, Slazenger, and many more household names, as well as UK and overseas government agencies and charitable foundations.
The University has well-established partnerships with a number of universities and major corporations, both in the UK and abroad. Its partnership with Leeds and York Universities in the White Rose Consortium has a combined research power greater than that of either Oxford or Cambridge.
Contact
For further information please contact:
Paul Mannion
Media Relations Officer
The University of Sheffield
0114 2229851
P.F.Mannion@sheffield.ac.uk