Baby birds suffering as parents cannot hear chicks' crying for hunger in noisy environments

Urban din is masking communication between bird parents and chicks causing city living birds to suffer, scientists at the University of Sheffield have revealed.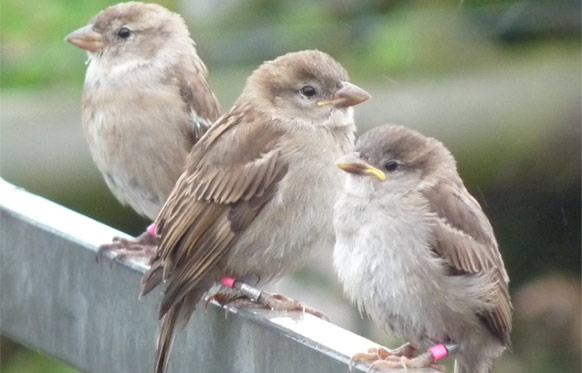 Researchers from the University believe noise and industrial racket could make house sparrow parents less attentive, likely because they were unable to hear their chicks hunger cries.

The experts showed that the noise was linked with lower chick survival, and the problem is thought to be so severe it might impact on the populations of house sparrows in the UK's town and cities.

Other studies showed numbers of breeding sparrows in the UK were found to have declined by between 60 per cent and even 99 per cent. The mechanism revealed by this study by researchers from the University of Sheffield is likely one important cause for this decline.

Dr Julia Schroeder, of the University's Department of Animal and Plant Sciences, said: "It can have implications for all bird species that experience urban noise. Our study shows the first evidence for noise affecting breeding success in birds by interrupting communication between parents and offspring in a wild population.

"We have found a potential cause for the decline of sparrows in cities. The failed communication between parents and offspring could contribute to the dwindling numbers of sparrows in cities."

The experts studied house sparrows living on Lundy Island in the Bristol Channel which the scientists describe as a natural laboratory.

Julia added: "We are lucky to have a brilliant study population of house sparrows on Lundy Island. Because it's an island, and because sparrows don't like to fly away from it across the sea, we can precisely track the survival of each bird.
"Lundy is not connected to the electrical power grid and they produce electricity on the island. The power generators make a lot of noise. In the barn next to where they are situated, we also have 27 sparrow nest boxes. We compared the sparrows breeding in there with those breeding in nest boxes in other, quiet barns and in a small woodland on Lundy.
"Chicks that were reared in the noisy barn were lighter when they fledged. Their mothers did not feed them as often as in quiet places and they survived less well. Chicks were fed less often in noisy environments than they were in quieter areas. When the noise was turned off the broods in the nosier areas were fed more often.
"We believe that the noise from the generators on Lundy is comparable to the one made by cars in cities, and therefore, that noise impairing parent-offspring communication could be a reason for why sparrows decline in cities."

To combat the problems the house sparrows are facing, the scientists say nest boxes should be put up as far away from noise as possible but only an overall reduction of urban noise could see a boom in bird numbers.
Additional information
The University of Sheffield
With nearly 25,000 students from 125 countries, the University of Sheffield is one of the UK's leading and largest universities. A member of the Russell Group, it has a reputation for world-class teaching and research excellence across a wide range of disciplines. The University of Sheffield has been named University of the Year in the Times Higher Education Awards for its exceptional performance in research, teaching, access and business performance. In addition, the University has won four Queen's Anniversary Prizes (1998, 2000, 2002, and 2007).
These prestigious awards recognise outstanding contributions by universities and colleges to the United Kingdom's intellectual, economic, cultural and social life. Sheffield also boasts five Nobel Prize winners among former staff and students and many of its alumni have gone on to hold positions of great responsibility and influence around the world. The University's research partners and clients include Boeing, Rolls Royce, Unilever, Boots, AstraZeneca, GSK, ICI, Slazenger, and many more household names, as well as UK and overseas government agencies and charitable foundations.
The University has well-established partnerships with a number of universities and major corporations, both in the UK and abroad. Its partnership with Leeds and York Universities in the White Rose Consortium has a combined research power greater than that of either Oxford or Cambridge.
The University of Sheffield's Department of Animal and Plant Sciences
Contact
For further information please contact:
Paul Mannion
Media Relations Officer
The University of Sheffield
0114 222 9851
p.f.mannion@sheffield.ac.uk