Media coverage of financial crisis may explain why people are not angrier about economy, study finds
Study of 1,000 quotes in newspaper articles found people were portrayed as 'dehumanised consumers'
A dominant neoliberal narrative may affect people's response to the current economic situation
Newspaper coverage of the financial crisis portrayed people as 'dehumanised consumers' rather than 'victims of a calamity' – which may explain why they are not angrier about the UK's economic position, a report has found.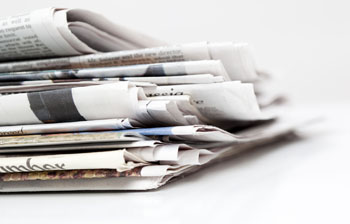 Researchers from the Sheffield Political Economy Research Institute (SPERI) at the University of Sheffield studied 1,000 quotes from named individuals in newspaper articles concerning the financial crisis, recession or austerity in five national newspapers between 2007 and 2014.
They wanted to explore whether there was a dominant neoliberal narrative in the UK media and whether its presentation of people as 'spenders and consumers' instead of rounded human beings may affect how we respond to the current economic situation.
They found a neoliberal narrative has permeated much of the newspaper coverage of hard economic times in the UK since 2007, with quotes and claims from political, market and civil society actors all drawing from a similar framework of reference: treating people primarily as 'market citizens', arguably stripping them of their social and political traits.
Commentary from civil society groups was identified as less likely to draw on a neoliberal framework, with individuals discussing the effect on mental health, childcare, social isolation and insecurity. However, civil society groups also drew on lots of different reference points to get their story across, which inevitably led to the emergence of a fragmented counter-narrative.
The study also found that while in opposition, the Conservative Party was willing to draw on language with a more human touch, sometimes using emotive terms – like Broken Britain – to heighten its criticism of the Labour government. In contrast, the Labour Party in opposition since 2010 did not make this shift.
One possible reason for this is the party's effort to rebuild its image of economic competence. However, in not framing its comments differently, it is possible to see how the phrase 'Tory-lite' gained traction.
The author of the report, Luke Temple said: "Whenever the effect of the crisis, recession or austerity on people was discussed, it was generally framed in terms of their productivity or spending power. Issues like health or poverty were side-lined.
"In 2010 and 2011, Mervyn King, then the Governor of the Bank of England, made comments to the Trade Union Congress and the Treasury Select Committee questioning why the British public were not angrier about the dire and worsening economic situation. Part of the answer should focus on limited resources and depoliticisation. However, the evidence provided here leads us to suggest that part of the answer also lies in the permeation of a neoliberal narrative across the news coverage of these events."
He added: "If economic crisis is reified as a macro problem outside of human control – almost as a natural disaster – and if human beings are presented not as the victims of this calamity but rather as dehumanised consumers, it is harder for emotions such as anger to emerge through solidarity and compassion."
Today's publication is the latest in a new series of SPERI British Political Economy Briefs.
Through this series SPERI hopes to draw upon the expertise of its academic researchers to influence the debate in the UK on sustainable economic recovery.
To read the brief, click here.
Additional information
Sheffield Political Economy Research Institute
The Sheffield Political Economy Research Institute (SPERI) is an academic institute based at the University of Sheffield. The institute aims to bring together leading international researchers, policy-makers, journalists and opinion formers to develop new ways of thinking about the economic and political challenges posed for the whole world by the current combination of financial crisis, shifting economic power and environmental threat.
The University of Sheffield
With almost 26,000 of the brightest students from around 120 countries, learning alongside over 1,200 of the best academics from across the globe, the University of Sheffield is one of the world's leading universities.
A member of the UK's prestigious Russell Group of leading research-led institutions, Sheffield offers world-class teaching and research excellence across a wide range of disciplines.
Unified by the power of discovery and understanding, staff and students at the university are committed to finding new ways to transform the world we live in.
In 2014 it was voted number one university in the UK for Student Satisfaction by Times Higher Education and in the last decade has won four Queen's Anniversary Prizes in recognition of the outstanding contribution to the United Kingdom's intellectual, economic, cultural and social life.
Sheffield has five Nobel Prize winners among former staff and students and its alumni go on to hold positions of great responsibility and influence all over the world, making significant contributions in their chosen fields.
Global research partners and clients include Boeing, Rolls-Royce, Unilever, AstraZeneca, Glaxo SmithKline, Siemens and Airbus, as well as many UK and overseas government agencies and charitable foundations.
Contact
For further information please contact:
Hannah Postles
Media Relations Officer
University of Sheffield
0114 222 1046
h.postles@sheffield.ac.uk