Women in STEM celebrated for Ada Lovelace Day
Female scientists, engineers and mathematicians at the University of Sheffield are being celebrated today (15 October 2013) as part of Ada Lovelace day – a national celebration aimed at raising the profile of women working in STEM subjects across the globe.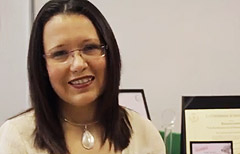 Often described as the world's first computer programmer, Ada Lovelace was a leading 19th century mathematician and daughter of the poet Lord Byron. She left a lasting legacy as a role model for women around the world.
At the University of Sheffield, eminent female academics are also having a significant impact on the world we live in, using their research expertise to tackle issues with a global reach, from food and energy sustainability, to advanced manufacturing and research into human health and disease. Women in science, technology, engineering and math (STEM) at the University include:
• Professor Elena Rodriguez-Falcon: A founder of University of Sheffield Enterprise and Director of Women in Engineering, Elena helps transform people's lives with her engineering expertise, encouraging her students to create technologies to make people's lives easier – resulting in many groundbreaking inventions from writing aids for people with dexterity problems to walking frames for children with brittle bones.
• Professor Elizabeth Winstanley: An academic in the School of Mathematics and Statistics, Elizabeth's research explores areas such as black holes and quantum field theory in curved space, as well as black holes at the Large Hadron Collider and what neutrinos can tell us about quantum gravity. Her work provides a useful bridge between the disciplines of mathematics and physics.
• Professor Gillian Gehring: A physicist, Gillian studies magnetism, growing magnetic thin films and exploring magnetic and optical properties. Gillian's work to create new films that are both magnetic and semiconducting has the potential to generate a new kind of computer where information storage and data processing are combined in one material.
• Professor Sheila MacNeil: A professor of tissue engineering, Sheila's work has had a deeply practical impact on people's lives such as the development of MySkin, a treatment for skin replacement based on tissue engineering or work to deliver stem cell therapy to the eye in order to help the natural repair of eyes damaged by accident or disease.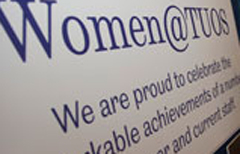 Significant work has taken place to acknowledge women such as these in STEM subjects at the University. These steps include the Women in Engineering initiative, which aims to redress the gender imbalance of the discipline by making innovative changes to the University's working culture to ensure an environment where both women and men thrive through academic and personal achievement.
As part of this work led by the Faculty Director for Women in Engineering, a Women In Engineering group tasked specifically with leading initiatives to improve the representation of women at all levels has been set up and work has taken place to build the Women in Engineering Student Society, as well as raise the profile of women engineers at Sheffield and promote a wider understanding of engineering for the next generation of girls.
Director of Women in Engineering, Professor Elena Rodriguez-Falcon, said: "Women are currently underrepresented in engineering – a fact that leads to a loss of talent and innovation. Traditionally held perceptions of engineering are acting as a barrier to women entering the field and as a result, we believe there are far too few female engineers.
"Here at Sheffield, we are working to attract more women to study engineering by being an outstanding employer of female engineers. It's important the impact of women in STEM subjects is recognised and Ada Lovelace Day provides a fantastic opportunity to do just that."
The University's steps to ensure a positive working environment for women have not stopped just with academics involved in STEM subjects. Female staff across all faculties are provided with significant support through the creation of a Women's Network - Women@TUoS NETwork.
Established in 2012, Women@TUoS NET supports female staff in their career development through a variety of different events, providing informal mentoring and networking opportunities, access to a range of role models, a forum for discussion and a unified voice to help raise issues and address the career challenges women face.
The Network serves as an advocate for female recruitment, retention and progression, including working in collaboration across the University to implement the Athena SWAN Bronze action plan – evidence of the University's commitment to gender equality and career progression for women. Other initiatives for University women include a photographic exhibition of successful females from across the University, with Heads of Department understanding that the attraction and retention of female talent is a high priority.
Dr Rhonda Snook, Chair of the Women@TUoS NETwork, said: "The progression of female academics is an important element of creating a University culture that is inclusive at all levels. We have been working with our Equality and Diversity Board, and with stakeholders from across and outside of the University, to develop equality objectives that will transform our approach to inclusion, and ensure everybody feels valued and supported.
"Ada Lovelace was a role model to women around the world so it is only fitting we celebrate today's stars in science, technology, engineering and maths and the impact they are having on the world we live in."
Additional information
University of Sheffield's Women's Network
Women in Engineering at the University of Sheffield
The University of Sheffield
With nearly 25,000 of the brightest students from 117 countries coming to learn alongside 1,209 of the world's best academics, it is clear why the University of Sheffield is one of the UK's leading universities. Staff and students at Sheffield are committed to helping discover and understand the causes of things - and propose solutions that have the power to transform the world we live in.
A member of the Russell Group, the University of Sheffield has a reputation for world-class teaching and research excellence across a wide range of disciplines. The University of Sheffield has been named University of the Year in the Times Higher Education Awards 2011 for its exceptional performance in research, teaching, access and business performance. In addition, the University has won four Queen's Anniversary Prizes (1998, 2000, 2002, 2007), recognising the outstanding contribution by universities and colleges to the United Kingdom's intellectual, economic, cultural and social life.
One of the markers of a leading university is the quality of its alumni and Sheffield boasts five Nobel Prize winners among former staff and students. Its alumni have gone on to hold positions of great responsibility and influence all over the world, making significant contributions in their chosen fields.
Research partners and clients include Boeing, Rolls-Royce, Unilever, Boots, AstraZeneca, GSK, Siemens, Yorkshire Water and many more household names, as well as UK and overseas government agencies and charitable foundations.
The University has well-established partnerships with a number of universities and major corporations, both in the UK and abroad. The White Rose University Consortium (White Rose) a strategic partnership between 3 of the UK's leading research universities of Leeds, Sheffield and York. Since its creation in 1997 White Rose has secured more than £100M into the Universities.
Contact
For further information please contact:
Shemina Davis
Media Relations Manager
The University of Sheffield
0114 222 5339
shemina.davis@sheffield.ac.uk