Human embryonic stem cells could help to treat deafness
A cure for deafness is a step closer after University of Sheffield scientists used human embryonic stem cells to treat a common form of hearing loss.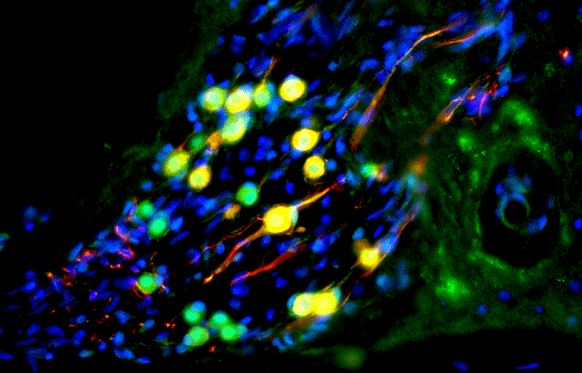 In research funded by the Medical Research Council and leading UK research charity, Action on Hearing Loss, experts from the University's Department of Biomedical Sciences developed a method to turn human embryonic stem cells into ear cells.
They then transplanted them into deaf gerbils, obtaining a functional recovery that, on average, was of around 46 per cent. The improvement was evident about four weeks after administering the cells.
As well as proving that stem cells can be used to repair damaged hearing, it is hoped the breakthrough – published in the journal Nature – will lead to new treatments and therapies in the future.
The model of hearing loss successfully treated by the scientists is similar to a human condition known as auditory neuropathy, a form of deafness in which the damage occurs at the level of the cochlear nerve. It is thought to represent up to 15 per cent of the population across the world with profound hearing loss.
Dr Marcelo Rivolta, who led the project, said: "We developed a method to drive human embryonic stem cells to produce both hair cells and neurons, or nerve cells, but we only transplanted the neurons. We then used a technique called auditory brainstem evoked responses (ABR), which measures if the brain can perceive an electrical signal after sound stimulation. The responses of the treated animals were substantially better than those untreated, although the range of improvement was broad. Some subjects did very well, while in others recovery was poor."
Auditory neuropathy is a type of deafness where the problem lies, not primarily with the hair cells, but in the connection of the hair cells with the brain. Patients can be born with it and there are cases due to a genetic defect where a few responsible genes have already been identified.
However, there is increasing evidence that environmental factors, such as jaundice at birth and noise exposure later in life, play an important role, at least as risk factors.
Dr Rivolta added: "We believe this an important step forward. We have now a method to produce human cochlear sensory cells that we could use to develop new drugs and treatments, and to study the function of genes. And more importantly, we have the proof-of-concept that human stem cells could be used to repair the damaged ear.
"More research is needed. For instance, we want to understand the long term implications of this treatment and its safety. Moreover, while in auditory neuropathy patients that retain their hair cells the sole application of stem cells could be beneficial; those with more comprehensive damage may need a cochlear implant to compensate for the hair cell deficit. In these patients it is possible that stem cells should be administered in combination with a cochlear implant. It is therefore important to explore this interaction."
Dr Ralph Holme, Head of Biomedical Research for Action on Hearing Loss, said: "The research we have funded at the University of Sheffield is tremendously encouraging and gives us real hope that it will be possible to fix the actual cause of some types of hearing loss in the future. For the millions of people for whom hearing loss is eroding their quality of life, this can't come soon enough."
Dr Paul Colville-Nash, Programme Manager for stem cell, developmental biology and regenerative medicine at the Medical Research Council, which co-funded the research, added: "This is promising research that demonstrates further proof-of-concept that stem cells have the potential to treat a range of human diseases that currently have no effective cures. While any new treatment is likely to take years to reach the clinic, this study clearly demonstrates that investment in UK stem cell research and regenerative medicine is beginning to bear fruit, and that is very exciting."
Additional information
The University of Sheffield
With nearly 25,000 students from 125 countries, the University of Sheffield is one of the UK's leading and largest universities. A member of the Russell Group, it has a reputation for world-class teaching and research excellence across a wide range of disciplines. The University of Sheffield has been named University of the Year in the Times Higher Education Awards for its exceptional performance in research, teaching, access and business performance. In addition, the University has won four Queen's Anniversary Prizes (1998, 2000, 2002, and 2007).
These prestigious awards recognise outstanding contributions by universities and colleges to the United Kingdom's intellectual, economic, cultural and social life. Sheffield also boasts five Nobel Prize winners among former staff and students and many of its alumni have gone on to hold positions of great responsibility and influence around the world. The University's research partners and clients include Boeing, Rolls Royce, Unilever, Boots, AstraZeneca, GSK, ICI, Slazenger, and many more household names, as well as UK and overseas government agencies and charitable foundations.
The University has well-established partnerships with a number of universities and major corporations, both in the UK and abroad. Its partnership with Leeds and York Universities in the White Rose Consortium has a combined research power greater than that of either Oxford or Cambridge.
Medical Research Council
For almost 100 years the Medical Research Council has improved the health of people in the UK and around the world by supporting the highest quality science. The MRC invests in world-class scientists. It has produced 29 Nobel Prize winners and sustains a flourishing environment for internationally recognised research. The MRC focuses on making an impact and provides the financial muscle and scientific expertise behind medical breakthroughs, including one of the first antibiotics penicillin, the structure of DNA and the lethal link between smoking and cancer. Today MRC funded scientists tackle research into the major health challenges of the 21st century.
www.mrc.ac.uk
Action on Hearing Loss
Action on Hearing Loss is the charity working for a world where hearing loss doesn't limit or label people, where tinnitus is silenced – and where people value and look after their hearing.
Our vision is to find a cure for hearing loss and tinnitus. We fund research discoveries around the world and break down barriers to translate these discoveries into viable treatments and medicines.
We are also increasing the number of researchers in the field through our well established grant schemes, and providing important support for companies wanting to develop medicines and treatments.
For more information about Action on Hearing Loss's Biomedical Research programme, visit, www.actiononhearingloss.org.uk/biomedicalresearch

Deafness Research UK
Deafness Research UK is the only national charity dedicated to helping deaf and hard of hearing people through medical research. Deafness Research UK fund world-leading research into deafness and hearing loss. We provide information on hearing and advice and support.
http://www.deafnessresearch.org.uk/
Contact
For further information please contact:
Paul Mannion
Media Relations Officer
The University of Sheffield
0114 222 9851
p.f.mannion@sheffield.ac.uk