Speciation is not all about good looks – for stick insects, the right partner should smell good too
Study answers evolutionary puzzle of how new species form
Fragrance is important factor in stick insects' choice of mate
18-year research programme examined 100 stick insect populations
An attractive scent is just as important as good looks when it comes to choosing a mate – at least among stick insect populations.
According to a new study, fragrance is an important factor in stick insects' choice of mate. It could explain why, when looks are deceiving, the insects are still able to show a preference for mates from the same species – a key to evolutionary success.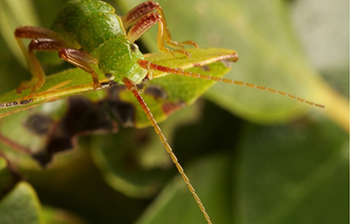 The findings, published in the journal Nature Ecology and Evolution, are part of an 18-year research programme, in which scientists at the University of Sheffield and Royal Holloway, University of London, examined stick insect populations in California, in the US, to try to understand better what drives new species formation.
In evolutionary terms, the ability to avoid mixing genes with other species is important to preserve differences between species and evolve characteristics that are advantageous to survival. Natural selection plays a large part in this. For example, if an insect population has developed an effective camouflage that prevents birds from eating them, a new population of non-camouflaged individuals moving into the area might not last long, and so would be only a minor threat to the gene pool.
But scientists think that natural selection is not the whole picture: any survivors of predation could still mate, so what other factors might further promote speciation – or the development of new and distinct species? The answer, at least for some groups of insects, appears to be largely down to the insects' natural perfume.
The teams at Sheffield and Royal Holloway, studied more than 100 populations of stick insects, including 11 separate species, over nearly two decades, to try to find some answers to this evolutionary puzzle of how new species form.
"Species formation generally takes place over huge timescales and it's very difficult to observe directly – mainly we just get snapshots of what's happening at a particular moment in time," says Dr Patrik Nosil, of the Department of Animal and Plant Sciences at the University of Sheffield.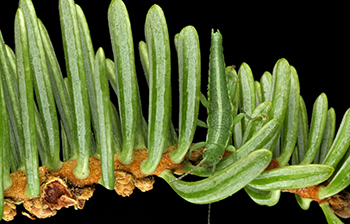 "What we've done is to take many snapshots and start to reconstruct the evolutionary process to build up a picture of what might be happening across these different populations and moments in time."
The researchers noticed that stick insects from different populations and species were unwilling to mate with each other. They discovered that mate choice appeared to be based on the mixture of particular chemical compounds on their skin that made them more or less attractive to each other.
These oily chemicals protect the insects' bodies and prevent them from drying out – but they also play an important role in 'signalling' to attract suitable mates.
"We discovered that populations that differed most strongly in their chemical profiles discriminated more strongly against mating with one another, and they also differed more in their genomic sequences," explains Dr Rudiger Riesch from the School of Biological Sciences at Royal Holloway, University of London.
The team also studied what happened when female stick insects were 'perfumed' artificially, with chemicals, either from their own, or from a different species, and found this directly affected how attractive they were to males.
"We think these skin chemicals are the next step in speciation," says Dr Nosil. "Even if the insects survive when placed into a different environment, the chemicals on their skin provide the next barrier to them mixing their genes."
Even scent, however, is not a completely foolproof guarantee of species differentiation. Stick insects are still likely to occasionally mix and mate between populations even when they differ chemically.
"It takes a very long time to produce a new and entirely distinctive species. We think that natural selection and mate choice can cause substantial progress towards the formation of new species, but we still do not know what other factors help complete this process by preventing the insects from mixing their genes at all," adds Dr Riesch.
The study included work by scientists from 10 different institutions and three countries, and was funded by the European Research Council and the Natural Science and Engineering Research Council of Canada; Dr Riesch was supported by the Human Frontier Science Program and Dr Nosil by the Royal Society of London.
Additional information
The University of Sheffield
With almost 27,000 of the brightest students from over 140 countries, learning alongside over 1,200 of the best academics from across the globe, the University of Sheffield is one of the world's leading universities.
A member of the UK's prestigious Russell Group of leading research-led institutions, Sheffield offers world-class teaching and research excellence across a wide range of disciplines.
Unified by the power of discovery and understanding, staff and students at the university are committed to finding new ways to transform the world we live in.
Sheffield is the only university to feature in The Sunday Times 100 Best Not-For-Profit Organisations to Work For 2016 and was voted number one university in the UK for Student Satisfaction by Times Higher Education in 2014. In the last decade it has won four Queen's Anniversary Prizes in recognition of the outstanding contribution to the United Kingdom's intellectual, economic, cultural and social life.
Sheffield has six Nobel Prize winners among former staff and students and its alumni go on to hold positions of great responsibility and influence all over the world, making significant contributions in their chosen fields.
Global research partners and clients include Boeing, Rolls-Royce, Unilever, AstraZeneca, Glaxo SmithKline, Siemens and Airbus, as well as many UK and overseas government agencies and charitable foundations.
Royal Holloway, University of London
Royal Holloway, University of London, is ranked in the top 30 of all UK universities. Through world-class research that expands minds and changes lives, the dedication of our teachers and the feel of the Royal Holloway experience, ours is a community that inspires individuals to succeed academically, socially and personally.
The university was founded by two social reformers who pioneered the ideal of education and knowledge for all who could benefit. Their vision lives on today. As one of the UK's leading research intensive universities we are home to some of the world's foremost authorities in the sciences, arts, business, economics and law. We are strengthened by diversity, and welcome students and academics who travel from all over the world to study and work here, ensuring an international and multi-cultural perspective within a close knit and historic campus.
Contact
For further information please contact:
Amy Pullan
Media Relations Officer
University of Sheffield
0114 222 9859
a.l.pullan@sheffield.ac.uk