New research reveals secrets of former subglacial lakes in North America
Researchers at the University of Sheffield have provided a unique glimpse into one of the least understood environments on Earth by revealing for the first time former subglacial lakes and their drainage routes beneath the North American ice sheets.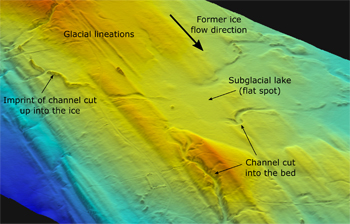 By investigating a very strange flat spot and associated channel in Alberta, Canada, which had no water in it, academics discovered the former existence of a lake trapped beneath an ice sheet during the last glaciation.
As this relict lake is no longer covered by many kilometres of ice, they were able to reconstruct what the lake would have looked like and how it drained from the landforms and sediments.
Their observations, published in the journal Nature Communications today (Monday 13 June 2016), suggest the lake existed as a shallow lens of water which repeatedly drained through channels cut into the bed.
The team's results provide constraints for the modelling of similar subglacial lake drainages beneath the Antarctic and Greenland ice sheets. These are a crucial component of the subglacial hydrological system, able to store and rapidly drain large volumes of meltwater, but we do not know enough about the drainage process to fully understand their influence on ice flow.
Dr Stephen Livingstone, from the University's Department of Geography and lead author of the paper, said: "We've seen these flat spots connected to relict channels in Canada, and are inferring these as former subglacial lakes and their drainage imprint.
"As ice no longer covers these relict lakes, our discovery has allowed us to reconstruct how the subglacial lakes would have looked and how they drained from the landforms and sediments. Our results provide key constraints for the investigation of modern subglacial lakes beneath the Antarctic and Greenland ice sheets."
Additional information
The University of Sheffield
With almost 27,000 of the brightest students from over 140 countries, learning alongside over 1,200 of the best academics from across the globe, the University of Sheffield is one of the world's leading universities.
A member of the UK's prestigious Russell Group of leading research-led institutions, Sheffield offers world-class teaching and research excellence across a wide range of disciplines.
Unified by the power of discovery and understanding, staff and students at the university are committed to finding new ways to transform the world we live in.
Sheffield is the only university to feature in The Sunday Times 100 Best Not-For-Profit Organisations to Work For 2016 and was voted number one university in the UK for Student Satisfaction by Times Higher Education in 2014. In the last decade it has won four Queen's Anniversary Prizes in recognition of the outstanding contribution to the United Kingdom's intellectual, economic, cultural and social life.
Sheffield has five Nobel Prize winners among former staff and students and its alumni go on to hold positions of great responsibility and influence all over the world, making significant contributions in their chosen fields.
Global research partners and clients include Boeing, Rolls-Royce, Unilever, AstraZeneca, Glaxo SmithKline, Siemens and Airbus, as well as many UK and overseas government agencies and charitable foundations.
Contact
For further information please contact:
Hannah Postles
Media Relations Officer
University of Sheffield
0114 2221046
h.postles@sheffield.ac.uk