Surfing 'Trojan-horses' stop tumour regrowth after chemotherapy or radiotherapy
White blood cells which act as 'Trojan-horses' delivering a tumour-busting virus could stop the spread of cancer after therapy, researchers from the University of Sheffield have found.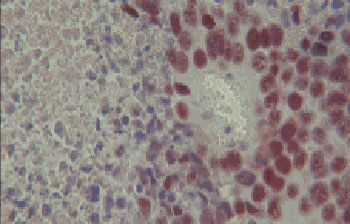 World-leading experts have discovered white blood cells called macrophages surge into tumours from the blood after frontline therapies like chemotherapy or radiotherapy, and are now exploiting this to deliver a second potent blow to stop tumours growing back.
They are injecting macrophages carrying a tumour-destroying virus into the bloodstream at the exact moment when this surge occurs so that their 'therapeutic' macrophages can surf this wave and get swept up into the tumour in large numbers.
Each macrophage then releases large amounts of virus inside the tumour.
Using the blood cells as 'Trojan-horses', ensures that the virus is delivered to where it is needed most after frontline therapies – deep into the heart of what's left of the tumour.
The virus then kills the cancer residue from within preventing regrowth or further spread of the cancer to other parts of the body.
The pioneering project was led by Professor Claire Lewis from the University's Department of Oncology and Dr Munitta Muthana from the Department of Infection and Immunity and took place at the Sheffield Cancer Research Centre, a partnership between the University of Sheffield, Sheffield Teaching Hospitals, Cancer Research UK, Yorkshire Cancer Research and Weston Park Hospital Cancer Charity.
"Our 'Trojan-horse' can convert a patient's own white blood cells into tiny tumour-killing machines which fight to prevent tumour regrowth after the end of chemo or radio therapy treatment," said Professor Lewis.

"This is very empowering for patients who have been undergoing rounds and rounds of chemotherapy or radiotherapy because treatment means it is their own white blood cells doing the work and blasting the cancer.

Prostate cancer

Prostate cancer is the most common cancer in men in the UK.
In 2009 around 40,800 men were diagnosed with prostate cancer in the UK, that's around 112 every day.
Over the last 40 years prostate cancer rates in Great Britain have tripled.
"This breakthrough means that we may now have developed a way of preventing cancer coming back after frontline treatments – many patients unfortunately die because of tumour regrowth or the spread of cancer so this is a ground-breaking discovery which could impact on thousands of lives."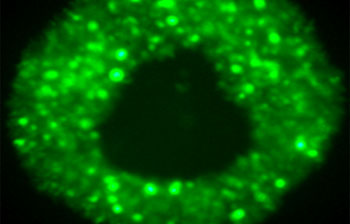 Dr Muthana added: "With the initial support of the Yorkshire Cancer Research (YCR) and latterly Prostate Cancer UK, our new therapy has been developed to treat prostate cancer; however, it has the potential to be used to treat patients with any form of cancer."
Dr Kate Holmes, Head of Research at Prostate Cancer UK said: "This research is an exciting development on the 'Trojan Horse' technique. It demonstrates that this innovative method of delivering a tumour-killing virus direct to the cancer site is successful at reducing the development of advanced prostate tumours in mice which have been treated with chemotherapy and radiotherapy.
"If this treatment goes on to be successful in human trials, it could mark substantial progress in finding better treatments for men with prostate cancer which has spread to the bone, and ensuring the impact of more traditional therapies is maximised."
The research reported this month in the US journal, Cancer Research, shows that this new therapy completely eradicates primary and metastic prostate tumours after chemo or radiotherapy. It is hoped clinical trials in prostate cancer patients could begin as early as next year.
Additional Information
To view the research paper visit Cancer Research
Yorkshire Cancer Research
Yorkshire Cancer Research is the UK's largest regional medical research charity, helping people avoid, survive and cope with cancer by funding world-class research, treatment and diagnosis throughout the county.
Over the last 25 years alone the charity has awarded a staggering £24.5 million to research teams based at the University of Sheffield so that more people in Yorkshire and beyond will survive cancer.
By funding research in Yorkshire, the charity ensures that people with cancer who live in the region have access to ground breaking treatments, while also contributing to the global fight against the disease.
Yorkshire Cancer Research is delighted to be a partner in the Sheffield Cancer Research Centre, which offers fantastic collaborative opportunities for researchers and clinicians to work together to strengthen treatments for cancer patients.
For more information visit YCR
Prostate Cancer UK
Prostate Cancer UK fights to help more men survive prostate cancer and enjoy a better quality of life. We support men and provide vital information. We find answers by funding research into causes and treatments. And we lead change, raising the profile of the disease and improving care. We believe that men deserve better.
Thanks to support from The Movember Foundation Prostate Cancer UK has recently been able to announce the tripling of its research spend to a record £25 million over the next 3 years, making it the largest single funder of research into prostate cancer in the UK.
If you have any queries about prostate cancer, call Prostate Cancer UK's confidential Helpline on 0800 074 8383. The helpline, which is staffed by specialist nurses, is open from 10am to 4pm from Monday to Friday and from 7 - 9pm on Wednesdays. Alternatively please visit www.prostatecanceruk.org
The University of Sheffield
With nearly 25,000 students from 125 countries, the University of Sheffield is one of the UK's leading and largest universities. A member of the Russell Group, it has a reputation for world-class teaching and research excellence across a wide range of disciplines. The University of Sheffield was named University of the Year in the Times Higher Education Awards 2011 for its exceptional performance in research, teaching, access and business performance. In addition, the University has won four Queen's Anniversary Prizes (1998, 2000, 2002, and 2007).
These prestigious awards recognise outstanding contributions by universities and colleges to the United Kingdom's intellectual, economic, cultural and social life. Sheffield also boasts five Nobel Prize winners among former staff and students and many of its alumni have gone on to hold positions of great responsibility and influence around the world. The University's research partners and clients include Boeing, Rolls-Royce, Unilever, Boots, AstraZeneca, GSK, ICI, Slazenger, and many more household names, as well as UK and overseas government agencies and charitable foundations.
The University has well-established partnerships with a number of universities and major corporations, both in the UK and abroad. Its partnership with Leeds and York Universities in the White Rose Consortium has a combined research power greater than that of either Oxford or Cambridge.
Contact
For more information please contact:
Amy Pullan
Media Relations Officer
The University of Sheffield
0114 222 9859
a.l.pullan@sheffield.ac.uk