University of Sheffield joins £1.3 million research project to tackle devastating childhood disease Spinal Muscular Atrophy
Scientists from the University of Sheffield have joined a pioneering £1.3 million research project launched to find new treatments and a cure for the debilitating childhood disease Spinal Muscular Atrophy (SMA).
The UK research consortium, led and funded by the SMA Trust, is the first of its kind to investigate the childhood form of Motor Neurone Disease (MND), which is caused by a faulty gene that affects nerve cells needed to control the muscles we use for moving, swallowing and breathing.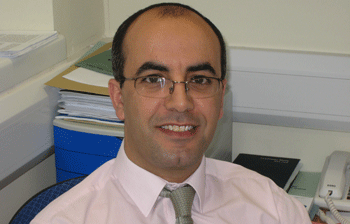 One in 40 people are a carrier for the disease and in the most severe cases, approximately 50 per cent of those affected, children rarely live beyond two years making SMA the leading genetic cause of death in babies and toddlers.
The consortium, announced today (Tuesday 29 September 2015) during the first ever UK SMA Awareness Week, consists of world-class research and clinical expertise based at the University of Sheffield's Institute for Translational Neuroscience (SITraN) as well as Oxford, Edinburgh and London universities.
The main aims of the project are to:
Further develop existing drug targets and identify new neuroprotective therapies to maintain function throughout the lives of people living with SMA.
Identify improved ways of delivering treatments in order to maximise benefit throughout the body.
Professor Mimoun Azzouz, Chair of Translational Neuroscience at SITraN, said: "This is a great initiative for SMA research in the UK.
"Significant progress has been made in the field, however the creation of this consortium will bring together excellent SMA experts to further our understanding of the disease and accelerate therapy development."
The SMA Trust has spent nearly £3 million since it was founded and now funds 75 per cent of all UK charity funded research into the condition. It also helped create SMA Europe, an umbrella organisation that funds research projects all over Europe and the US, as well as promoting knowledge-sharing, collaboration and representation of a united 'patient voice' to pharmaceutical companies and regulatory authorities involved in clinical trials.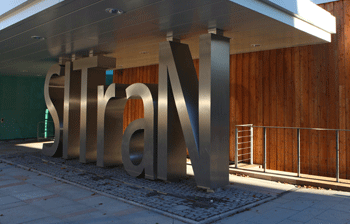 Joanna Mitchell, CEO of The SMA Trust said: "These are exciting times in SMA research and for the new UK research consortium. Recent years have seen rapid advances, with several companies now actively pursuing clinical trials for potential treatments.
"Whilst a cure for SMA remains the ultimate goal, we also recognise that, for the time being, 'success' is equally likely to come in the form of combinations of treatments that improve the quality of life of people living with SMA."
The potential therapies for SMA currently in clinical trials are mainly concerned with increasing the amount of a crucial protein called Survival Motor Neuron (SMN), which is depleted in various degrees in people who have SMA.
This offers great promise for treating SMA if such therapies can be delivered before motor neuron loss is established. However, it is believed that the principal effect of the SMN protein on the neuromuscular system occurs early in development, meaning that increasing the levels of SMN after development has occurred may not result in a substantial benefit on motor function for the majority of people living with SMA.
This becomes an increasingly important issue as due to advances in therapies which increase SMN levels, more people will be living into adulthood with SMA in the future.
The Consortium, led by Professor Kevin Talbot at Oxford University, will seek to address this problem by looking more closely at the specific mechanisms of neuromuscular failure in the disease and investigating whether influencing other 'non-SMN' pathways will identify potential therapies which will benefit all individuals living with SMA by maintaining and enhancing the function of surviving motor neurons.
Additional information
Spinal Muscular Atrophy
Spinal Muscular Atrophy (SMA) is a rare inherited neuromuscular condition, of which there are several distinct types. The condition may affect crawling and walking ability, arm, hand, head and neck movement, breathing and swallowing.
There are four main types of SMA which are caused by a fault in the gene called Survival Motor Neuron 1 (SMN1). This gene carries the information required for the production of an important protein. When there is not enough of this protein, the nerve cells that help to control the muscles for moving and breathing become damaged.
The four main types of SMA vary greatly in severity:
The symptoms of SMA Type 1 appear within the first few months of life, sometimes before birth. It is the most severe form of SMA. Children are never able to sit unaided and rarely survive their second birthday.
The symptoms of SMA Type 2 usually appear between the ages of 7 and 18 months. The condition is severely physically disabling, with children never able to stand unaided. Though this is a serious inherited neuromuscular condition that may shorten life expectancy, improvements in care standards mean that the majority of people can live long, fulfilling and productive lives.
 The symptoms of SMA Type 3 appear after 18 months of age. Children are able to stand and walk, though will experience reduced walking ability over time. It is a less disabling condition. Life expectancy for children diagnosed with SMA Type 3 is normal and most people can live long productive lives.
The symptoms of SMA Type 4 appear in adulthood. It is also known as Adult Onset SMA and is not life-threatening.
The effects of each type of SMA vary greatly between individuals. Life expectancy varies between and within the different types of SMA.
In order to treat SMA, the underlying genetic defect needs to be addressed. At present this is not possible. The day-to-day focus is therefore on treatment of the symptoms and the delivery of the highest standards of care. This includes anticipatory care, managing symptoms and maintaining the best quality of life.
How many people are affected?
In the UK, approximately 100 children are born with this rare disease each year.
One in every 6,000 - 10,000 babies are born with the condition.
At any one time it is thought that there are between 2,000 – 2,500 children and adults in the UK living with SMA.
SMA Trust
For more information about The SMA Trust, the new research consortium and fundraising for SMA research, visit www.smatrust.org  The SMA Trust is entirely dependent on voluntary donations to continue their work.
The Sheffield Institute for Translational Neuroscience (SITraN)
SITraN is a world-leading research centre purpose-built and dedicated to research into motor neuron disease (MND/ALS) and related neurodegenerative diseases including Parkinson's disease, Alzheimer's disease, and stroke. The state-of-the art research facility was opened in 2010 by HM The Queen and uniquely allows the multidisciplinary collaboration of clinicians, scientists and health professionals to develop new treatments for the benefit of patients. To find out more visit www.sheffield.ac.uk/sitran/
University of Sheffield
With almost 26,000 of the brightest students from around 120 countries, learning alongside over 1,200 of the best academics from across the globe, the University of Sheffield is one of the world's leading universities. A member of the UK's prestigious Russell Group of leading research-led institutions, Sheffield offers world-class teaching and research excellence across a wide range of disciplines. Unified by the power of discovery and understanding, staff and students at the university are committed to finding new ways to transform the world we live in. In 2014 it was voted the number one university in the UK for Student Experience by Times Higher Education and in the last decade has won four Queen's Anniversary Prizes in recognition of the outstanding contribution to the United Kingdom's intellectual, economic, cultural and social life. Sheffield has five Nobel Prize winners among former staff and students and its alumni go on to hold positions of great responsibility and influence all over the world, making significant contributions in their chosen fields. Global research partners and clients include Boeing, Rolls-Royce, Unilever, AstraZeneca, Glaxo SmithKline, Siemens and Airbus, as well as many UK and overseas government agencies and charitable foundations.
Contact
For further information please contact:
Amy Pullan
Media Relations Officer
University of Sheffield
0114 222 9859
a.l.pullan@sheffield.ac.uk