Comment: The case for higher apprenticeships
Manufacturing needs young people who are intelligent, adaptable and capable of understanding and developing the technologies of the future
Higher apprenticeships help to make higher education accessible to all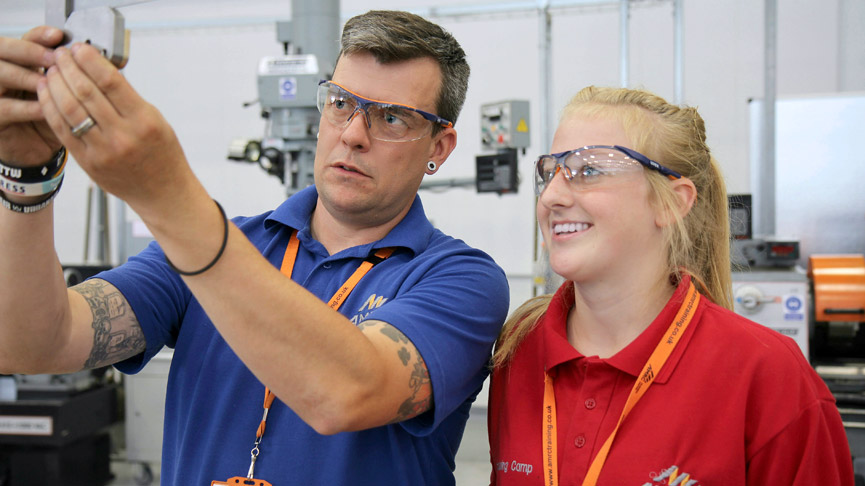 As part of National Apprenticeship Week, Professor Keith Ridgway, Executive Dean at the University of Sheffield's Advanced Manufacturing Research Centre, comments on the need for higher apprenticeships.
Writing for Media FHE, Professor Keith Ridgway says that we need manufacturing engineering to be recognised as a discipline and higher level apprenticeships can provide a quality option for young people looking for an alternative to traditional higher education.
The case for higher apprenticeships
By Professor Keith Ridgway CBE FREng, posted on Media FHE Tuesday 15 March 2016.
For many young people the prospect of high levels of debt discourages them from considering higher education as the natural progression in their educational journey. There is a considerable divide between families who believe education finishes at 16 and those who assume that higher education is the natural progression from secondary school and accept that they will be underwriting a considerable debt before their sons or daughters eventually obtain a full time job in their early 20s.
This difference in ambition and expectation wastes the potential of a large proportion of our young people and will ultimately restrict the growth in our economy. Manufacturing industry needs talented young people to replace an ageing workforce. It also needs young people who are intelligent, adaptable and capable of understanding and developing the technologies of the future.
In many traditional universities there are still strongly held views that manufacturing engineers are actually mechanical engineers who take a few specialised units in their final year. This is often enhanced by simulated industrial experience through industrially led final year group projects.
But there is a need to recognise that manufacturing engineering is a discipline in itself. We need people who know about manufacturing processes, who understand how these processes influence design and know how to make things quicker, cheaper and greener.
There is also a need to understand the science behind these processes, to understand how heat is transferred and hot metal flows, how vibration affects machining and how it can be avoided or controlled.
In the future as greater levels of sensing, monitoring and self-learning are incorporated into machine tools and there are greater levels of integration of systems, machines and robotics in highly reconfigurable factories, young people who have grown up freely interacting with computer games, ipads and smart phones will be the ones who take us forward.
Manufacturing needs young people who are intelligent, adaptable and capable of understanding and developing the technologies of the future.

Professor Keith Ridgway, executive dean of the ADVANCED MANUFACTURING RESEARCH CENTRE (AMRC)

If we can visualise what the manufacturing engineer of the future will look like, then the real question is: Where is the best place to train them? Is it a traditional university mechanical engineering degree course with some simulated industrial experience and some basic manufacturing units, or is it better to put them into a real manufacturing environment where they have real industrial experience with real manufacturing processes making real products? Isn't it better to support this real life practical learning where they get hands-on experience of manufacturing processes with supporting courses that give them the background science and a theoretical understanding?
The fundamental difference is between a course that teaches engineering and hopes that students see the practical application and a course that trains people to be practical engineers and supports them with the relevant science and theoretical understanding.
With the degree apprenticeship we make higher education accessible to all. We create an environment where young people can achieve their full potential without accumulating debt. At the same time we are developing a new breed of highly competent young people equipped to face the challenges of manufacturing industry in the future.