Toddlers are creative at just two years old
Children as young as two are capable of being creative thinkers, according to new research.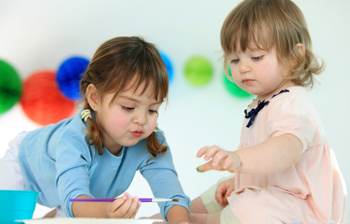 Psychologists at the University of Sheffield and the University of Stirling teamed up to discover when children begin thinking divergently.
Their findings showed that as early as 24 months old, toddlers have the ability to look for new ideas.
In the study, children were given a colourful box with a hole, stairs, ledges and strings, along with novel objects to play with. The toddlers were encouraged to play with the box, with no prior demonstration, and divergent thinking, a form of creativity which involves generating ideas, was measured through the number of actions they carried out with the box and objects.
Toddlers as young as 24 months old were shown to be capable of thinking of creative and original ways of playing with the box and the objects – which included a feather, egg holder and spatula – all of which they had never seen before.
Previous divergent thinking tests have been speaking based, only allowing scientists to study children from the age of three onwards. The Unusual Box test by the University of Sheffield and Stirling is thought to be the first capable of measuring divergent thinking in younger children.
Dr Elena Hoicka, from the University of Sheffield's Department of Psychology, said: "This research allows us to gain insight into the early emergence of divergent thinking which is crucial for understanding how creativity originates.
"We are now collecting more data with infants as young as 10 months to further examine how young we can use the test."
Dr Simone Bijvoet-van den Berg, also from the University of Sheffield's Department of Psychology, added: "In future, this research will be useful to determine which factors contribute to the early development of creativity, such as memory or social interaction."
Additional information
For a full copy of the research paper please contact the press office.
The University of Sheffield
With almost 25,000 of the brightest students from around 120 countries, learning alongside over 1,200 of the best academics from across the globe, the University of Sheffield is one of the world's leading universities.
A member of the UK's prestigious Russell Group of leading research-led institutions, Sheffield offers world-class teaching and research excellence across a wide range of disciplines.
Unified by the power of discovery and understanding, staff and students at the university are committed to finding new ways to transform the world we live in.
In 2011 it was named University of the Year in the Times Higher Education Awards and in the last decade has won four Queen's Anniversary Prizes in recognition of the outstanding contribution to the United Kingdom's intellectual, economic, cultural and social life.
Sheffield has five Nobel Prize winners among former staff and students and its alumni go on to hold positions of great responsibility and influence all over the world, making significant contributions in their chosen fields.
Global research partners and clients include Boeing, Rolls-Royce, Unilever, AstraZeneca, Glaxo SmithKline and Siemens, as well as many UK and overseas government agencies and charitable foundations.