University of Sheffield ranked in top 50 most international universities in the world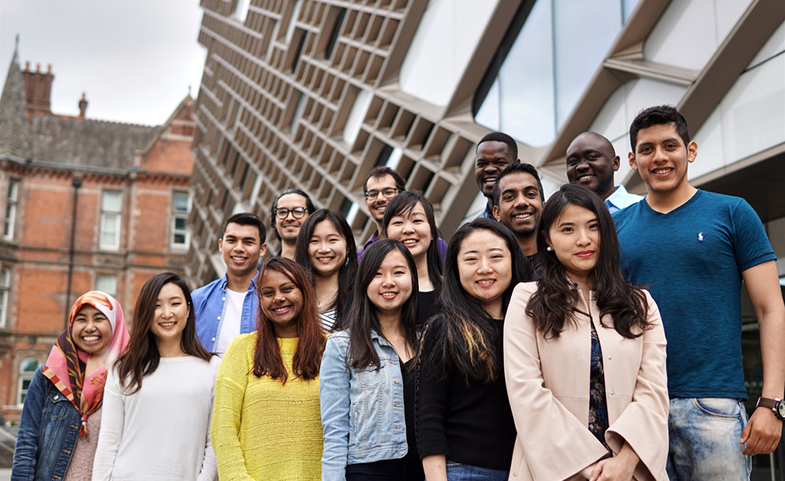 The University of Sheffield named one of the 'most international' universities by The Times Higher Education, it was announced today (Wednesday 14 March 2018).
The list celebrates institutions that have an outstanding international reputation, in turn helping to attract the very highest calibre of staff and students. The University of Sheffield was ranked 42nd out of the 800 leading universities worldwide.
A place in the highly-regarded top 50 – which also includes Oxford, Cambridge and the leading universities in the U.S. and Asia – marks a significant increase in Sheffield's international reputation ranking in 2018. A key factor in this success has been the concerted effort at building overseas partnerships with the world's top universities and industry, efforts which open opportunities for staff and student exchange, research collaboration and inward investment in the local economy.
The diversity of a university's student and staff body, and the extent to which its academics collaborate with international colleagues are also signs of how global an institution is. These factors are included in the metrics that allow Times Higher Education to produce the most comprehensive global university rankings in the world.
Vice-Chancellor Professor Sir Keith Burnett – who has personally led the university's focus on global reputation and strategic partnerships, in particular in China – said: "The University of Sheffield has always been internationally minded but recently we have focused even more on the partnerships we know are crucial not only to our research but which will also create opportunities for our students and our region. As a result, the university is now working with four of the top five universities in China and our industrial partnerships are highly regarded around the world, with the AMRC also active in the U.S., China and South Korea.
"I am also deeply proud that The University of Sheffield is a global university with over 140 nationalities represented on campus and that our city has always made clear that staff and students from around the world are welcome. We know these students and staff make a huge contribution to academic life, knowledge and our economic growth as a nation as well as working in our local hospitals as trainee doctors, carrying out invaluable research into diseases like cancer and motor neurone disease, and also volunteering for charities."
Phil Baty, Editor at Times Higher Education, said: "The best universities in the world live or die by their ability to attract the brightest talent from all across the world - students, academics, researchers and managers. I believe that a university simply cannot be world class without a global outlook, a global network and a global pool of talent."
Additional Information
The University of Sheffield is also engaged in numerous research projects with international impact, from work to develop a bag which can protect planes from bombs in passenger luggage, to research into methane emissions from the Arctic tundra, as part of a bid to combat climate change. This is in addition to Sheffield's research partnerships with leading universities around the world such as Shanghai Jiao Tong University, Zhejiang University, Chinese University of Hongkong, University of Amsterdam and the University of Western Australia.
The University hosts an International Faculty, CITY College, based in Greece's second largest city, Thessaloniki, which offers undergraduate, postgraduate and PhD level qualifications to students across the Mediterranean area and Balkans.
The University of Sheffield is widely for the award-winning We Are International campaign which has now been adopted by over 160 high-profile bodies including the British Council, Universities UK, Foreign & Commonwealth Office, UK embassies & consulates, Confederation of British Industry, UK universities and students' unions, colleges and businesses.
The University of Sheffield
With almost 29,000 of the brightest students from over 140 countries, learning alongside over 1,200 of the best academics from across the globe, the University of Sheffield is one of the world's leading universities.
A member of the UK's prestigious Russell Group of leading research-led institutions, Sheffield offers world-class teaching and research excellence across a wide range of disciplines.
Unified by the power of discovery and understanding, staff and students at the university are committed to finding new ways to transform the world we live in.
Sheffield is the only university to feature in The Sunday Times 100 Best Not-For-Profit Organisations to Work For 2017 and was voted number one university in the UK for Student Satisfaction by Times Higher Education in 2014. In the last decade it has won four Queen's Anniversary Prizes in recognition of the outstanding contribution to the United Kingdom's intellectual, economic, cultural and social life.
Sheffield has six Nobel Prize winners among former staff and students and its alumni go on to hold positions of great responsibility and influence all over the world, making significant contributions in their chosen fields.
Global research partners and clients include Boeing, Rolls-Royce, Unilever, AstraZeneca, Glaxo SmithKline, Siemens and Airbus, as well as many UK and overseas government agencies and charitable foundations.