'For One Night Only' – rare chance to see magical early films in Festival tent of delight
By popular demand, Professor Vanessa Toulmin - Head of Cultural Engagement and Curator of the National Fairground Archive at the University of Sheffield – will host an evening of unique historical film dating from the start of the 20th century (29 September 2012).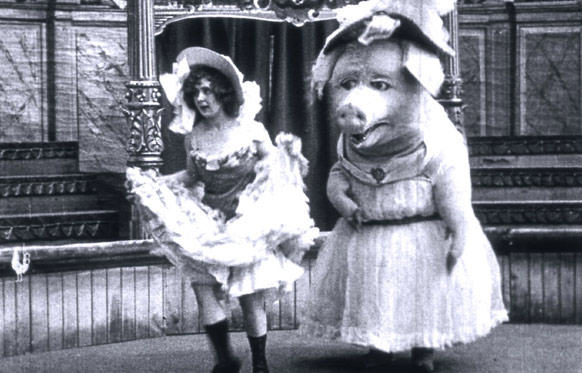 Entitled Peculiar Entertainments: Magic and Early Film, Professor Toulmin will share with members of the public some of the treasures of her collection, combined with her insight into their powerful cultural and social history. The amazing movies are a selection taken from the University's world-renowned National Fairground Archive, the Library of Congress and from Lobster Films in Paris. Live musical accompaniment is planned.
Featuring early film taken in Sheffield in 1902, not to mention dancing pigs and early magical delights, the event will be held in the Festival of the Mind 'Spiegeltent' in Barker's Pool, a fitting setting for a glimpse into the first days of film and its fairground past. Entrance is free to all as part of the Festival of the Mind – an 11 day programme of academic and creative collaboration between the University of Sheffield and the creative community of Sheffield.
Professor Vanessa Toulmin, Director of the National Fairground Archive and the Festival of the Mind, said: "Many people have asked if I'm doing one of my film shows. Although my main role has been to curate the Festival of the Mind, we had a slot in the programme at the end of the Festival, and it seemed a lost opportunity not to bring such magical early film to such an exquisite venue with its own sense of showman's glamour. I know people in Sheffield will love looking at their own history captured on these reels, and see the warmth and humour and beauty of a bygone age."
The event will take place between 4:30pm and 6pm on Saturday 29 September 2012 and is free of charge. Members of the public do not need to book tickets, just come to the Spiegeltent in Barker's Pool in Sheffield.
Additional information
The National Fairground Archive
The National Fairground Archive (NFA) is a unique collection of photographic, printed, manuscript and audiovisual material covering all aspects of the culture of travelling show people, their organisation as a community, their social history and everyday life; and the artefacts and machinery of fairgrounds.
The NFA collections, which are based at the University's Western Bank Library, are continuing to grow: there are now over 80,000 images in the photographic collection, in addition to audio and video material, journals and magazines, and nearly 3,000 monographs. The collection also includes a unique body of fairground ephemera (programmes, handbills, posters, charters and proclamations, plans and drawings).
The NFA represents an important part of the cultural heritage of the nation. It is a primary resource of rich potential for research at every level; it provides a new and exciting source of teaching material for primary and secondary education, and provides access to a wealth of popular cultural history both for the fairground enthusiast and for the public at large
The University of Sheffield
With nearly 25,000 students from 125 countries, the University of Sheffield is one of the UK's leading and largest universities. A member of the Russell Group, it has a reputation for world-class teaching and research excellence across a wide range of disciplines. The University of Sheffield has been named University of the Year in the Times Higher Education Awards for its exceptional performance in research, teaching, access and business performance. In addition, the University has won four Queen's Anniversary Prizes (1998, 2000, 2002, and 2007).
These prestigious awards recognise outstanding contributions by universities and colleges to the United Kingdom's intellectual, economic, cultural and social life. Sheffield also boasts five Nobel Prize winners among former staff and students and many of its alumni have gone on to hold positions of great responsibility and influence around the world. The University's research partners and clients include Boeing, Rolls Royce, Unilever, Boots, AstraZeneca, GSK, ICI, Slazenger, and many more household names, as well as UK and overseas government agencies and charitable foundations.
The University has well-established partnerships with a number of universities and major corporations, both in the UK and abroad. Its partnership with Leeds and York Universities in the White Rose Consortium has a combined research power greater than that of either Oxford or Cambridge.
Contact
For more information please contact:
Paul Mannion
Media Relations Officer
The University of Sheffield
0114 222 9851
p.f.mannion@sheffield.ac.uk