Traditional heritage collections will be available to all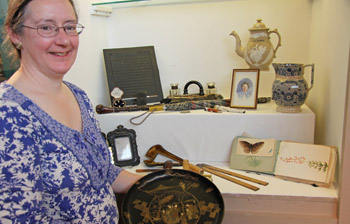 The University of Sheffield has completed its project to relocate collections from the former Traditional Heritage Museum on Ecclesall Road, which closed in 2011, to new places where they will be accessible to the public.
Over the last 14 months, a team of museum professionals has worked on the collections, sorting them and finding new homes for them through other museums and heritage agencies. Altogether, more than 46,000 items, representing over 90% of the collections, have found new homes, with the majority of these remaining in Sheffield and the local region.
Sheffield Archives have agreed to house the extensive archival holdings, mostly relating to the steel industry and metalworking trades, built up at the Museum over many years.
The largest single transfer has been to Green Estate, operators of the Sheffield Manor Lodge site. Many domestic household exhibits will be incorporated into the World War II Living History Cottages currently under construction, whilst a Stage Two application to the Heritage Lottery Fund will seek to see many of the Museum's shop displays reinstalled into a new street of period shops - including a Pollards Coffee Shop, chemist, cobblers and corner shop.
Other major recipients include Museums Sheffield, which acquired items for the Metalwork and Social History collections, as well as for their education department which offers an extensive outreach programme for schools.
Several hundred objects have been transferred to Sheffield Industrial Museums Trust at Kelham Island where many of them will be incorporated into their Little Mesters Street exhibit and others will be used in educational sessions. The Ken Hawley Trust, which manages the outstanding Ken Hawley tool collection at Kelham Island, has received nearly 7,000 items in total.
Smaller but important transfers have been made to specialist collections in the region such as those at the Sheffield Fire and Police Museum, the South Yorkshire Transport Museum, and Chesterfield Museum, which received the Orwin collection of objects from everyday life, as well as an extensive archive. Originally from Chesterfield, some of The Orwin material is already on display at Chesterfield Museum.
The Knitting and Crochet Guild at Holmfirth, whose collection is of national importance, accepted over 700 items including finished objects, patterns and knitting tools. In all, 33 museums and heritage agencies have provided new homes for the Traditional Heritage Musuem collections.
Some household items not required by other museums have been transferred to a local nursing home where they will be used for reminiscence therapy.
The University's Director of Library Services, Martin Lewis, said: "The project team's meticulous work has enabled over 90% of the THM's collections to find new homes. In many cases this material will be more accessible, and will be available to be enjoyed by more people than was the case when they were housed at the Traditional Heritage Museum.
"Volunteers played a crucial role in preserving this material, and the University thanks them for their enthusiasm and hard work over many years. We're delighted that many of the volunteers will be involved in supporting these collections in their new locations, especially at Manor Lodge, which has exciting plans for the future."
The project has enabled the University to strengthen its links with partners in the museum and heritage sector in the city and region.
Kim Streets, Chief Executive of Museums Sheffield, commented "We're pleased to have been able to support the University in securing a future for these collections. The project team have worked very hard to ensure that this material will continue to be enjoyed by people in Sheffield and further afield for generations to come."
Jan Gough, Collections Management Assistant at Chesterfield Museum, said: "The Owrin Collection has many little gems including several pieces of local stoneware which we did not already have. Miss Orwin's notes added a wonderful dimension to the objects. The collection was massive; I've only touched the tip of the iceberg so far but we've already got an exhibition out of it and quite a lot has gone into our Education Collection. Out of that section I've made a reminiscence box called 'Dorothy's Sewing box' for use with people with Alzheimer's and dementia so we're getting the best possible use out of everything."
Amy Jones, External Relations Manager at the University of Sheffield, said: "I'm delighted that the public will now be able to access these materials to learn from them and enjoy them. This process has been carried out with help from the community and we really value their input. Whether through our schools outreach work, our award winning student volunteering programme or taking our research out to the public, the people of Sheffield are a key part of our university's global community."
Additional information
The University of Sheffield
With nearly 25,000 of the brightest students from 117 countries coming to learn alongside 1,209 of the world's best academics, it is clear why the University of Sheffield is one of the UK's leading universities. Staff and students at Sheffield are committed to helping discover and understand the causes of things - and propose solutions that have the power to transform the world we live in.
A member of the Russell Group, the University of Sheffield has a reputation for world-class teaching and research excellence across a wide range of disciplines. The University of Sheffield has been named University of the Year in the Times Higher Education Awards 2011 for its exceptional performance in research, teaching, access and business performance. In addition, the University has won four Queen's Anniversary Prizes (1998, 2000, 2002, 2007), recognising the outstanding contribution by universities and colleges to the United Kingdom's intellectual, economic, cultural and social life.
One of the markers of a leading university is the quality of its alumni and Sheffield boasts five Nobel Prize winners among former staff and students. Its alumni have gone on to hold positions of great responsibility and influence all over the world, making significant contributions in their chosen fields.
Research partners and clients include Boeing, Rolls-Royce, Unilever, Boots, AstraZeneca, GSK, Siemens, Yorkshire Water, and many more household names, as well as UK and overseas government agencies and charitable foundations.
The University has well-established partnerships with a number of universities and major corporations, both in the UK and abroad. The White Rose University Consortium (White Rose) is a strategic partnership between 3 of the UK's leading research universities of Leeds, Sheffield and York. Since its creation in 1997 White Rose has secured more than £100M into the Universities.
Contact
For further information please contact:
Amy Stone
Media Relations Officer
The University of Sheffield
0114 222 1046
a.f.stone@sheffield.ac.uk