Breaking language barriers with poetry
Poetry which has been lost in translation has been given a new lease of life thanks to an award-winning lecturer from the University of Sheffield.
Dr Kaarina Hollo, lecturer in Irish at the University's School of English Literature, Language and Linguistics, has been honoured with The Times Stephen Spender Prize for Poetry in Translation.
Dr Hollo, who is an expert in the literary culture of early medieval Ireland, was presented with the prestigious award at a special ceremony in London today (13 November 2012) for her translation of Marbhghin 1943: Glaoch ar Liombo (Stillborn 1943: Calling Limbo) from Irish Gaelic into English.
The poem, written by Bantry-born author Derry O'Sullivan, is widely considered one of the best Irish-language poems of the 20th century and this is the first time a translation from Irish to English has won the critically acclaimed award. O'Sullivan, 68, has won numerous awards for his work and now lives in Paris.
"As you can imagine, it felt great to win the award.'Marbhghin 1943''s combination of deeply felt emotion and technical control is deeply powerful," said Dr Hollo.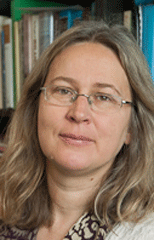 "I am really glad, from the responses I have been getting from people who have read the translation, that some of that is coming across in my English version as well.
"The poem resonates directly with real life experiences of some older Irish readers, but it also makes emotional sense to other readers."
Last year Dr Hollo established a community-based Irish language class which is sponsored by The Sheffield Irish Association. Classes are held at The Grapes on Trippett Lane in Sheffield and now attract more than 25 language enthusiasts from the ages of 20-70.
Dr Hollo said: "I first got into the Irish language through listening to Irish music as a child, particularly the Clancy Brothers and Tommy Makem. I didn't actually start studying the language until I was 13 or so, when a friend of the family gave me a copy of 'Teach Yourself Irish'.
"My degree was in biological anthropology, but after finishing that I went for the summer to Connemara in Ireland for an Irish course, and then signed up for a PhD in Celtic Languages and Literatures at Harvard."
She added: "People are sometimes surprised to find out that I have no family connection to Ireland. The Irish language and the literature and culture associated with it are so rich and interesting that there is really no reason to be surprised that someone without an ethnic connection to it should be interested in them.
"My own family background is quite diverse – German, Finnish, Latvian and Kashubian -so I have never considered myself someone with a fixed mono-cultural identity.
"I could perhaps see myself as a bit of a translation. Both of my parents are literary translators as was my paternal grandfather. I didn't show them my translation of O'Sullivan's poem until it had won the prize – which was a nice surprise for them."
The Stephen Spender Trust was established in 1997 to honour Stephen Spender's achievements as poet and translator of poetry, and as champion of the rights of creative artists and writers to free expression.
The Trust aims to widen knowledge of 20th century English literature, with particular focus on Stephen Spender's circle of writers, and promote literary translation. Founding members who have since died include Ted Hughes, Harold Pinter and Czeslaw Milosz.
This year's competition received more entries than ever before with 51 languages and entrants ranging from 8 to 86.
Additional information
Stephen Spender Trust
For more information about The Stephen Spender Trust visit SST
Stillborn 1943: Calling Limbo
You were born dead
and your blue limbs were folded
on the living bier of your mother
the umbilical cord unbroken between you
like an out-of-service phone line.
The priest said it was too late
for the blessed baptismal water
that arose from Lough Bofinne
and cleansed the elect of Bantry.
So you were cut from her
and wrapped, unwashed,
in a copy of The Southern Star,
a headline about the War across your mouth.
An orange box would serve as coffin
and, as requiem, your mother listened
to hammering out in the hallway,
and the nurse saying to her
that you'd make Limbo without any trouble.
Out of the Mercy Hospital
the gardener carried you under his arm
with barking of dogs for a funeral oration
to a nettle-covered field
that they still call the little churchyard.
You were buried there
without cross or prayer
your grave a shallow hole;
one of a thousand without names
with only the hungry dogs for visitors.
Today, forty years on
I read in The Southern Star –
theologians have stopped believing
in Limbo.
But I'm telling you, little brother
whose eyes never opened
that I've stopped believing in them.
For Limbo is as real as Lough Bofinne:
Limbo is the place your mother never left,
where her thoughts lash her like nettles
and The Southern Star in her lap is an unread breviary;
where she strains to hear the names of nameless children
in the barking of dogs, each and every afternoon.
Translated into English by Kaarina Hollo from 'Marbhghin 1943: Glaoch ar Liombo' by Derry O'Sullivan
The University of Sheffield
With nearly 25,000 students from 125 countries, the University of Sheffield is one of the UK's leading and largest universities. A member of the Russell Group, it has a reputation for world-class teaching and research excellence across a wide range of disciplines.
The University of Sheffield has been named University of the Year in the Times Higher Education Awards for its exceptional performance in research, teaching, access and business performance. In addition, the University has won four Queen's Anniversary Prizes (1998, 2000, 2002, 2007). These prestigious awards recognise outstanding contributions by universities and colleges to the United Kingdom's intellectual, economic, cultural and social life. Sheffield also boasts five Nobel Prize winners among former staff and students and many of its alumni have gone on to hold positions of great responsibility and influence around the world.
The University's research partners and clients include Boeing, Rolls-Royce, Unilever, Boots, AstraZeneca, GSK, ICI, Slazenger, and many more household names, as well as UK and overseas government agencies and charitable foundations.
The University has well-established partnerships with a number of universities and major corporations, both in the UK and abroad. Its partnership with Leeds and York Universities in the White Rose Consortium has a combined research power greater than that of either Oxford or Cambridge.
Contact
For further information please contact:
Amy Pullan
Media Relations Officer
The University of Sheffield
0114 222 9859
a.l.pullan@sheffield.ac.uk