Massive loss of tropical bird species due to low-intensity farming, study finds
Converting forests to farmland is driving the extinction of evolutionary distinct tropical birds
Bird conservation benefits more from land-sparing than land-sharing
More than 650 million years of evolutionary history lost through low-intensity farming
Tropical birds are facing an extinction crisis due to forests being converted into farmland, according to new research from the University of Sheffield.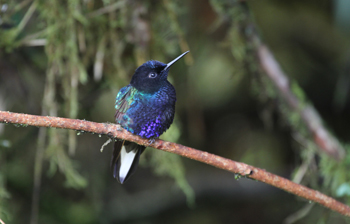 The study, led by the University's Department of Animal and Plant Sciences, suggests converting forests into farmland is causing massive losses of avian phylogenetic diversity – a measure of the evolutionary history of tropical bird species. 
The international research team examined the effects of intensive farming practices in the Choco-Andes of Colombia and found that combining this with protecting large forest blocks under land-sparing would be more effective at preserving evolutionarily distinct tropical birds than land-sharing.
The Sheffield-led scientists also found that land-sharing causes a decline in the diversity of tropical bird species within a larger distance from forest.
Dr David Edwards from the University of Sheffield said: "Our research shows that converting tropical forests into farmland is causing dramatic species loss among tropical birds.
"The idea behind the land-sharing method of farming is that the biodiversity of birds can be maintained at the same time as producing a low yield. However what we've found in this study is that farming intensively in one area while leaving large natural reserves untouched will save more evolutionary distinct species of bird."
The researchers sampled birds in three study areas, each containing contiguous forest and cattle farms. While they found many bird species living within low-intensity farmland communities, those areas showed a loss of more than 650 million years of evolutionary history in comparison to the forest.
Dr Edwards and his colleagues then used landscape simulations to examine the outcomes of land-sharing versus land-sparing practices. Their analyses show that land-sharing becomes increasingly inferior to land-sparing as the distance from the intact forest grows.
Isolation from forest also leads to the loss of more evolutionary distinct species from communities within land-sharing landscapes – something which could be avoided with effective land-sparing.
"The Choco-Andes are a hotspot of endemism and have been widely impacted by low-intensity farming, making this one of the most threatened faunas on Earth," Edwards added. "It is vital to consider how best to farm here, but also how to use this region as a model for how best to farm in other tropical locations.
"Our results underline the critical importance of halting the conversion of contiguous forests to farmland. If we fail to do so then we will see a vast array of the world's most evolutionary distinct birds become extinct."
The study predicts that even when significant wildlife-friendly habitat cover is retained, converting forest to low-intensity farmland will still result in a dramatic loss of evolutionary distinct tropical bird species.
Furthermore, pairing spared forests reserves with intensively managed farmland might best serve tropical conservation interests.
The study is published in the Cell Press journal Current Biology on 3 September 2015.
Additional information
The University of Sheffield
With almost 26,000 of the brightest students from around 120 countries, learning alongside over 1,200 of the best academics from across the globe, the University of Sheffield is one of the world's leading universities.
A member of the UK's prestigious Russell Group of leading research-led institutions, Sheffield offers world-class teaching and research excellence across a wide range of disciplines.
Unified by the power of discovery and understanding, staff and students at the university are committed to finding new ways to transform the world we live in.
In 2014 it was voted number one university in the UK for Student Satisfaction by Times Higher Education and in the last decade has won four Queen's Anniversary Prizes in recognition of the outstanding contribution to the United Kingdom's intellectual, economic, cultural and social life.
Sheffield has five Nobel Prize winners among former staff and students and its alumni go on to hold positions of great responsibility and influence all over the world, making significant contributions in their chosen fields.
Global research partners and clients include Boeing, Rolls-Royce, Unilever, AstraZeneca, Glaxo SmithKline, Siemens and Airbus, as well as many UK and overseas government agencies and charitable foundations.
Contact
For further information please contact:
Sean Barton
Media Relations Assistant
University of Sheffield
0114 222 9852
s.barton@sheffield.ac.uk