Two-thirds of alcohol sales are to heavy drinkers
68 per cent of alcohol industry revenue in England comes from consumers drinking at risky levels
If all drinkers complied with the Chief Medical Officer's recommended guideline levels, alcohol sales would decline by £13 billion
The average price of a pint in a pub would have to rise by £2.64 in order to maintain current levels of revenue for the alcohol industry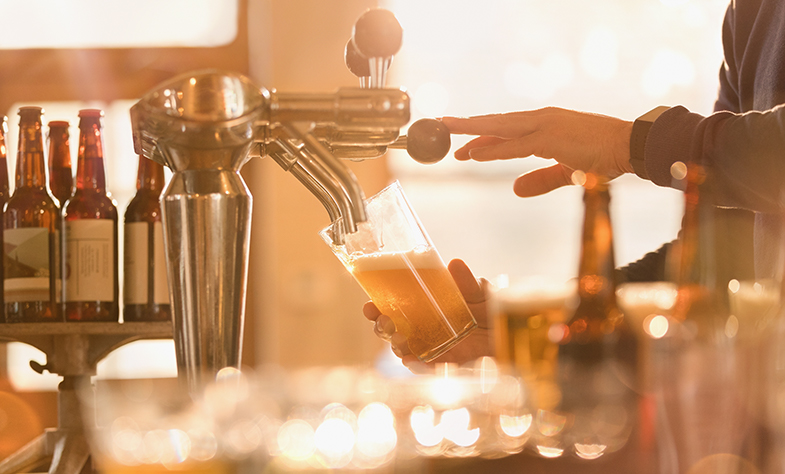 Two-thirds of alcohol industry revenue in England comes from consumers drinking at risky levels, according to a new study from the University of Sheffield's Alcohol Research Group.
The research, conducted in collaboration with the Institute of Alcohol Studies, shows that if all drinkers complied with the Chief Medical Officer's recommended guideline levels, alcohol sales revenue would decline by £13 billion (38 per cent).
Findings also showed that:
• Drinkers consuming more than the government's low-risk guideline of 14 units per week make up 25 per cent of the population, but provides 68 per cent of industry revenue.
• Four per cent of the population drinking at levels identified as 'harmful' account for almost a quarter (23 per cent) of the total value of all alcohol sold.
The research, which is published today (23 August 2018) in the journal Addiction, also explores the financial importance of heavy drinking to different types of retailers and producers.
The study showed that a higher proportion of sales in supermarkets and off-licences (81 per cent) compared to pubs, bars, clubs and restaurants (60 per cent) are to those drinking above guideline levels.
It also demonstrates that heavy drinkers generate a greater share of revenue for producers of beer (77 per cent), cider (70 per cent) and wine (66 per cent) than spirits (50 per cent).
If everyone in England drank within the guidelines, the average price of a pint in a pub would have to rise by £2.64 and a bottle of wine in the supermarket by £4.36, in order to maintain current levels of revenue for the alcohol industry

Colin Angus, sHEFFIELD Alcohol RESEARCH GROUP 

Colin Angus, Research Fellow at the University of Sheffield's Alcohol Research Group, said: "Our analysis shows that if everyone in England drank within the guidelines, the average price of a pint in a pub would have to rise by £2.64 and a bottle of wine in the supermarket by £4.36, in order to maintain current levels of revenue for the alcohol industry.
"The size of these increases cast serious doubt on the industry's claims that it supports moderate drinking."
The research highlights a conflict of interest in the industry's involvement in developing government alcohol policy.
Aveek Bhattacharya, Policy Analyst at the Institute of Alcohol Studies, and the lead author of the paper, said: "Alcohol causes 24,000 deaths and over 1.1 million hospital admissions each year in England, at a cost of £3.5 billion to the NHS.
"Yet policies to address this harm, like minimum unit pricing and raising alcohol duty, have been resisted at every turn by the alcohol industry. Our analysis suggests this may be because many drinks companies realise that a significant reduction in harmful drinking would be financially ruinous."
He added: "The government should recognise just how much the industry has to lose from effective alcohol policy, and be more wary of its attempts to derail meaningful action through lobbying and offers of voluntary partnership. Protecting alcohol industry profits should not be the objective of public policy – previous research has shown that reducing alcohol consumption would not only save lives and benefit the exchequer, but could also boost the economy and create jobs."
Additional information
• In August 2016, the government adopted the revised Chief Medical Officer's drinking guidelines, which recommend that 'to keep health risks from alcohol to a low level it is safest not to drink more than 14 units a week on a regular basis.'
• A unit is equivalent to 10ml of pure alcohol (a shot of spirits or around half a pint of beer)
• In May 2018, minimum unit pricing came into force in Scotland, having been delayed for six years by legal challenges led by the Scotch Whisky Association
• In 2012, the UK government announced plans to introduce minimum unit pricing in the rest of the UK, only to reverse this plan following fierce lobbying from the alcohol industry
• Beer duty is 16 per cent lower today in real terms than in 2012, as a result of heavy industry lobbying
• Between 2010 and 2015, the Public Health Responsibility Deal was a government-led initiative, encouraging businesses to make voluntary pledges to improve public health, such as funding public awareness campaigns and standardising health warning labels
• The scheme was abandoned by most public health organisations, who perceived the industry as having excessive influence over the commitments and their evaluation
• A 'core commitment' of the Responsibility Deal, endorsed by over 100 alcohol producers and retailers, was to "foster a culture of responsible drinking, which will help people to drink within guidelines"
The University of Sheffield
With almost 29,000 of the brightest students from over 140 countries, learning alongside over 1,200 of the best academics from across the globe, the University of Sheffield is one of the world's leading universities.
A member of the UK's prestigious Russell Group of leading research-led institutions, Sheffield offers world-class teaching and research excellence across a wide range of disciplines.
Unified by the power of discovery and understanding, staff and students at the university are committed to finding new ways to transform the world we live in.
Sheffield is the only university to feature in The Sunday Times 100 Best Not-For-Profit Organisations to Work For 2018 and for the last eight years has been ranked in the top five UK universities for Student Satisfaction by Times Higher Education.
Sheffield has six Nobel Prize winners among former staff and students and its alumni go on to hold positions of great responsibility and influence all over the world, making significant contributions in their chosen fields.
Global research partners and clients include Boeing, Rolls-Royce, Unilever, AstraZeneca, Glaxo SmithKline, Siemens and Airbus, as well as many UK and overseas government agencies and charitable foundations.
Contact
For further information please contact:
Amy Huxtable
Media Relations Officer
University of Sheffield
0114 222 9859
a.l.huxtable@sheffield.ac.uk