University of Sheffield hosts international student conference
Speakers and delegates at the annual conference of the UK's foremost international student body, the UK Council for International Student Affairs (UKCISA), reaffirmed their solidarity with the international academic community yesterday (30 June 2016), in spite of last week's EU referendum result.
Representatives of UK universities, further education and pathway colleges and schools gathered at the University of Sheffield's Student Union for the opening of the conference.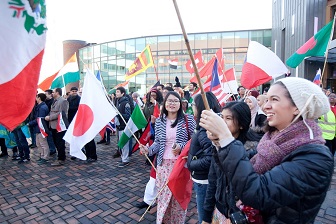 Professor Shearer West, Deputy Vice-Chancellor of the University of Sheffield, welcomed delegates to the University of Sheffield.
Professor West said: "This is a University and a city that is deeply proud of its international students and warmly welcomes them. This week for example our city leaders, the heads of the two universities, colleges, the chambers of commerce and hospitals have reaffirmed their commitment to welcoming international students to Sheffield.
"We think universities are a place where ideas can be debated and exchanged, new knowledge can be created, and which benefits from the diverse backgrounds of our students and our staff, in which education and ideas are not constrained by borders. The intellectual life of our universities I think depends on our diversity and this is why we at Sheffield began a shared campaign to declare proudly that 'We Are International'."
Lord Bilimoria, President of UKCISA and Founder of Cobra Beer, opened UKCISA's three-day annual conference with a keynote address to over 500 delegates gathered at the University of Sheffield's Students' Union.
Lord Bilimoria said: "When international students go back to their home countries, they become lifelong ambassadors for Britain. Everyone would be for the poorer if we did not have international students, and yet we have had a government, Coalition and Conservative, that has just done everything possible to send out exactly the opposite message.
"We should take international students out of our net migration figures today. Just doing that one move would send out such a positive signal to our whole world and to international students.
"In purchasing-power parity terms, it's very expensive studying in the UK. If you can work for two more years after finishing your studies, you are contributing to our economy, and paying taxes, enriching our economy and getting two more years experience working and living in Britain which will build the bridges even more for future generations – it's a win-win situation. 75 per cent of the British public say international students should be allowed to stay on and work after they graduate."

Ahead of a campaign relaunch tomorrow, delegates tweeted with the #WeAreInternational hashtag, echoing the message of the award-winning campaign founded at the University of Sheffield in 2013, which is designed to show the value of international students across the UK, both from an economic, cultural and skills perspective.
The campaign is now supported by more than 100 UK universities and colleges, the British Council, the National Union of Students and the Home Office and has so far involved a number of key events. These have included the commissioning of a first-of-its-kind report to highlight the huge net worth of international students, a unique selfie campaign, and two parliamentary events for the launch of videos to help talented students from across the globe better understand how to apply to study at the UK's leading universities.
Following the results of last week's EU referendum it is hoped the campaign will be reinvigorated by pushes for further support of solidarity from colleagues and partners at other universities and further afield.
Abdi-Aziz Suleiman, who Co-Founded the #WeAreInternational campaign while he was President of the Students' Union at the University of Sheffield, said: "There is no better place for international students in the world than the UK and I have seen first-hand the overwhelming support that international students receive at UK Universities. We know there is plenty of work to be done to continue to build an inclusive environment for international students in the UK. Right now, the work of UKCISA is more important than ever."
Peggy Lim, International Students' Officer at the University of Sheffield Students' Union, said: "The University of Sheffield is redoubling its efforts to campaign on behalf of international students and find new parts of the world where its research can make an impact and its students can be recruited. In places like the University of Sheffield and elsewhere, we acknowledge that we are international as well as recognising the contribution of our international students to the community. We believe that it is the diverse communities that make universities the exciting places that they are."
Lord Bilimoria, together with Sheffield Central MP Paul Blomfield, have agreed to chair the All-Party Parliamentary Group for International Students. Paul Blomfield will give the closing address to the conference on Friday.
Additional information
The University of Sheffield
With almost 26,000 of the brightest students from around 120 countries, learning alongside over 1,200 of the best academics from across the globe, the University of Sheffield is one of the world's leading universities.
A member of the UK's prestigious Russell Group of leading research-led institutions, Sheffield offers world-class teaching and research excellence across a wide range of disciplines.
Unified by the power of discovery and understanding, staff and students at the university are committed to finding new ways to transform the world we live in.
In 2014 it was voted the number one university in the UK for Student Experience by Times Higher Education and in the last decade has won four Queen's Anniversary Prizes in recognition of the outstanding contribution to the United Kingdom's intellectual, economic, cultural and social life.
Sheffield has five Nobel Prize winners among former staff and students and its alumni go on to hold positions of great responsibility and influence all over the world, making significant contributions in their chosen fields.

Global research partners and clients include Boeing, Rolls-Royce, Unilever, AstraZeneca, Glaxo SmithKline, Siemens and Airbus, as well as many UK and overseas government agencies and charitable foundations.
For further information, please visit www.sheffield.ac.uk
About Lord Bilimoria
Lord Bilimoria is an independent cross bench peer and entrepreneur. In 1989, he founded Cobra Beer, which is now exported to 40 countries worldwide and sold in 98.6% of UK curry restaurants as a joint venture with Molson Coors. Created Lord Bilimoria of Chelsea in 2006, he is now involved in many sides of public affairs and Higher Education, as well as acting as Chairman of Cobra and mentoring a number of other businesses. Lord Bilimoria is a vocal campaigner for increased British overseas trade and an Ambassador for UKTI-backed the International Festival for Business 2016.
He is Founding Chairman of the UK-India Business Council, Chancellor of the University of Birmingham, President of the UK Council for International Student Affairs and Chair of the Cambridge Judge Business School's Advisory Board.
About UKCISA
The UK Council for International Student Affairs (UKCISA) is the UK's national advisory body serving the interests of international students and those who work with them.
UKCISA's aims include:
• To increase support for international education and raise awareness of its values and benefits
• To promote opportunities for - and identify and work to reduce obstacles and barriers to - greater student mobility
• To encourage best practice, professional development and the highest quality of institutional support for international students throughout the education sector
Contact
For further information please contact:
Shemina Davis
Media Relations Manager
The University of Sheffield
0114 222 5339
shemina.davis@sheffield.ac.uk