The University of Sheffield announces plans to facilitate an independent commission on higher education
The University of Sheffield plans to facilitate an independent commission to consider the purpose and funding of higher education.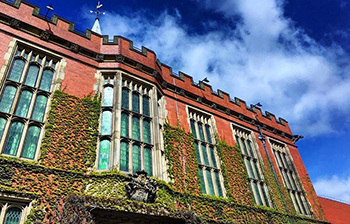 Concerned that there is an urgent need for a broad debate on issues of long-term significance to students and to the UK, this review will take a wide-ranging perspective involving students, graduates, teachers as well as policy experts and those outside universities who benefit from them, including in industry and the health service.
Professor Sir Keith Burnett, President and Vice-Chancellor of The University of Sheffield, said:
"I have become increasingly concerned by the nature of the current debate about universities and fees, and believe it is only right that universities and students contribute our own perspective on the challenge of ensuring the nation has the high-quality education we need for the future funded in a sustainable and equitable way.
"My personal and longstanding view is that education should be free at the point of use as both a private and public good for society. Having said that, we urgently need a rethink on what we need from that education and how it should be funded. We have some of the best universities in the world but we owe it to our students and the country to get this right.
"In the absence of a clear political view, we in Sheffield - all members of the university, including students - will have the chance to input into a commission to review the purpose, cost and funding of education. Our aim is that this will also draw in advice from the best thinkers on educational policy, including further education and apprenticeships - an area where the University of Sheffield has been a pioneer working with a range of partners to create almost 1,000 industry-sponsored apprentices in our manufacturing research centre.
"Students will also be crucial to this work. Our Students' Union has already begun thinking about the kind of education which will be needed eighteen years from now by a child born today and we want to build on this crucial work which goes far beyond the immediate concerns of political parties focused on short term electoral success.
"It is time to review what is precious in universities, what should be preserved, what changed and how this should all be funded in an equitable way for young people and the country. The Sheffield commission will seek to do just that, making our findings openly available to government and the public."
Kieran Maxwell, President of the University of Sheffield's Students' Union, said: "We at the Sheffield Students' Union are very excited to be collaborating with the University of Sheffield on this new independent commission. We have recently unveiled a new 18 year strategy with a view to looking ahead at the future of Higher Education, and with a focus on student well-being; it's great to see that the University is also looking ahead beyond simply the politics of the day.
"It's clear that the current model of HE funding isn't working and there's little direction coming from the government on how to overcome this. It's fantastic that the University of Sheffield is taking the lead to put forward a positive case, based on experience and expertise, for what the future of Higher Education should be. Professor Sir Keith Burnett is right to say that the voices of the students should be heard in conversations around HE funding, and that is the perspective that we at Sheffield Students' Union are excited to put forward."
The University has begun the process of consulting with likely contributors about the format of the commission which it hopes will be as open as possible. A chair will be appointed following this process.
If anyone is interested in being involved in the independent commission on higher education, please email: HECommission@sheffield.ac.uk
Additional Information
The University of Sheffield
With almost 27,000 of the brightest students from over 140 countries, learning alongside over 1,200 of the best academics from across the globe, the University of Sheffield is one of the world's leading universities.
A member of the UK's prestigious Russell Group of leading research-led institutions, Sheffield offers world-class teaching and research excellence across a wide range of disciplines.
Unified by the power of discovery and understanding, staff and students at the university are committed to finding new ways to transform the world we live in.
Sheffield is the only university to feature in The Sunday Times 100 Best Not-For-Profit Organisations to Work For 2017 and was voted number one university in the UK for Student Satisfaction by Times Higher Education in 2014. In the last decade it has won four Queen's Anniversary Prizes in recognition of the outstanding contribution to the United Kingdom's intellectual, economic, cultural and social life.
Sheffield has six Nobel Prize winners among former staff and students and its alumni go on to hold positions of great responsibility and influence all over the world, making significant contributions in their chosen fields.
Global research partners and clients include Boeing, Rolls-Royce, Unilever, AstraZeneca, Glaxo SmithKline, Siemens and Airbus, as well as many UK and overseas government agencies and charitable foundations.
Contact
For further information please contact:
Annie Goss
Head of Media and PR
University of Sheffield
07798 651208
a.goss@sheffield.ac.uk