University couple set to run length of South America for charity
Two University of Sheffield alumni will begin their bid to become the first couple to run the length of South America later this month, to raise money for environmental charities.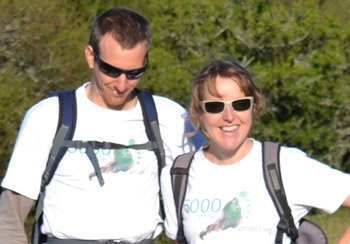 Ecologists Katharine and David Lowrie will begin their year-long epic journey on 27 July 2012, the day that the London Olympics start. The couple aim to raise money for BirdLife International and Conservacion Patagonica, to buy and conserve threatened habitats in South America.
Through online media - 5000mileproject.org - they also want to connect people from around the world to South America's wildlife and wildlands and inspire environmental action to conserve them. The pair met whilst studying at the University in 1997 and married in 2008.
The distance of the expedition, over 5,000 miles, will be the equivalent of running over 200 marathons in a year. The pair will run through a freezing Patagonian winter, battle gale force winds in the Argentine Pampas and endure months of steaming heat in the Amazon rainforest. The journey will be unsupported – meaning they will pull all their expedition gear themselves in a specially designed trailer made of recycled materials.
In completing the expedition, entitled 5000 Mile Project, they will become the first couple to run the continent and Katharine will become the first woman.
Katharine said: "We hope that through sweat, tears and determination, we'll open a portal into the last wilds of South America and rekindle people's passion for running and our amazing natural world. It's not too late to protect the world's remaining unspoilt ecosystems, but time is running out.
"I think people have become jaded about the Amazon issue, as twenty years on, it is still there and it still needs people's help. The sad reality is that millions of hectares have been lost to logging, settlement programmes, agriculture and other development."
She added: "The 5000 Mile Project is about reminding everyone that we all impact South American habitats already. But that we can each, wherever we are and whoever we are, do something to help, whether that is ensuring we buy forestry assured timber and buying local food and cutting back on using the car and plastic bags. People can also donate to our charities BirdLife International and Conservacion Patagonica at www.5000mileproject.org."
Katharine and David are both committed conservationists and keen explorers. The couple sailed to the Caribbean in 2008 and undertook the first complete breeding seabird census off the Eastern Caribbean and an extensive marine education programme. They have also sailed over 20,000m in a circumnavigation of South America, surveying seabirds and other wildlife. They are currently based in Uruguay, planning and training for the 5000mileproject expedition.
Additional information
The expedition's home is at www.5000mileproject.org and www.facebook.com/5000mileproject
For the Press Room, including high res photos visit: www.5000mileproject.org/pressroom
David and Katharine have so far secured grants from Sculpt the Future Foundation, Transglobe Expedition Trust and John Muir Trust; sponsorship from: Swarovski, Berghaus, Inov-8, Vivobarefoot, Patagonia, etc. www.5000mileproject.org/sponsors
The University of Sheffield
With nearly 25,000 students from 125 countries, the University of Sheffield is one of the UK´s leading and largest universities. A member of the Russell Group, it has a reputation for world-class teaching and research excellence across a wide range of disciplines.
The University of Sheffield has been named University of the Year in the Times Higher Education Awards for its exceptional performance in research, teaching, access and business performance. In addition, the University has won four Queen´s Anniversary Prizes (1998, 2000, 2002, 2007). These prestigious awards recognise outstanding contributions by universities and colleges to the United Kingdom´s intellectual, economic, cultural and social life. Sheffield also boasts five Nobel Prize winners among former staff and students and many of its alumni have gone on to hold positions of great responsibility and influence around the world.
The University´s research partners and clients include Boeing, Rolls Royce, Unilever, Boots, AstraZeneca, GSK, ICI, Slazenger, and many more household names, as well as UK and overseas government agencies and charitable foundations.
The University has well-established partnerships with a number of universities and major corporations, both in the UK and abroad. Its partnership with Leeds and York Universities in the White Rose Consortium has a combined research power greater than that of either Oxford or Cambridge.
Contact
For further information please contact:
Amy Stone
Media Relations Officer
The University of Sheffield
0114 222 1046
a.f.stone@sheffield.ac.uk