University of Sheffield's Festival of the Mind inspires the city
The University of Sheffield showcased its world-leading research at the third Festival of the Mind, held last month (15 September to 25 September 2016).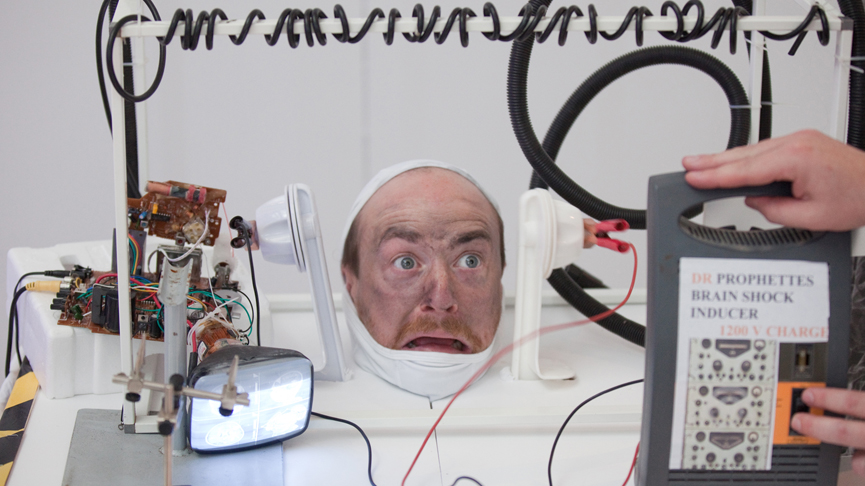 The festival, which pairs University academics with experts from Sheffield's cultural and creative industries, attracted 50,000 visitors to its performances, talks, exhibitions, virtual reality experiences and interactive events designed to educate, inform and create debate.
This year's 11-day festival was spread across the city with lively and engaging events and activities at the Millennium Galleries, the Moor Market, the impressive Spiegeltent outside Barkers Pool, the iconic Sheffield Cathedral and the Winter Garden.
Metabolon, an art installation designed to interpret and display the chemical reaction of chlorophyll biosynthesis, was displayed at Sheffield Cathedral and attracted almost 10,000 visitors. It is now expected to go on tour around the country. The Futurecade exhibition, a utopian vision of future realities, brought more than 13,000 visitors to the Millennium Gallery. Visitors engaged with 15 intriguing projects which gave an insight into life and art in 2025 by utilising virtual reality and other techniques.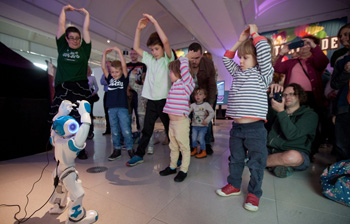 Dr Chris Blackmore, from the School of Health and Related Research (ScHARR), who brought his project #happysheffield to the festival said it had been a fantastic opportunity to engage with people in Sheffield.
Dr Blackmore, who studies mental health, worked with Dr Mark Stevenson, from the Department of Computer Science, to analyse social media activity on Twitter and used that data to create a live digital display projected in Barkers Pool that was reflective of the city's general mood.
Dr Blackmore said: "In our project #happysheffield, we were able to bring the University's research to people going about their normal day-to-day business in the city, to get them thinking about things in a new way, and to get their feedback and ideas on where we can take our research next.
"As part of our preparation for the festival, we really had to think how to communicate our ideas in a simple and effective way, and how to make them accessible and engaging for a wide variety of people.
"Being part of the festival was a great chance to work with people - both other academics within the University and creative agencies in the city - who we would otherwise not have come into contact with."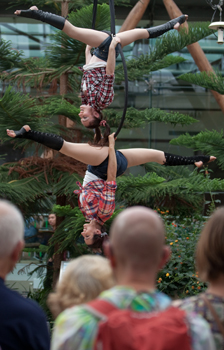 The festival also provided an opportunity for the University's students from across the globe to volunteer and make an impact on the city.
Emily Fisk, who is in the third year of her PhD in Respiratory Medicine was one of the 150 students to volunteer. She said: "As a postgraduate student, I now see how valuable public engagement really is and how integral it has become to the University of Sheffield. It's particularly important when you consider how the University was founded on public donations.
"I really enjoy chatting to the public about what the University does. I think that this transparency is indispensable for our research, so it's great that we have so many channels to engage the public with what we do and give them something back."
Professor Vanessa Toulmin, Director of City and Cultural Engagement at the University of Sheffield, said: "Festival of the Mind 2016 has captured the spirit of invention and collaboration which makes Sheffield such a great place to live.
"We have had overwhelmingly positive feedback to this year's festival with some wonderful comments from visitors who have been inspired by our world-leading research.
"Ninety-two per cent of visitors rated the festival as excellent and sixty-eight per cent said it had changed their perception of our research in a positive way."
During the festival, footfall in the city centre increased by 23 per cent compared to the same period the previous year. The Moor Market and Winter Garden areas saw an increase of 51 per cent.
Vanessa continued: "Festival of the Mind is an example of what incredible things can be achieved when you bring together some of the world's leading researchers and the best creative minds in the industry."
The success of this year's festival was also made possible thanks to a 50 per cent increase in external funding with grants from Arts Council England and the Royal Society.
Additional information
The University of Sheffield
With almost 27,000 of the brightest students from over 140 countries, learning alongside over 1,200 of the best academics from across the globe, the University of Sheffield is one of the world's leading universities.
A member of the UK's prestigious Russell Group of leading research-led institutions, Sheffield offers world-class teaching and research excellence across a wide range of disciplines.
Unified by the power of discovery and understanding, staff and students at the university are committed to finding new ways to transform the world we live in.
Sheffield is the only university to feature in The Sunday Times 100 Best Not-For-Profit Organisations to Work For 2016 and was voted number one university in the UK for Student Satisfaction by Times Higher Education in 2014. In the last decade it has won four Queen's Anniversary Prizes in recognition of the outstanding contribution to the United Kingdom's intellectual, economic, cultural and social life.
Sheffield has six Nobel Prize winners among former staff and students and its alumni go on to hold positions of great responsibility and influence all over the world, making significant contributions in their chosen fields.
Global research partners and clients include Boeing, Rolls-Royce, Unilever, AstraZeneca, Glaxo SmithKline, Siemens and Airbus, as well as many UK and overseas government agencies and charitable foundations.
Contact
For further information please contact:
Clare Parkin
Media Relations Officer
University of Sheffield
0114 222 9851
clare.parkin@sheffield.ac.uk