University of Sheffield partners with the first 'on campus' venture capital project to create tech stars of the future
A new venture capital firm has partnered with the University of Sheffield to build 'on campus' investments funds and develop student entrepreneurial skills.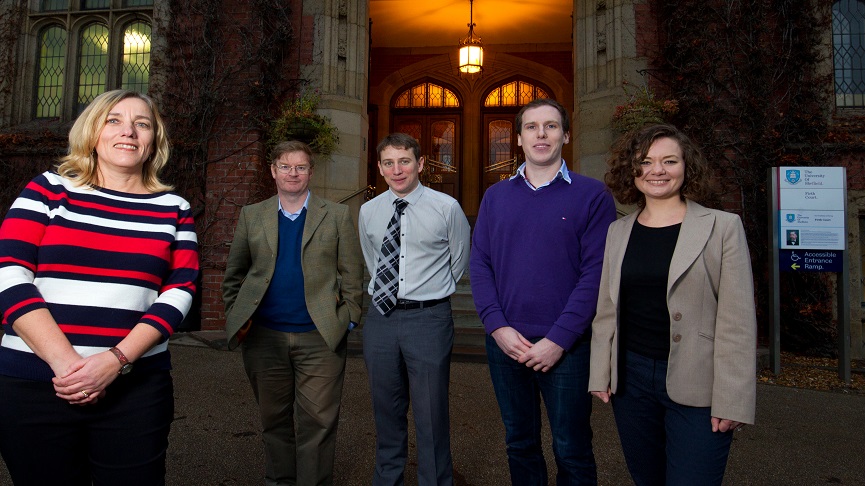 Campus Capital is launching its first £2m fund, having signed up the University of Sheffield as its first partner. It is also in talks with other northern universities and plans to roll out the model nationally.
Campus Capital, which is based on successful US models, will invest in early-stage tech companies - whether they are university spin-outs, alumni businesses or local start-ups - and aims to provide attractive, tax-efficient returns for investors. Students will be given the opportunity to act as venture capitalists by participating alongside investment professionals in the management of the portfolio.
The firm has been launched by serial entrepreneurs Michael Howe, founder of Sheffield-based artificial intelligence firm Otus Labs, and Samantha Deakin Hill, who previously ran a digital agency and now supports tech start-ups at the University of Sheffield. It has the backing of Tech North, whose former head Claire Braithwaite is among the advisory board members, along with Rupert Wingate-Saul of AXM Venture Capital.
Michael Howe said that on-campus venture funds had enjoyed considerable success in the US, and some US-based venture capital firms also employed student ambassadors. "Many tech companies including Facebook and Snapchat were founded on campus and universities are at the forefront of research and development, so it makes sense to have funds based on campus," he added.
"Many students are passionate about business and enterprise and in tune with new technology so are well placed to spot emerging trends and scout for potential investments. By giving them a deeper insight into the world of venture capital, we are nurturing the next generation of entrepreneurs and investors."
The Campus Capital fund is to be managed by an Financial Conduct Authority authorised manager working with Campus Capital and investors stand to benefit from Seed Enterprise Investment Scheme and Enterprise Investment Scheme tax relief. The fund has already received initial commitments from a range of alumni and private investors.
Sara Pates, Head of Enterprise at the University of Sheffield, said: "We are very excited to be partnering in such an innovative initiative, which complements existing similar provision for students to make stock market investments. It is the 'real' element of both of these opportunities which make them so valuable to our students. Students will develop a broad range of employability skills whilst gaining a unique insight into the world of VC investments and entrepreneurial startups."
James Bedford, Head of Investment Strategy at Tech North, said: "Tech North are keen to improve access to investment in the North of England and strongly support Campus Capital as they not only seek to help solve the funding gap but also wish to create the next home-grown venture capital experts, further strengthening the North's investment eco-system."
Additional information
Campus Capital
Campus Capital is the first ever on-campus VC (Venture Capital) firm in the UK and will be providing early stage, growth focused investment funds for some of the UK's leading universities. These individual funds are based on campus and involve active participation by undergraduates and/or graduates under the guidance and supervision of the Campus Capital board. Our unique structure enables us to be part of the fabric of each university and allows us to nurture entrepreneurial talent before making any investment. For further information see www.campuscapital.vc
The University of Sheffield
With almost 27,000 of the brightest students from over 140 countries, learning alongside over 1,200 of the best academics from across the globe, the University of Sheffield is one of the world's leading universities.
A member of the UK's prestigious Russell Group of leading research-led institutions, Sheffield offers world-class teaching and research excellence across a wide range of disciplines.
Unified by the power of discovery and understanding, staff and students at the university are committed to finding new ways to transform the world we live in.
Sheffield is the only university to feature in The Sunday Times 100 Best Not-For-Profit Organisations to Work For 2016 and was voted number one university in the UK for Student Satisfaction by Times Higher Education in 2014. In the last decade it has won four Queen's Anniversary Prizes in recognition of the outstanding contribution to the United Kingdom's intellectual, economic, cultural and social life.
Sheffield has six Nobel Prize winners among former staff and students and its alumni go on to hold positions of great responsibility and influence all over the world, making significant contributions in their chosen fields.
Global research partners and clients include Boeing, Rolls-Royce, Unilever, AstraZeneca, Glaxo SmithKline, Siemens and Airbus, as well as many UK and overseas government agencies and charitable foundations.