University scientists' work could lead to Parkinson's breakthrough
• Scientists are creating a computer model which will map out how a Parkinson's sufferer's condition will develop
• The project will lead to tailored treatment for patients
• The research work will enable those with Parkinson's to plan for the future
Scientists at the University of Sheffield are part of a major European project which could revolutionise treatment for Parkinson's sufferers.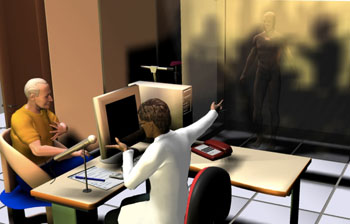 One of the biggest challenges for treating Parkinson's is the unpredictable nature of the condition as it affects everyone differently and progresses in individuals in different ways.

Now researchers from the University's INSIGNEO, Institute for in silico medicine, are among those working to create a computer model that will be able to accurately predict how a person's condition will develop over time.

Professor Kevin Gurney, from INSIGNEO, said: "This project aims to lay the foundations for a step change in the treatment of Parkinson's disease. In the future health professionals will be able to tailor treatment to each individual and help people and their families to plan for the future.

"Here at The University of Sheffield INSIGNEO is leading the way in in silico medicine. Working in partnership with Sheffield Teaching Hospitals NHS Foundation Trust we aim to put computers at the heart of healthcare making it possible to individualise and improve healthcare treatment and reduce costs.

"We are very proud to be part of this research project which is an excellent example of how in silico medicine can develop and improve the treatment options of devastating diseases like Parkinson's."

The three year project called No Tremor has been funded by the European Commission to the tune of €2.9m (£2.4m) and sees the University and researchers from across Europe working in partnership with Parkinson's UK.
The scientists will make models personalised to each patient using their specific clinical data enabling prediction of disease progress on an individual basis.
By using these unique models, along with existing data sets, they aim to develop new clinical tools for use by both Parkinson's healthcare professionals, and by pharmaceutical companies for the development of new drugs.
Additional information
INSIGNEO aims to achieve the scientific ambition behind the Virtual Physiological Human (VPH), by facilitating clinical translation of our world-leading expertise in biomedical and computational modelling to produce new decision-making tools for individualised clinical diagnosis, prognosis and therapy.
INSIGNEO brings together highly respected researchers and clinicians from across The University of Sheffield and Sheffield Teaching Hospitals NHS Foundation Trust. Members collaborate across disciplines, and with international partners in industry, academia and healthcare. This enables INSIGNEO to define and address, with the wider VPH community, clinical and technological challenges inherent in in silico medicine. More information can be found at http://insigneo.org/
Parkinson's disease (PD) is the second most common neurodegenerative disorder after Alzheimer's disease and is expected to impose an increasing social and economic burden on societies as populations age.
According to the European Parkinson's Disease Association, 1.2 million people in Europe have Parkinson's disease and studies indicate that it is expected to reach an increment of 28 per cent by 2020 in the UK.
In the UK, the overall cost of Parkinson's prescription drugs and patient care has been estimated to be between £449 million and £3.3 billion annually.
The other research centres involved in the project are: Centre for Research and Technology Hellas/ Information Technologies Institute GR; University of Oxford, University of Patras, Greece; University of Trento, Italy and UCB Pharma SA, Belgium.
The University of Sheffield
With almost 25,000 of the brightest students from around 120 countries, learning alongside over 1,200 of the best academics from across the globe, the University of Sheffield is one of the world's leading universities.
A member of the UK's prestigious Russell Group of leading research-led institutions, Sheffield offers world-class teaching and research excellence across a wide range of disciplines.
Unified by the power of discovery and understanding, staff and students at the university are committed to finding new ways to transform the world we live in.
In 2011 it was named University of the Year in the Times Higher Education Awards and in the last decade has won four Queen's Anniversary Prizes in recognition of the outstanding contribution to the United Kingdom's intellectual, economic, cultural and social life.
Sheffield has five Nobel Prize winners among former staff and students and its alumni go on to hold positions of great responsibility and influence all over the world, making significant contributions in their chosen fields.
Global research partners and clients include Boeing, Rolls-Royce, Unilever, AstraZeneca, Glaxo SmithKline and Siemens, as well as many UK and overseas government agencies and charitable foundations.