Varsity victory for University of Sheffield's sporting champions
Sporting students from the University of Sheffield are celebrating after being crowned Varsity champions for the first time in ten years.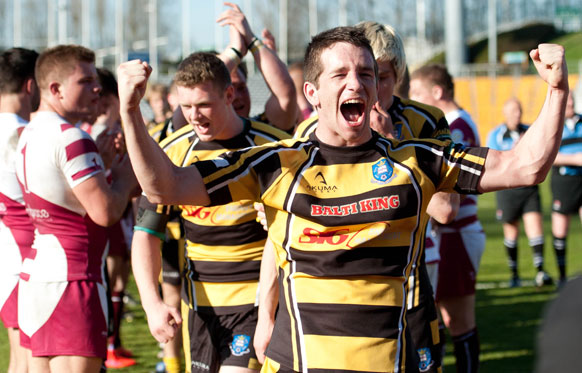 The University's finest sportsmen and women stormed to victory against Sheffield Hallam University – taking home the prestigious trophy for the first time in a decade by two points.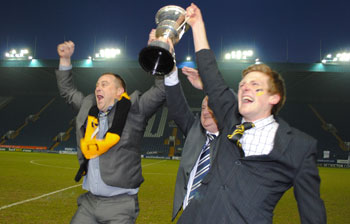 Varsity 2013 was the 17th annual sporting tournament between the two rival institutions and is the biggest sporting event in the universities calendar. This year's gruelling competition consisted of 40 sports, with over 60 fixtures played in 23 venues across the city.
The tournament culminated in a nail biting finish after the final day of competition was postponed due to freezing temperatures and snow.
Thousands of spectators attended the final match of the sporting festival on Wednesday (10 April 2013) between the men's first football teams at the historic Hillsborough Stadium.
The match, which finished 1-0 to Sheffield Hallam, helped to raise money for Bluebell Wood Children's Hospice in Sheffield which is raising funds to open a new end of life suite.
The competition is organised each year by elected student Sports Officers from each of the city's universities.
University of Sheffield Students' Union Sports Officer, Luke MacWilliam, said: "We've been waiting a long time to bring the Varsity trophy back to the University of Sheffield and after 10 years of trying we've finally done it!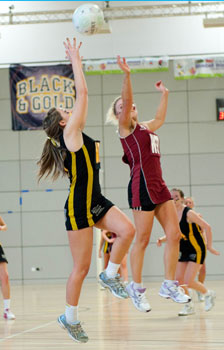 "This year we had the mental edge over Hallam, there was a real belief among the competitors that this would be our year. We were determined not to let them have 10 years undefeated and we showed a ruthless streak throughout the competition.
"I'm immensely proud of all our competitors and supporters. The commitment they've show to the cause is astounding and long may it continue. It's been a privilege working with Sheffield Hallam University on the events and my commiserations go out to them."
The University of Sheffield took 36.5 of the 71 points on offer throughout the tournament. Emphatic wins were recorded by the University's Equestrian Team, Futsal Team, Women's Lacrosse Team and Men's 1st and 2nd Tennis Teams.
Andy Cox, Club Sport Manager at Sport Sheffield, said: "We are so proud of what our students have achieved this year so far. The students have performed amazingly and I strongly believe with the increased support this year from the University of Sheffield that this has made a significant increase. The students are so proud to represent the University of Sheffield and wear the black and gold.
"We have a strong work ethic, strong team and community spirit and a real desire to improve what we are doing year on year. Adding a Varsity win to an already great sporting year is the icing on the cake and will motivate us all to achieve more next year!"
Josh Saydraouten, Sports Officer at Sheffield Hallam Students' Union congratulated the University of Sheffield on their momentous win.
He said: "As I am sure you can image I am gutted to lose Varsity 2013; and I know how devastated Team Sheffield Hallam will be. However I don't want any of the athletes to feel at all disheartened as the commitment and dedication they have shown throughout the competition is something I am so proud of and won't be forgotten.
"Unfortunately 2013 wasn't our year, but this will only make us more determined to come back fighting even harder, ready for Varsity 2014. My congratulations must go to the University of Sheffield for their win and for helping organise a great competition."
| | |
| --- | --- |
| | |
Additional information
Sport Sheffield
For more information about Sport Sheffield visit Sport
The University of Sheffield
With nearly 25,000 of the brightest students from 117 countries coming to learn alongside 1,209 of the world's best academics, it is clear why the University of Sheffield is one of the UK's leading universities. Staff and students at Sheffield are committed to helping discover and understand the causes of things - and propose solutions that have the power to transform the world we live in.
A member of the Russell Group, the University of Sheffield has a reputation for world-class teaching and research excellence across a wide range of disciplines. The University of Sheffield has been named University of the Year in the Times Higher Education Awards 2011 for its exceptional performance in research, teaching, access and business performance. In addition, the University has won four Queen's Anniversary Prizes (1998, 2000, 2002, 2007), recognising the outstanding contribution by universities and colleges to the United Kingdom's intellectual, economic, cultural and social life.
One of the markers of a leading university is the quality of its alumni and Sheffield boasts five Nobel Prize winners among former staff and students. Its alumni have gone on to hold positions of great responsibility and influence all over the world, making significant contributions in their chosen fields.
Research partners and clients include Boeing, Rolls-Royce, Unilever, Boots, AstraZeneca, GSK, Siemens, Yorkshire Water and many more household names, as well as UK and overseas government agencies and charitable foundations.
The University has well-established partnerships with a number of universities and major corporations, both in the UK and abroad.
The White Rose University Consortium (White Rose) a strategic partnership between 3 of the UK's leading research universities of Leeds, Sheffield and York.
Since its creation in 1997 White Rose has secured more than £100m into the Universities.