University Vice-Chancellor highlights how science and technology can drive innovation during China visit
The Vice-Chancellor of the University of Sheffield will this week join a ministerial delegation at China's biggest innovation event, highlighting how science and technology can drive growth and opportunities as well as the importance of collaboration between China and the UK.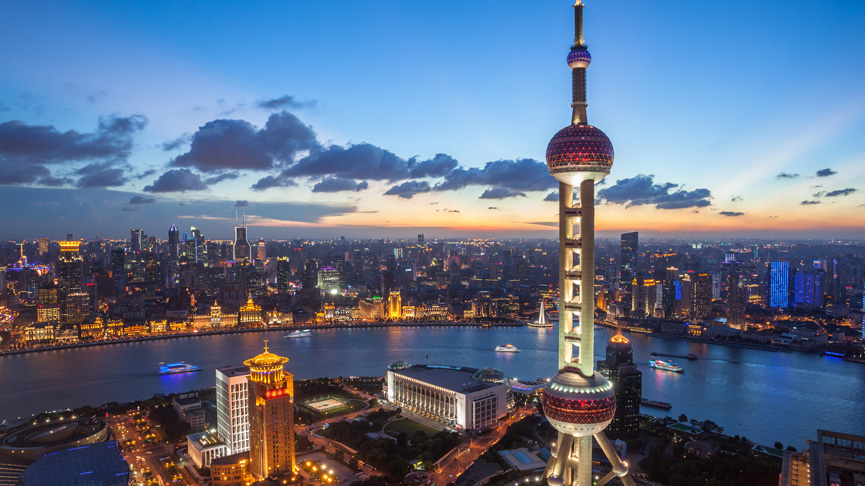 ---
Professor Sir Keith Burnett will deliver a speech during the opening plenary of the prestigious Pujiang Innovation Forum (PIF) on Saturday (24 September 2016), following an address by Universities and Science Minister Jo Johnson MP. The speech will reflect Sir Keith's insights as a scientist, of collaboration with industry and in his new role as President of the UK's Science Council.
Held in Shanghai every year, the PIF is hosted by China's Minister of Science and Technology and attracts over 700 senior government officials, academics, business people and entrepreneurs from China and overseas. This year's theme is "Double Engines: Institutional Innovation and Technology Innovation".
A ministerial delegation will lead the UK's engagement as Country of Honour, rounding off a year of innovation cooperation since President Xi Jinping's 2015 State Visit to the UK highlighted innovation as a key economic driver for both countries.
The University's Advanced Manufacturing Research Centre (AMRC) with Boeing will have a stand at the event, showcasing the potential of the Sheffield City Region to build and develop world-leading ideas, products and technologies which will create jobs, increase UK productivity and drive growth.
During his visit to China, Sir Keith will join the ministerial delegation visits to Suzhou and the UK Innovation is GREAT showcase at the China Financial Information Centre, as well as announce new global academic partnerships between the University of Sheffield and universities in China.
Professor Sir Keith Burnett said: "Bringing together scientists and innovators from the UK and China offers rich opportunities for both countries. From aerospace and advanced manufacturing to collaborations in others areas of science, medicine, social policy and the humanities, our academic staff and students are developing collaborations which will create wealth and improve lives.
"Our own University of Sheffield links are strong in China, where we have some 10,000 Sheffield graduates working in all industries and government. Working with these influential individuals who feel a warm connection to their University and the UK will also open doors to partnerships which are truly beneficial."
During the 14-day trip, the Vice-Chancellor will meet University of Sheffield alumni living and working in China and attend a cultural evening featuring the performance of a new play mixing the works of William Shakespeare and the great Chinese dramatist, Tang Xianzu. The performance features students from the University of Sheffield and is a collaboration between the University's Confucius Institute and the Shanghai Theatre Academy. ​
He will also speak to students at Nanjing University about who benefits from growth and the economic future of China and the UK, as well as visit Nanjing Tech and the Shanghai Academy of Spaceflight Technology.
Additional information
The University of Sheffield
With almost 27,000 of the brightest students from over 140 countries, learning alongside over 1,200 of the best academics from across the globe, the University of Sheffield is one of the world's leading universities.
A member of the UK's prestigious Russell Group of leading research-led institutions, Sheffield offers world-class teaching and research excellence across a wide range of disciplines.
Unified by the power of discovery and understanding, staff and students at the university are committed to finding new ways to transform the world we live in.
Sheffield is the only university to feature in The Sunday Times 100 Best Not-For-Profit Organisations to Work For 2016 and was voted number one university in the UK for Student Satisfaction by Times Higher Education in 2014. In the last decade it has won four Queen's Anniversary Prizes in recognition of the outstanding contribution to the United Kingdom's intellectual, economic, cultural and social life.
Sheffield has five Nobel Prize winners among former staff and students and its alumni go on to hold positions of great responsibility and influence all over the world, making significant contributions in their chosen fields.
Global research partners and clients include Boeing, Rolls-Royce, Unilever, AstraZeneca, Glaxo SmithKline, Siemens and Airbus, as well as many UK and overseas government agencies and charitable foundations.
Contact
For further information please contact:
Hannah Postles
Media Relations Officer
University of Sheffield
0114 222 1046
h.postles@sheffield.ac.uk