The University of Sheffield informs House of Lords report on citizenship and voter engagement
Evidence given by the University of Sheffield and Sheffield Students' Union on voter engagement and citizenship has been published in a House of Lords Select Committee report
Professor Matthew Flinders from the University's Crick Centre was the specialist advisor to the committee
The University's integrated student voter registration model was applauded in the report
Contributions from University members helped to emphasise the importance of citizenship education in encouraging democratic participation
Evidence given by the University of Sheffield and Sheffield Students' Union on citizenship and civic engagement has been published in a House of Lords committee report.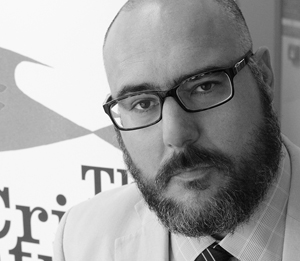 The Select Committee on Citizenship and Civic Engagement also engaged Professor Matthew Flinders, founding Director of the University's Sir Bernard Crick Centre for the Public Understanding of Politics, as specialist advisor to the inquiry.
The committee's membership includes former government Minister and Sheffield MP Lord Blunkett, who is Professor of Politics in Practice and Chair of the Board of the Crick Centre at the University.
The Select Committee took evidence from members of the University in November to inform their inquiry The Ties that Bind: Citizenship and Civic Engagement in the 21st Century.
A report following the inquiry was published last month and includes details on the University of Sheffield's commitment to fostering student civic engagement and democratic participation in student, local and general elections.
The University's pioneering integrated student voter registration scheme was applauded as an area of good practice. The model, which was adopted in collaboration with Sheffield City Council and enables students to register to vote as part of their start-of-term registration process, has signed up three quarters of students to the electoral register, and is part of the University's wider role as a civic anchor institution enabling its students to be active citizens in society.
The report anticipates that other universities will follow Sheffield in implementing integrated voter registration schemes, following government guidance to the Office for Students to encourage higher education providers to promote electoral registration. The report also suggests that the "Sheffield Model" could be adopted by schools and Further Education colleges to help all young people, regardless of whether they go to university or not, to register to vote.
University Secretary Tony Strike, who gave evidence to the Committee, said: "Young people are less likely to be registered to vote than other groups. Universities, although not themselves political bodies, have a wider civic role in encouraging students to engage with the city they have made their home and to participate in its political processes as active citizens.
"It's good to see the Select Committee commend the University of Sheffield for leading the way in civic engagement in this area and recommending the Sheffield model to others."
The University's evidence on the importance of citizenship education was also taken into account. Dr James Weinberg from the University of Sheffield Crick Centre also gave contributions which were published in the report:
"We have evidence showing that those in the top quintile for household income are five times more likely to participate in political activities than those in the lowest … Citizenship education can redress this balance. We have evidence … that citizenship education, where it is done effectively and consistently, can predict political efficacy, participation and levels
of knowledge."
In publishing the report into citizenship and civic engagement, the Lords Committee has set out a number of recommendations for government policy. This includes the need to improve all areas of citizenship policy, in particular implementing statutory citizenship education in primary and secondary schools delivered by a specialist citizenship teacher. The government will set out its response to the report in due course.
Professor Flinders said: "It was a great honour to support this House of Lords inquiry. The University of Sheffield has a proud tradition as a civic university and Sir Bernard Crick's legacy as our first Professor of Politics lives on in our approach to engaged scholarship, lifelong learning and citizenship education.
"Whether this really is a 'landmark report' – as has been claimed – will very much depend on the government's response but I am confident it will have an impact."
Professor Flinders is President of the Political Studies Association of the United Kingdom, serves on the council of the Economic and Social Research Council and holds a House of Commons Professorial Fellowship.
Additional information
The University of Sheffield
With almost 29,000 of the brightest students from over 140 countries, learning alongside over 1,200 of the best academics from across the globe, the University of Sheffield is one of the world's leading universities.
A member of the UK's prestigious Russell Group of leading research-led institutions, Sheffield offers world-class teaching and research excellence across a wide range of disciplines.
Unified by the power of discovery and understanding, staff and students at the university are committed to finding new ways to transform the world we live in.
Sheffield is the only university to feature in The Sunday Times 100 Best Not-For-Profit Organisations to Work For 2018 and for the last eight years has been ranked in the top five UK universities for Student Satisfaction by Times Higher Education.
Sheffield has six Nobel Prize winners among former staff and students and its alumni go on to hold positions of great responsibility and influence all over the world, making significant contributions in their chosen fields.
Global research partners and clients include Boeing, Rolls-Royce, Unilever, AstraZeneca, Glaxo SmithKline, Siemens and Airbus, as well as many UK and overseas government agencies and charitable foundations.
Contact
For further information please contact:
Hannah Postles
Media Relations Officer
The University of Sheffield
0114 222 1046
h.postles@sheffield.ac.uk