Minister praises University's successful voter registration scheme
A pioneering voter registration scheme at the University of Sheffield, which has ensured three quarters of its students are on the electoral roll, has been praised by the Minister for the Constitution.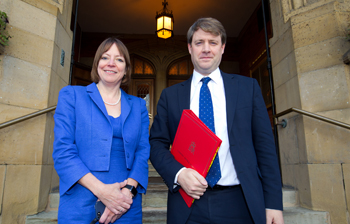 Chris Skidmore MP visited the University today (1 December 2016) to hear how a successful initiative, which sees students register to vote as part of the start-of-term university registration process, has had an impact on the number of students registered to vote.
The University piloted the scheme with Sheffield City Council at the start of the 2014-15 academic year with the aim of boosting student awareness of the benefits of registering to vote and improving the level of student electoral registrations.
In the first year, 75 per cent of students (14,481) joined the electoral roll and in 2015-16, that number rose to 15,352 (76 per cent of students). This is compared with figures as low as 13 per cent for similar sized universities.
The 'Sheffield model' has since been cited in Parliament as an example of best practice.
Chris Skidmore, Minister for the Constitution, said: "This Government is determined to build a democracy that works for everyone and it is heartening to see different people across communities in Yorkshire engaging their friends, neighbours and colleagues to ensure they remain an active part of our democracy.
"In particular, the work that the University of Sheffield is carrying out is making a big difference to how young people are engaged in politics. Their innovative project has seen a huge increase in registration rates. I am excited to see how all communities, schools, colleges and universities across the UK can all learn from their approach."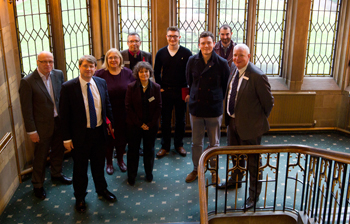 Professor Shearer West, Deputy Vice-Chancellor of the University of Sheffield, met the Minister with President of Sheffield Students' Union Dominic Trendall and representatives from Sheffield City Council and Sheffield Hallam University.
Professor West said: "Universities are an integral space where students can share their ideas and have open and constructive debate. Student views can make a vital difference to society, and at the University of Sheffield, we are committed to making it as simple as possible for our students to register to vote.
"By integrating voter registration into our enrolment process at the beginning of term, three quarters of our students are now on the electoral roll. We were delighted to welcome the Minister and to show him the impact this innovative project has had in Sheffield."
Dominic Trendall, President of Sheffield Students' Union, added: "As a Students' Union, we are really proud to have been part of the effort to ensure that the voices of students are heard in Sheffield.
"Students do want to engage with the community and with the democratic process and it is so important that we break down artificial barriers to participation in elections."
Additional information
The University of Sheffield
With almost 27,000 of the brightest students from over 140 countries, learning alongside over 1,200 of the best academics from across the globe, the University of Sheffield is one of the world's leading universities.
A member of the UK's prestigious Russell Group of leading research-led institutions, Sheffield offers world-class teaching and research excellence across a wide range of disciplines.
Unified by the power of discovery and understanding, staff and students at the university are committed to finding new ways to transform the world we live in.
Sheffield is the only university to feature in The Sunday Times 100 Best Not-For-Profit Organisations to Work For 2016 and was voted number one university in the UK for Student Satisfaction by Times Higher Education in 2014. In the last decade it has won four Queen's Anniversary Prizes in recognition of the outstanding contribution to the United Kingdom's intellectual, economic, cultural and social life.
Sheffield has six Nobel Prize winners among former staff and students and its alumni go on to hold positions of great responsibility and influence all over the world, making significant contributions in their chosen fields.
Global research partners and clients include Boeing, Rolls-Royce, Unilever, AstraZeneca, Glaxo SmithKline, Siemens and Airbus, as well as many UK and overseas government agencies and charitable foundations.
Contact
For further information please contact:
Hannah Postles
Media Relations Officer
University of Sheffield
0114 222 1046
h.postles@sheffield.ac.uk