Wall of Gratitude could help to improve mental health and wellbeing
Wall of gratitude is giving people in Sheffield a chance to highlight some of the things they are most grateful for
Wall to be built using bricks that each contain a personal message of gratitude
University of Sheffield project could be used as a tool to help improve mental health and wellbeing
Studies show gratitude can have beneficial effects for people's wellbeing
A Wall of Gratitude, which is giving people in Sheffield a chance to highlight some of the things they are most grateful for, is set to be unveiled by researchers at the University of Sheffield.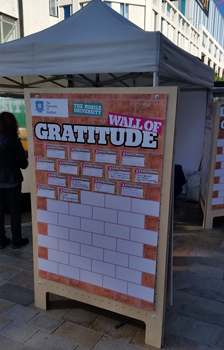 Built using "gratitude" bricks that each display a personal message stating things that people are grateful for, the wall could be used as a tool to help improve people's mental health and wellbeing.
The project, led by Dr Fuschia Sirois from the University's Department of Psychology, is encouraging people to take notice of the things around them they are grateful for and share them on a temporary wall that will be on display for others to view in Sheffield city centre.
The wall is set to be unveiled as part of Festival of the Mind – a unique city-wide festival where academics from the University of Sheffield will be showcasing some of their latest pioneering research to the public by collaborating with some of the city's most talented professionals from the cultural, creative and digital industries.
Aside from a physical wall, messages of gratitude will also be projected onto some of the city's landmark buildings and be available on a website for people to view and share with friends and family.
Researchers from the project are also inviting people to submit messages of gratitude in a variety of languages to represent Sheffield's diverse international population.
Dr Fuschia Sirois said: "Research has found that taking the time to notice three things to be grateful for each day over a two week period can have beneficial effects for people's wellbeing that can last for up to six months.
"People who invest time in being more grateful usually enjoy better quality sleep because they have fewer negative sleep disturbing thoughts before they go to bed and they also experience lower levels of stress and depression, even amongst those who live with painful chronic health conditions."
She added: "Life can be extremely challenging, but we hope that the wall of gratitude in Sheffield will help people to think about the things in their life that are positive, which can then be harnessed to help improve their mental health and wellbeing.
"A unique aspect of the Wall of Gratitude is that it allows you to see what other people are grateful for as well as share your own "three good things". Sometimes it's hard to remember all that we can be grateful for, and reading about what others are grateful for can be a good reminder of the positive things in life that we can be thankful for."
Dr Chris Blackmore from the University's School of Health and Related Research (ScHARR), who is also a researcher on the project, said: "There is an emerging body of research which suggests that an expression of gratitude can have a number of benefits for people's health and wellbeing, which include helping people to build stronger relationships within their family and friendship groups.
"Gratitude is universally seen as an expression of thanks, but it can vary between different cultures. We're hoping that as well as being a tool that people can use to help improve their mental health and wellbeing, the wall will also help us to highlight, appreciate and understand the range of expressions of gratitude from people of different languages and cultures."
The Wall of Gratitude will be on display for people to view and contribute their own messages at the Futurecade, Millennium Gallery, from September 20 – 27.
For more information about the Wall of Gratitude, including details of the display, visit the Festival of the Mind website:
International Wall of Gratitude
For a full list of events at the University's Festival of the Mind, visit:
Additional information
The University of Sheffield
With almost 29,000 of the brightest students from over 140 countries, learning alongside over 1,200 of the best academics from across the globe, the University of Sheffield is one of the world's leading universities.
A member of the UK's prestigious Russell Group of leading research-led institutions, Sheffield offers world-class teaching and research excellence across a wide range of disciplines.
Unified by the power of discovery and understanding, staff and students at the university are committed to finding new ways to transform the world we live in.
Sheffield is the only university to feature in The Sunday Times 100 Best Not-For-Profit Organisations to Work For 2018 and for the last eight years has been ranked in the top five UK universities for Student Satisfaction by Times Higher Education.
Sheffield has six Nobel Prize winners among former staff and students and its alumni go on to hold positions of great responsibility and influence all over the world, making significant contributions in their chosen fields.
Global research partners and clients include Boeing, Rolls-Royce, Unilever, AstraZeneca, Glaxo SmithKline, Siemens and Airbus, as well as many UK and overseas government agencies and charitable foundations.
Contact
For further information please contact:
Sean Barton
Media Relations Officer
University of Sheffield
0114 222 9852
s.barton@sheffield.ac.uk