Survey reveals #WeAreInternational campaign continues to show the UK is welcoming to international students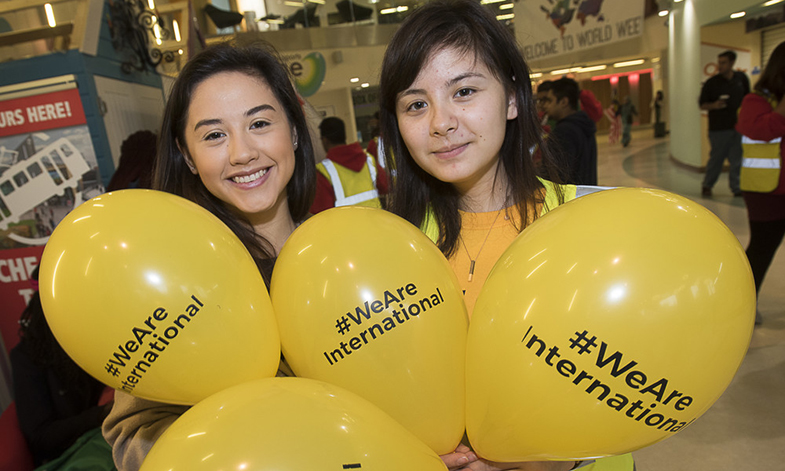 The #WeAreInternational campaign continues to show that the UK is welcoming to international students, according to the QS Enrolment Solutions International Student Survey 2018.
In the survey of more than 67,000 prospective international students – 28,020 of whom were considering studying in the UK – 82 per cent said campaigns such as #WeAreInternational had positively influenced their perceptions of the UK and persuaded them that the country is welcoming to international students.
After respondents were shown news coverage of #WeAreInternational and the #LondonIsOpen campaign, almost half (45 per cent) said they felt fully persuaded that the UK is a welcoming country to international students. An additional 37 per cent reportedly feeling slightly persuaded.
The #WeAreInternational campaign, which is supported by hundreds of universities, businesses and organisations globally, celebrates the rich contribution international students bring to the UK and is urging the government to support them in word and deed.
Professor Sir Keith Burnett, President and Vice-Chancellor of the University of Sheffield, who co-founded the #WeAreInternational campaign with the President of Sheffield Students' Union, said: "It is crucial to understand the importance that the shared message of #WeAreInternational has had to potential international students from around the world. The power of this campaign comes from its central truth, which is not restricted to any single university or even country – that education and knowledge at its best transcends borders and talent speaks to talent across the world.
"Yet for this to be the case, international students and scholars must know that they are welcome in their home-from-home. The #WeAreInternational campaign allows universities, students, businesses and partner organisations to say what must be heard – and amplified – around the world, with government policies backing these words with action."
Santhana Gopalakrishnan, Sheffield Students' Union International Officer, added: "Sheffield Students' Union together with the University of Sheffield and the #WeAreInternational campaign are committed to welcoming international students to Sheffield. We take care of our international membership well and will continue challenging the government to protect our students"
The annual international students survey also emphasised that welcoming campaigns like #WeAreInternational continue to be effective in combating negative perceptions of Brexit amongst international students.
Sixty-three per cent of international students surveyed said the UK's decision to leave the EU had made no difference to their decision-making about where they want to study. Only 14 per cent said they were less interested in studying in the UK.
Patrick Whitfield, Director of UK & Europe at QS Enrolment Solutions, said: "Our findings suggest that welcoming campaigns like #WeAreInternational continue to be an effective strategy to combat against the negative perceptions around Brexit. We believe that UK universities and sector stakeholders must continue to support welcoming campaigns that champion the UK as a study destination for international students.
"Now is the time for the UK government to work together with universities and other stakeholders to do more to promote one of the UK's greatest exports. By adopting the recommendations from the International Student Survey 2018, universities can achieve success and maintain the UK's global leadership in higher education."
Additional information
With almost 29,000 of the brightest students from over 140 countries, learning alongside over 1,200 of the best academics from across the globe, the University of Sheffield is one of the world's leading universities.
A member of the UK's prestigious Russell Group of leading research-led institutions, Sheffield offers world-class teaching and research excellence across a wide range of disciplines.
Unified by the power of discovery and understanding, staff and students at the university are committed to finding new ways to transform the world we live in.
Sheffield is the only university to feature in The Sunday Times 100 Best Not-For-Profit Organisations to Work For 2018 and for the last eight years has been ranked in the top five UK universities for Student Satisfaction by Times Higher Education.
Sheffield has six Nobel Prize winners among former staff and students and its alumni go on to hold positions of great responsibility and influence all over the world, making significant contributions in their chosen fields.
Global research partners and clients include Boeing, Rolls-Royce, Unilever, AstraZeneca, Glaxo SmithKline, Siemens and Airbus, as well as many UK and overseas government agencies and charitable foundations.
Contact
For further information please contact:
Hannah Postles
Media Relations Officer
The University of Sheffield
0114 2221046
h.postles@sheffield.ac.uk