Sheffield leads £16.8m investment in world-class postgraduate research training
Postgraduates at the University of Sheffield and six northern universities to benefit from White Rose Social Science Doctoral Training Partnership
This means the largest ever continuing investment by Research Councils UK at the University of Sheffield
Scheme will offer 38 fully-funded studentships a year for six years
The University of Sheffield, along with six other northern universities, will provide future social science postgraduate students with the highest quality doctoral research training thanks to a £16.8 million investment from Research Councils UK.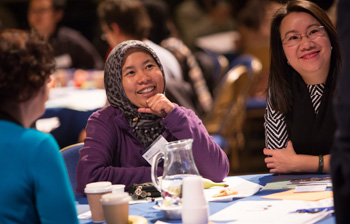 The new White Rose Social Science Doctoral Training Partnership (WRDTP) builds on the success of the existing White Rose Doctoral Training Centre (Universities of Sheffield, York and Leeds) by bringing into this consortium the social sciences research excellence of the Universities of Hull, Bradford, Sheffield Hallam University and Manchester Metropolitan University.
Postgraduate students studying across these northern cities will benefit from being able to access the highest quality research training in the social sciences. The innovative new scheme builds on the current offer for PhD applicants to also include opportunities to work with non-academic partners, build links with city regions, and conduct truly collaborative and interdisciplinary research.
Professor Sir Keith Burnett, Vice-Chancellor of the University of Sheffield and Chair of the White Rose Consortium, said: "This is tremendous news for social sciences research in the North of England and I am delighted that once again our excellent social sciences at the University of Sheffield are playing a leading role, enabling us to attract and develop superb talent and address major social challenges."
Sir Keith, who is also a member of the Board of the Sheffield City Region Local Enterprise Partnership, particularly welcomed the emphasis on projects which will benefit the wider region.
"Postgraduate students studying across the North of England will benefit from being able to access the highest quality research training in the social sciences," he said.
"The new scheme includes opportunities to build links with city regions, and to work with others such as hospitals and industry in a truly collaborative and interdisciplinary way which will change lives."
Ning Lu, current White Rose PhD candidate in Big Data Consumer Analytics and Co-founder of Leeds Data Science Society, said: "What the WRDTP has achieved is to provide interdisciplinary doctoral training that allows us to step away from our comfort zone, get connected with researchers from other disciplines and start building early research collaboration.
"Interdisciplinary is not just about knowing a topic from a different perspective, but also finding someone who can share the next academic ride with you, which can be theory development, data analysis, spatial mapping and even grant application. Doctoral research is not a lonely ride and I am glad that I am on the ride with WRDTP that is connecting me with hundreds of brilliant minds."
The new WRDTP is one of 14 new Economic and Social Research Council (ESRC) accredited partnerships across the UK and will offer training in seven interdisciplinary themed training pathways, providing 38 fully-funded studentships a year for six years. This further cements the University of Sheffield's reputation as a leader in world-class social science research and doctoral training.
The training specifically focuses on providing skills such as: working in interdisciplinary teams; working alongside international partners; handling different forms of data through mixed methods; and collaborating with others to develop impactful research.
Professor Jane Elliott, ESRC Chief Executive, said: "Our new Doctoral Training Network will assure our students' futures as research leaders by providing them with valuable skills including capabilities in communication, project-management and collaboration within and beyond academia."
The scheme was highly commended by Research Council UK's peer reviewers as truly innovative and world-leading, building an innovative and dynamic postgraduate training environment through cross-university events, cutting-edge online learning platforms, and providing unique links between social sciences, humanities and STEM subjects.
Professor Martin Jones, Director of the White Rose Doctoral Training Centre and Principal Investigator on the WRDTP bid, University of Sheffield, said: "We are delighted and proud to be recognised by Government and the ESRC for our outstanding and well-evidenced approach to enhancing the postgraduate student experience. Our strategy correlates to the ESRC's strategic priorities and deepens the social science research strategies of the seven universities. We will deliver a unique interdisciplinary and thematic student experience that will facilitate ground-breaking doctoral research beyond traditional discipline boundaries, enabling our students to develop holistic understandings of the grand challenges that face society and how these can be addressed by the social sciences. I am looking forward to working with our new colleagues from Bradford, Sheffield Hallam, Hull, and Manchester Metropolitan and to meeting the new WRDTP students when they start next year."
Professor Adam Crawford, Director of the Leeds Social Sciences Institute, added: "We have some really ambitious plans to build on the many successes of the existing White Rose Doctoral Training Centre in implementing the new Doctoral Training Partnership which will benefit postgraduate researchers across the participating institutions. It provides extra opportunities in terms of collaboration, and they will be able to access the highest quality research training in the social sciences."
The first cohort of students will commence their studies in October 2017.
Professor Gill Valentine, Pro-Vice-Chancellor for the Faculty of Social Sciences at the University of Sheffield, said: "We are extremely proud to continue to lead the way in post-doctoral training. The new partnership across seven universities brings exciting opportunities for post-graduate research students across the north of England. Through world-class training, innovative methods and collaborations with organisations within different sectors, our students will be at the forefront of solving the challenges facing our society today."
Additional information
The University of Sheffield

With almost 26,000 of the brightest students from around 120 countries, learning alongside over 1,200 of the best academics from across the globe, the University of Sheffield is one of the world's leading universities.
A member of the UK's prestigious Russell Group of leading research-led institutions, Sheffield offers world-class teaching and research excellence across a wide range of disciplines.
Unified by the power of discovery and understanding, staff and students at the university are committed to finding new ways to transform the world we live in.
In 2014 it was voted the number one university in the UK for Student Experience by Times Higher Education and in the last decade has won four Queen's Anniversary Prizes in recognition of the outstanding contribution to the United Kingdom's intellectual, economic, cultural and social life.
Sheffield has six Nobel Prize winners among former staff and students and its alumni go on to hold positions of great responsibility and influence all over the world, making significant contributions in their chosen fields.
Global research partners and clients include Boeing, Rolls-Royce, Unilever, AstraZeneca, Glaxo SmithKline, Siemens and Airbus, as well as many UK and overseas government agencies and charitable foundations.
Economic and Social Research Council
The Economic and Social Research Council (ESRC) is the UK's largest funder of research on the social and economic questions facing us today. It supports the development and training of the UK's future social scientists and also funds major studies that provide the infrastructure for research. ESRC-funded research informs policymakers and practitioners and helps make businesses, voluntary bodies and other organisations more effective. The ESRC also works collaboratively with six other UK research councils and Innovate UK to fund cross-disciplinary research and innovation addressing major societal challenges. The ESRC is an independent organisation, established by Royal Charter in 1965, and funded mainly by the Government.
Contact
For further information please contact:
Hannah Postles
Media Relations Officer
University of Sheffield
0114 222 1046
h.postles@sheffield.ac.uk