World's first database of baseball statues compiled by UK researchers
The first ever database of statues commemorating baseball's biggest stars, featuring legendary players, managers, owners, broadcasters and even famous fans, has been compiled by researchers from the University of Sheffield.
From ballparks to sports bars, museums to city squares and schools to cemeteries, life-size bronze depictions of men, women and children enjoying the national pastime can be found all across the US and Canada.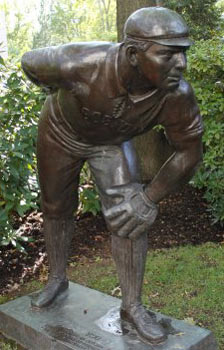 The striking database, at www.sportingstatues.com, records more than 200 baseball statues across the continent, featuring information on when the statues were unveiled, who sculpted them and the inscriptions on plinths or plaques, as well as images of each statue and links to location maps. A total of 35 US states feature a baseball statue, with 70 per cent of statues located at or close to a major or minor league ballpark.
The encyclopaedia of statues shows 164 distinct players, managers, executives, broadcasters and fans are depicted. The most frequently portrayed player, with seven statues, is barrier-breaker Jackie Robinson, although strangely none of his statues are sited at a current Major League Baseball ballpark. The database shows 52 per cent of statue subjects are National Baseball Hall of Famers. In addition, more than 50 statues of anonymous figures have been identified.
Dr Chris Stride, a statistician from the Institute of Work Psychology, University of Sheffield and Ffion Thomas, a graduate student from the University of Central Lancashire, have worked on the project for the past 18 months.
Dr Stride said: "The earliest baseball statue identified, which depicts former St. Louis Cardinals' owner Chris Von Der Ahe, dates from the 1880s; it was commissioned by Von Der Ahe himself, and can be seen today at his grave in Bellefontaine Cemetery, St. Louis.
"However, 90 per cent of baseball statues have been erected since 1990, and over half in the last decade, showing it to be primarily a recent phenomenon. Innovative marketing strategies of baseball franchises based around branding through nostalgia and reflected glory are the primary reason for this increase.
"The fashion for baseball statues coincides with the birth of retro-themed ballparks such as Camden Yards and AT&T Park, which use nods to the past in construction and decoration to give the stadium environment a sense of authenticity and identity that appeals to fans. Statues are also being used by towns, cities and commercial organisations seeking reflected glory and identity from their sporting heritage."
Additional information
The University of Sheffield
With nearly 25,000 of the brightest students from 125 countries coming to learn alongside 1,181 of the world's best academics, it is clear why the University of Sheffield is one of the UK's leading universities. Staff and students at Sheffield are committed to helping discover and understand the causes of things - and propose solutions that have the power to transform the world we live in.
A member of the Russell Group, the University of Sheffield has a reputation for world-class teaching and research excellence across a wide range of disciplines. The University of Sheffield has been named University of the Year in the Times Higher Education Awards 2011 for its exceptional performance in research, teaching, access and business performance. In addition, the University has won four Queen's Anniversary Prizes (1998, 2000, 2002, 2007), recognising the outstanding contribution by universities and colleges to the United Kingdom's intellectual, economic, cultural and social life.
One of the markers of a leading university is the quality of its alumni and Sheffield boasts five Nobel Prize winners among former staff and students. Its alumni have gone on to hold positions of great responsibility and influence all over the world, making significant contributions in their chosen fields.
Research partners and clients include Boeing, Rolls-Royce, Unilever, Boots, AstraZeneca, GSK, ICI, Slazenger, and many more household names, as well as UK and overseas government agencies and charitable foundations.
The University has well-established partnerships with a number of universities and major corporations, both in the UK and abroad. Its partnership with Leeds and York Universities in the White Rose Consortium has a combined research power greater than that of either Oxford or Cambridge.
Contact
For further information please contact:
Paul Mannion
Media Relations Officer
The University of Sheffield
0114 222 9851
p.f.mannion@sheffield.ac.uk