The Organisation Studies (OS) research cluster takes a critical approach to studying processes of organising and organisations. Our research projects explore issues related to health and social care, gender, race and sustainability.
This British Academy/Leverhumle funded research project conducted in collaboration with Women to Work, a local business with social aims, challenges conventional assumptions about how women's career paths differ to those of men.
Staff involved: Professor Penny Dick
This project aims to investigate emerging models of innovative home care and how these incorporate technology; the consequences of these for the wellbeing of all parties; their impact on caring relationships, care workers' jobs, and carers and care recipients' daily lives; and their scope to deliver support sustainably with wellbeing outcomes.
Staff involved: Dr Diane Burns
The research was initiated due to the media's critical role in society and its influence in shaping individuals' realities, including in workplaces. Media representations of women professionals and leaders are often absent or gendered, sexualised and evidenced by contradiction, for example the championing of women leaders, versus the gendering of women professionals and leaders.
Staff involved: Professor Carole Elliott
In 2019, the Health Foundation launched a new funding programme to help to improve patient care and outcomes by exploring the potential to increase continuity of care within general practice. The programme was inspired by a study conducted by the Health Foundation team, published in 2018, which concluded that 'strategies that improve the continuity of care in general practice may reduce secondary care costs, particularly for the heaviest users of healthcare and that promoting continuity might also improve the experience of patients and those working in general practice.
Staff involved: Professor Damian Hodgson
In this project the evolving scale, scope and impact of changes in skill mix at national and practice level, and from practice, practitioner and patient perspectives will be studied under 3 research questions and investigated using linked work packages.
Staff involved: Professor Damian Hodgson
---
Projects overview
Decolonising Management Knowledge and Education
In the last decade, the field of Management and Organisation Studies has come under scrutiny for its strikingly westocentric – especially Anglo-American – aura. Research from different intellectual streams shows that management knowledge has been predominantly produced in and for North America and the United Kingdom, ignoring and/or silencing and/or degrading the lived realities, practices and thoughts of workers and organisations from the rest of the world. This project by reviewing literature, interviewing activists and mapping decolonising initiatives is exploring meanings and actions for decolonising management knowledge and education.
Staff involved: Dr Stephen Allen | Dr Emanuela Girei
Gender and Diversity in Management Education
Dissecting how the split of gender and diversity within Management Education has changed and is still changing.
Staff involved: Professor Carole Elliott
GP Federations in the NHS
A qualitative investigation, learning about and learning from the GP Federations in the English NHS.
Staff involved: Professor Damian Hodgson
Leadership in Alternative Organisations
Leadership tends to be studied from a heroic perspective i.e. relating to an individual positional leader in hierarchical organisations. This project takes a post-heroic and critical leadership perspective to explore leadership and power dynamics in alternative organisations which are not capitalist, managerialist or hierarchical. These organisations tend to be pursing democratic and participative ways of working such as: co-operative, social enterprise and non-for-profit organisations, and religious, spiritual, utopian-inspired communities, as well as social movements. Through conducting interviews and completing workshops Quaker organising is being studied.
Staff involved: Dr Stephen Allen
Patient Experience
Investigating the usefulness of patient experience and narrative data, and how it could be developed and enhanced.
Staff involved: Professor Damian Hodgson
Reducing Academic Flying
If universities are to contribute their share to urgently needed and radical cuts in greenhouse gas emissions, they must tackle their dependence on air travel. Studies suggest that flying typically accounts for 10-20% of a research-intensive university's total emissions. The prospects for significant improvements in the efficiency of flying are very limited. Consequently, academic flight is increasingly problematised and debated. The research involves exploring: academic identities and flying; universities internationalisation and academics' flying; and, personal and university benefits of academics flying less. Research activities have included hosting a symposium, the outputs can be viewed here.
Staff involved: Dr Stephen Allen 
Transformation Funded Schemes
Evaluating the Transformation Funded Schemes of Tameside and Glossop Greater Manchester.
Staff involved: Professor Damian Hodgson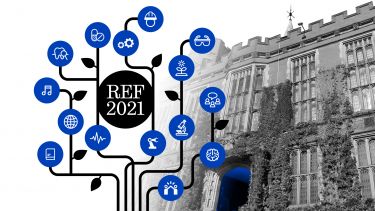 Research Excellence Framework 2021 results
The results demonstrate our research and impact excellence across a broad range of disciplines and confirm that our research is having a significant positive impact on lives across the globe.