Philosophy at the Showroom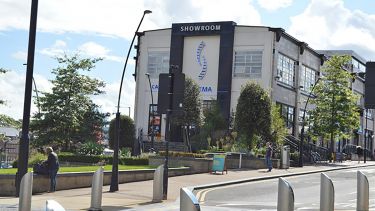 Philosophy at the Showroom is a series of sessions probing the philosophical questions raised by some of cinema's most intriguing films, and discussing books that have philosophical themes (either philosophical texts, or other works that raise philosophical questions). Our obligations to others, heroism, death, and the functioning of the mind are just some of the themes these screenings and the book events have explored.
The talks will not presuppose any prior knowledge of philosophy, and we hope they will lead to the development of a thriving community of those interested in the subject in the city. Following the showing of the film, there will then be a short talk from a philosopher relating to the film, and then general discussion.
2019-20 programme and themes
All the 2019-2020 sessions are films. You will need to pay the standard Showroom ticket charge for seeing the film.
Upcoming events
---
The Class (directed by Josh Forstenzer, 2008)
27 February 2020
Theme: Education and social division
Introduced by Laurent Cantet
Winner of the Palme d'Or at the 2008 Cannes Film Festival, The Class, falls in a popular category of French movies of the late 90s and early 2000s where social divisions within French society are explored through the medium of young people. This film especially interrogates the purported notion that the universal values of the republique as they are brought to life in state schools can meaningfully help heal the harm caused by racial, social, cultural and economic inequalities. We will discuss what a genuinely egalitarian and democratic education might require of teachers and students.
More information and book tickets
---
The Life and Death of Colonel Blimp (directed by Emeric Pressburger, Michael Powell, 1943)
26 March 2020
Theme: Aging, Identity and Time
Introduced by Jimmy Lenman
"You'll stay just as you are till the floods come." Powell and Pressburger's 1943 film addresses themes of aging, identity and time. The person we become is not the person we were. And the person we love, well, who is she or he? We try to recover what we lost so long ago but it is gone beyond all recovery as are our vanished younger selves. The very ideals that once defined us become out of date and absurd.
More information and book tickets
---
Eternal Sunshine of the Spotless Mind (directed by Michel Gondry, 2004)
30 April 2020
Theme: Memories and identity
Introduced by Yuhan Fu
Eternal Sunshine of the Spotless Mind poses many intriguing and important philosophical questions touching on themes of ethics, emotion, self-identity, and memory. In this talk, we will focus on how the film explores the relationship between memory, love and personal identity within the story and through its innovative visual style. The unique portrayal of how memories in particular will be central to our discussion of the role our memories play in how we understand ourselves and those around us.
More information and book tickets
---
Past events
2019-20

Brokeback Mountain (directed by Ang Lee, 2005)

28 November 2019, 6pm
Theme: Gay Identity and Homophobia
Introduced by Naomi Hetherington

A multi-award-winning film, Brokeback Mountain changed the face of gay cinema. Since its release, Proulx has received hundreds of letters from gay men and their families telling her how the story has changed their lives. We will discuss what the film can tell about us gay identity and homophobia.

More information and book tickets

---

Starship Troopers (directed by Paul Verhoeven, 1997)

19 December 2019, 6pm
Theme: Intergalactic Fascism
Introduced by Niall Connolly

Starship Troopers is loosely based on Robert Heinlein's book of the same name, a propagandistic work which articulates an anti-democratic political philosophy. Verhoeven's stated intention was to satirize elements of contemporary politics and culture. But the confusion of the critics and continuing debates among the film's admirers raise questions about the difficulties of liberal democracy and the appeal of militarism and fascism.

More information and book tickets

---

Magic Mike XXL (directed by Gregory Jacobs, 2015)

31 October 2019, 6pm
Theme: Masculinity
Introduced by Matthew Cull

Magic Mike XXL offers much by way of rich themes for discussion, but here we'll take a look at what it has to say about masculinity. Thinking through critiques of toxic masculinity, we will discuss whether Mike offers us an alternate and preferable vision of masculinity for the 21st century.

2018-19

Dirty Dancing (directed by Emile Ardolino, 1987)

27 June 2019, 6pm
Theme: Gender and class
Introduced by Jenny Saul

Classic 1980s Patrick Swayze film Dirty Dancing has much more to offer than immortal lines like "nobody puts Baby in the corner". It was actually a deeply political movie that explored themes otherwise absent from popular media of the period-- exploring issues of class, gender, and reproductive rights. Indeed, the film was nearly not made because studios shyed away from tackling these topics. In this talk we will discuss the film's commentary on these issues, with special attention to their relevance in our current political moment.

---

Black Narcissus (directed by Michael Powell and Emeric Pressburger, 1947)

30 May 2019, 6pm
Theme: Sexuality, madness and religion
Introduced by Liz Goodwin

Nuns on film have a long and fascinating history, but they are perhaps never more visceral and iconic than in this visually stunning Powel and Pressberger masterpiece from 1947. The film follows the story of a group of nuns, led by Sister Clodagh (Deborah Kerr), as they attempt to establish a convent in the Himalayas, before each fall victim to various forms of madness, lust, misery and jealousy – shot in gorgeously epic yet skilfully claustrophobic style. This portrayal of the enclosed, celibate monastic life as, at best, unhealthy, and, at worst, dangerously destructive, echoes historical stereotyping, in particular focusing on nuns as sexually frustrated and immoral as a result. This talk will explore the film's constructions, images and inversions of gender, sexuality and religion, discussing society's obsession with nuns as sexual objects or as the dangerous, seductive, frightening 'other.'

---

The Miracle Worker (directed by Arthur Penn, 1962) 

25 April 2019, 6pm
Theme: The miracle of language
Introduced by Giulia Casini

The Miracle Worker (1962) by Arthur Penn, winner of two Academy Awards, Best Actress for Anne Bancroft and Best Supporting Actress for Patty Duke. It tells the story of the relationship between Helen Keller, a deaf and blind girl, and Anne Sullivan, her half-blind teacher, and how Anne managed to teach Helen a sign language. The theme of the movie is the miracle of language: there is a moment in which we all understand that to a certain symbol corresponds a certain meaning, and this is what allows us to communicate with others and express our ideas and feelings. The movie offers cause of reflection on the essentiality of the connection between meaning and sign and on how language works through conventions.

---

Alphaville, une étrange aventure de Lemmy Caution (directed by Jean-Luc Godard, 1965)

28 March 2019, 6pm
Theme: Love, language, and logic, tyranny and time
Introduced by Jimmy Lenman

"D'ailleurs c'est toujours comme ça. On ne comprend jamais rien et un soir on finit par en mourir."

Alphaville is a bleak future society ruled over by an evil, Schopenhauer-quoting computer, Alpha 60, out to purge the language of such unnecessary words as 'poetry'. 'love', tenderness' and 'conscience'. Only Lemmy Caution, secret agent, 003, from the Lands Without, can fight back...

Godard's Alphaville is manifestly the coolest film ever made, a film so dangerously, alarmingly cool that people handling the original print are required to wear special protective clothing. It raises themes of love, language, and logic, tyranny and time. Along the way, it reinvents the medium of film.

---

The Lobster (directed by Yorgos Lanthimos, 2015)

28 February 2019, 6pm
Theme: Totalitarianism and eros
Introduced by Tony Eagan

In the uncanny world The Lobster depicts, the government has mandated that all citizens maintain a relationship of monogamous and reciprocal erotic love. Solitary citizens are sent to the 'Hotel' and given thirty days to find a partner among the other guests; failure to meet this deadline results in the guest's metempsychosis into an animal of his or her choosing. These measures lead to the development of an insurgent forest-dwelling counter-party which prohibits love and romantic contact between its members. By exploring the interplay between totalitarianism and eroticism within the narrative, Tony would like to discuss The Lobster as a satire on political polarization and the hypocrisies of moral enforcement.

---

12 Monkeys (Terry Gilliam, 1995)

29 March 2018, 6pm
Theme: Fate, free will and the shape of things to come
Introduced by Anthony Warde and David Vessey

Like his fabled predecessor fleeing Baghdad, James Coles (Bruce Willis) travels back in time in an attempt to thwart fate, only to find that he and humanity must keep their own appointment in Samarra. As we will discuss, Twelve Monkeys marks a memorable contribution to longstanding debates in fiction and philosophy regarding fate, free will and the ontological status of the future. The film also questions the 'shape' of time itself, subverting traditional Western ideas of rectilinearity and teleology (in which 'the End' is the end) with the nightmarish possibility that the Apocalypse merely marks the beginning of a sisyphean cycle of eternal recurrence.

---

La Grande Bellezza (Paolo Sorrentino, 2013)

26 April 2018, 6pm
Theme: Regret, moral emotions
Introduced by Jules Holroyd

The main protagonist Jep Gambardella, looks back on his life with some regret. This will be an attitude familiar to many of us - we regret missed opportunities or time misspent. But what exactly is it to regret something? Is it simply wishing things had been otherwise? Or can I regret something whilst also affirming how things in fact turned out? Is it better not to have regrets, or is a life without regrets somehow lacking?

---

Paris, Texas (Wim Wenders, 1984)

31 May 2018, 6pm
Theme: Human relationships
Introduced by Chris Bennett

In this film Travis, played by Harry Dean Stanton, walks out of the desert and gradually tries to bring order into his life by recovering his relationship with his estranged wife and son. Despite Wenders's fascination with the lonely open spaces of Americana, Travis is shown to find the meaning of his life in (some sort of) community with others. We will relate this to the Aristotelian idea that 'man is a social animal'.

---

The Dark Knight Rises (Christopher Nolan, 2012)

28 June 2018 *Please note change to usual start time: 5.45pm* 
Theme: Conservatism and reaction
Introduced by Dimitrios Tsarapatsanis

Dark Knight Rises is about the restoration of hierarchy and order following up a nihilistic resurrection by Gotham City's underclass under Bane's leadership. Characterised variously as a 'fascistic masterpiece' or a 'right-wing blockbuster', the film raises deep issues about social order, the nature of political rule and the justification of hierarchy. Is crashing Bane's nihilistic and short-lived Reign of Terror a reactionary fantasy or, rather, a critique of the idea that the only thing that can justify contemporary political orders is fear of the uncontrollable masses?
Events at the University
Browse upcoming public lectures, exhibitions, family events, concerts, shows and festivals across the University.