First edition of PhilonoUS journal released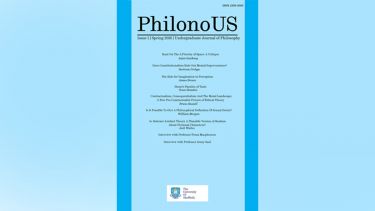 The first edition of the new Sheffield Undergraduate Journal of Philosophy, PhilonoUS, was released on 9th June 2016.
The journal has been set up by current undergraduate Philosophy students to showcase some of the best undergraduate work from Sheffield, as well as other national and international undergraduate students. The first edition features a selection of undergraduate papers, and interviews with Jenny Saul (University of Sheffield) and Fiona Macpherson (University of Glasgow).
Launch Party
The editors celebrated along with their contributors, and other students and staff from the Department of Philosophy at a launch party on the release date.
Certificates of recognition were given to the editors in chief and senior editors acknowledging their great achievement. A special signature philosophical drink was also served, "The Hemlock".
Future Editions
The Editors plan to publish two editions of the journal each academic year, towards the end of the Spring semester, and in the middle of the Autumn semester.
Submissions
Submission guidelines for the next editions will be announced on the PhilonoUS website, or contact the Editors.
Tags: philosophy, journal, undergraduate, publishing
Events at the University
Browse upcoming public lectures, exhibitions, family events, concerts, shows and festivals across the University.