The Global Undergraduate Awards 2020 Winner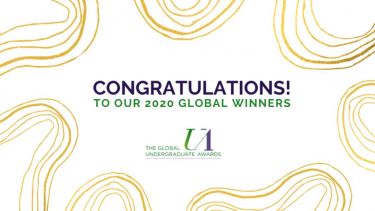 'The Global Undergraduate Awards are a prestigious organisation which in 2020 received 4,148 entries from 380 institutions, across 50 counties around the world. It is a well-known international programme, with recent philosophy winners from Harvard, Sydney, and Helsinki. Having been awarded the highest possible prize - and informed that I am the first female winner for philosophy in recent years, and Sheffield's first ever global winner for any category - I am immensely proud of myself, particularly given the all challenges that 2020 has presented!
I found out about the program via a generally circulated university email, and as I have always been interested in cognition and how the mind shapes everything we perceive, the opportunity to share my interests (and an essay I'd already completed and really enjoyed writing) seemed too good to pass up on. Honestly with all the excitement of lockdown I very quickly forgot I'd even submitted; the email this month telling me I am a Highly Commended entrant, and then the phone call a few days later were an incredible surprise! It feels incredible to have my ideas recognised internationally by experts, and will definitely open more doors for me after completing my masters in Cognitive Studies at Sheffield.
My winning entry (first written for the Sheffield undergraduate module 'Mental Time Travel') is entitled "Accounting for Problems in the Philosophy of Fiction: Is it necessary to posit i-desires to solve the paradox of fiction and the puzzle of imaginative resistance?" and presents an original take of the role of cognition in fiction and imagination. There are still many questions in this area of philosophy, for example why do I feel sadness at the death of fictional characters? Why do I resist imagining certain things? My essay presents and compares two contemporary theories regarding the role of desires and beliefs in these instances, and ultimately presents an original idea to further the debate; that the existing cognitive account of imagination must be modified to allow for real-life emotions to interact with our supposedly imagined desires, backed up by examples of empirical evidence from mental health conditions such as PTSD and depression. 
Unfortunately, the November conference will be held via Zoom this year for obvious reasons, but I am still really looking forward to presenting and sharing ideas with other students and academics, and having my work published!'
https://undergraduateawards.com/news/global-winners-2020
I'm sure you will all join me in congratulating Harriet, for her outstanding achievement and being Sheffield's first winner of any category!