New series of 'God and the Good' starts with Julian Baggini and Angie Hobbs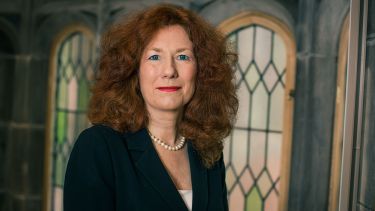 The first event in the new 'God and the Good: Thinking Religion and Ethics' series was held on 10 October 2017, in conjunction with Off the Shelf Festival of Reading and Writing and Sheffield Cathedral. The series considers the relation between religious thinking and traditions on the one hand, and ethics on the other.
The Cathedral hosted a book panel on a recently published collection of papers Religion and Atheism: Beyond the Divide, and the speakers were the two editors Tony Carroll (Heythrop) and Richard Norman (Kent), and two contributors Julian Baggini and Angie Hobbs (Sheffield).
The event was very well attended, with some 300 people in the audience. The speakers considered how far some notion of 'transcendence' is necessary to religion; whether such transcendence could be made compatible with a more secular approach; and how the specifically Christian view of this transcendence as a personal God might differ from conceptions of the divine held by the Greeks and by non-Christian religious outlooks. Discussion was lively, with an appreciative response from the audience.
The series continues with a talk from Yonatan Shemmer on 'Idolatry and Objectivity in Ethics' on 7 November 2017.
Events at the University
Browse upcoming public lectures, exhibitions, family events, concerts, shows and festivals across the University.