Philosophy at the Showroom: Strangers and Enemies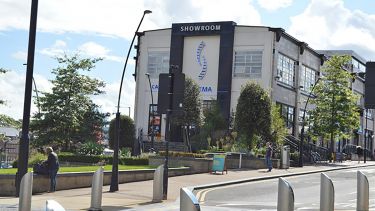 Philosophy at the Showroom is a series of sessions probing the philosophical questions raised by some of cinema's most intriguing films, and discussing books that have philosophical themes (either philosophical texts, or other works that raise philosophical questions).
For the March session, Dr Dina Gusejnova from the Department of History, will introduce a screening of Orson Welles' 'The Stranger' (1946) and lead a discussion on strangers and enemies, on 30 March, 6pm at the Showroom Cinema.
The Stranger
The Stranger (1946) by Orson Welles is an American film noir set in an idyllic New England college town. It wouldn't be an Orson Welles film if a darker plot didn't gradually unfold here, however – with Welles himself miming the sinister key protagonist. Historian Dina Gusejnova will show that the film points us to a cardinal theme of twentieth-century political thought, the idea of restoring justice in a world out of joint. In this case, a local stranger is suspected of being nothing less than an enemy of humanity. But disconcertingly, just when everyone thought justice has been regained, in this sleepy New England town, time itself appears to have stopped.
History
The relationship between German history and world history is linked in the film through two key characters in the film, known by the names of Meinike and Rankin. As I shall argue, these characters – and the ideas they represent in the plot -- refer to the most eminent German historians of the modern era. Friedrich Meinecke's career spanned the Belle Epoque, the Weimar era, and even, in 'internal exile', National Socialism. Leopold von Ranke, the eminent nineteenth-century Prussian founder of modern history, had introduced all Europeans to the idea of thinking about history as a science of 'what actually happened'. Far from being witnesses or storytellers, however, in this film, it is the historians who act. The film should thus be of interest to all those who are interested in the question to what extent a good life in the present depends on our knowledge of what happened in the past.
Tickets and further information
The standard Showroom admission charge applies.
Events at the University
Browse upcoming public lectures, exhibitions, family events, concerts, shows and festivals across the University.