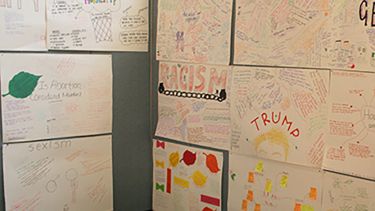 Academics and students from the Department of Philosophy at the University of Sheffield are lending their support to the Worksop College Schools' Philosophy Conference, 2-4 November 2016.
"Pursuit of Knowledge" will take place at Worksop College with 115 pupils from seven schools from across the UK taking part in the three-day conference which will give participants the chance to debate, discuss and think about issues from a philosophical viewpoint.
The conference is also being supported by the Royal Institute of Philosophy who is providing funding to cover the travel costs of the speakers.
The conference is being organised by Jane Gatley, herself a Philosophy graduate from the University of Sheffield, who teaches at Worksop College and is also a doctoral student at the University of Birmingham researching why philosophy should be taught in schools. Jane said, "This conference has been set up to bring people from schools and universities with an interest in philosophy together. School students have the opportunity to interact with the world of academic philosophy and get an insight into what studying at university might be like. The University of Sheffield has been extremely supportive in running this event, both this year and last."
Head of Department, Dr Rosanna Keefe said, "The Department of Philosophy is delighted to support this conference with three of our academic experts giving talks and our enthusiastic student volunteers being on hand to support and encourage those taking part. We have also provided bursaries from widening participation funds to cover the costs of the conference places for 20 pupils."
"Students who study philosophy develop core problem solving skills, can analyse problems, think clearly, recognise and respond to the views of others and communicate ideas concisely. The conference will give school pupils the opportunity to practice and develop these skills – all of which are invaluable in many careers and future studies. We hope that the conference will inspire those that attend to further develop their interest in this fascinating and complex subject."
Professor Angie Hobbs' session on "Democracy, Demagoguery and Plato" and Professor Jenny Saul's talk on "Dogwhistles and Figleaves: Racism, Linguistic Manipulation, and the 2016 US Election" will both provoke discussion and debate on current issues. Dr Chris Bennett will give a talk about the benefits of Higher Education and, in particular, studying Philosophy at University.
Current Philosophy student volunteers from the Department's award-winning Philosophy in the City project will assist in the workshops and seminars and support the pupils as they take part in the Philosothon –an activity that divides school students into discussion groups to investigate ethical and other philosophical questions in the context of 'communities of inquiry'.
Events at the University
Browse upcoming public lectures, exhibitions, family events, concerts, shows and festivals across the University.