Andrea Blomkvist
Lecturer in Cognitive Science and Philosophy of Psychology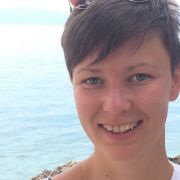 a.blomkvist@sheffield.ac.uk
A03, 45 Victoria Street
Office hours: Tuesdays 13.00-14.00, Fridays 11.00-12.00
Full contact details
Andrea Blomkvist
Department of Philosophy
A03
45 Victoria Street
Sheffield
S3 7QB

Profile

Andrea works in cognitive science, combining areas such as philosophy, psychology, neuroscience, and computer science, to investigate how the mind works. Andrea joined the Department as a Lecturer in Philosophy of Psychology/Cognitive Science in 2021. Before this, she completed a PhD in Philosophy as well as an MA in Cognitive Studies both at the University of Sheffield, and an MA (Hons) in Philosophy at the University of Edinburgh.
Qualifications

Before she started her PhD at Sheffield, Andrea received an MA (Hons) in Philosophy from the University of Edinburgh, and an MA in Cognitive Studies from the University of Sheffield.
Research interests

How does the mind work? This is the most general question that Andrea's research concerns.
More particularly, Andrea is interested in how two crucial parts of the mind work: memory and imagination. What processes and mechanisms are involved when we remember or imagine, and what cognitive architecture underwrites them? Andrea takes a highly interdisciplinary approach to these questions, combining cognitive science, philosophy, psychology, computer science, and neuroscience to find an answer. Andrea's wider research interests include animal cognition, the format of representation and the Imagery Debate, as well as social cognitive and mindreading.
Teaching interests

Andrea mainly teaches in Philosophy of Psychology and Cognitive Science. In 2021, Andrea will be teaching the UG/PG module Philosophy of Psychology, co-teach the Cognitive Studies MA Research Seminar, as well as co-teach the first year UG module Self and Society. Andrea would be happy to supervise students in Cognitive Science, Philosophy of Psychology, and Philosophy of Mind, particularly in areas related to memory and imagination (including imagery), and animal cognition.