Simon Thornton
Teaching Associate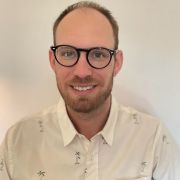 simon.thornton@sheffield.ac.uk
C15, 45 Victoria Street
Monday, 2pm until 4pm

Full contact details
Simon Thornton
Department of Philosophy
C15
45 Victoria Street
Sheffield
S3 7QB

Profile

Simon joined the department of philosophy in 2021, having previously worked in the Center for Humanities and Social Change at the University of California, Santa Barbara. Simon wrote his PhD on the ethics of K.E. Løgstrup at the University of Essex, after completing his MA in political theory at the University of Sheffield. 

Before turning to philosophy, Simon worked for an NGO in Armenia, and has a background in the politics and culture of the post-Soviet region. 
Research interests

Phenomenology and existentialism (especially Kierkegaard, Nietzsche, Heidegger and Levinas).
Aesthetics (especially the philosophy of tragedy and comedy, and the philosophy of film)
Ethics (especially the ethics of K.E. Løgstrup).
Psychoanalysis and philosophy (especially the work of Jonathan Lear).
The philosophy Stanley Cavell.
Publications

Journal articles

Chapters
Teaching interests

My courses typically involve looking at challenging philosophical texts within a historical context. Emphasis is placed on how these texts express or articulate complex and difficult ideas and trying to understand or interpret them. In this way, my modules develop students' philosophical imagination, along with the capacity for philosophical argumentation.
Teaching activities

I teach on the following modules:

PHI158 Philosophy of Sex
PHI325 PHI6600 Phenomenology
PHI355 Philosophical Project 1: Nietzsche
PHI212 Philosophy and the Arts
Philosophical Project 2: Aesthetic Experience