Nicola Orridge
Digital Humanities Institute
Faculty of Arts and Humanities
Department Manager (Philosophy) and Deputy Faculty Director of Operations (DHI)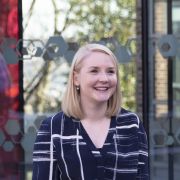 Profile

Nicola joined the University in 2012, with a range of experience across public and private sector organisations. During her time at the University she has worked in various departments, including in APSE (Academic Programmes and Student Engagement) and as the Executive Education Manager in the Management School. In May 2021, Nicola joined the Faculty of Arts and Humanities.

As Deputy Faculty Director of Operations for the Digital Humanities Institute, Nicola works closely with the Director of the DHI to develop and deliver strategy, and is responsible for leading the operations of the Institute.
Qualifications

Nicola holds a BEd and an MA in International Higher Education (Nottingham) and is a member of the Chartered Management Institute.