We're recruiting Student Ambassadors!
Looking for ways to make your CV shine? Being a Student Ambassador for the Department of Philosophy is a great way to get involved with the Department, have fun and gain valuable skills.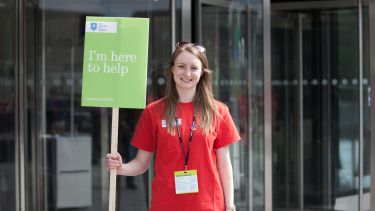 You will meet new people, experience working in a professional environment, improve your communication skills and earn some money! 
What do Student Ambassadors do? 
Student Ambassadors support the Department simply by being themselves! They meet with prospective students, share their experiences of living and studying in Sheffield and answer questions about life in the city. You are likely to get involved in the following activities when working as a Student Ambassador. 
Taking part in virtual open day events and live Q&A sessions
Attending open day events on campus and meeting prospective students
Creating content for social media
Filming and creating video content
Contributing to social media accounts
Writing student testimonials
 
Who are we looking for? 
Current students in the Department of Philosophy
Approachable, enthusiastic and self-motivated
Confident speaking to individuals and large groups
A team player
Able to work independently
Reliable, organised and punctual
Roles
Student Ambassador: A student ambassador who takes part in open day events and live Q&A sessions. 
Digital Ambassador: A student ambassador who (in addition to the above) creates digital media content and contributes towards the management of our social media      accounts. 

Open Days
We are recruiting student ambassadors to attend the following open day events. If you would be interested in working on one or more of these dates, please indicate this within your email when you submit your application. 
| Date | Time | Location |
| --- | --- | --- |
| Saturday 12th February | 10am until 4pm | On campus |
| Saturday 5th March | 10am until 4pm | On campus  |
| Saturday 12th March  | 11am until 2pm | Virtual |
| Saturday 19th March | 10am until 4pm | On campus |
| Saturday 30th April  | 11am until 2pm | Virtual |
How to apply 
You can apply to be an ambassador in any year of study, as an Undergraduate or a Postgraduate student and your working hours will be flexible throughout the academic year. If this role sounds like the perfect one for you, please send us either:
a short video clip of yourself (2 minutes max) explaining why you would be great for the role and an accompanying CV; or
an example video, article or photo that could be used as a post on one of our social media channels (Facebook, Instagram, YouTube) and an accompanying CV.
Please specify if you wish to apply for the role of Student Ambassador or Digital Ambassador within your application.
Please submit your application to philosophy@sheffield.ac.uk. The deadline for applications is Friday 18th February, 2022.
We look forward to hearing from you!