To find out more about Philosophy at Sheffield you are warmly invited to come to an open day.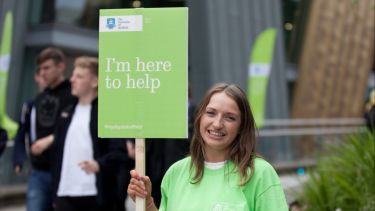 There are two kinds of open days: Pre-application open days, which take place in June to October, and Applicant Days for offer holders, which run from February to April.
---
Applicant days
Anyone offered a place on one of our courses will receive an invitation to an Applicant Day. You are strongly recommended to come to visit on one of these days even if you have previously been to a University Open Day. Applicant Days give you the opportunity to learn about your chosen course in more detail, as well as to chat to our staff and many of our current students.
If you have been offered a place on our courses but can't come to a post offer open day, please let us know by emailing philosophy@sheffield.ac.uk and we will try to make alternative arrangements for you to visit.
At a post-offer open day you will be welcomed by Wyn Morgan, the University's Vice President for Education and will have the opportunity to:
Learn more about our degree, modules and pathways with a talk about studying Philosophy in Sheffield
Hear a series of short talks on philosophical problems by members of the department
Have one to one conversations with members of our department over refreshments
Meet some of our current students
Find out what's special about the University of Sheffield, our civil engagement and the Philosophy in the City programme
Find out more about Religion if you're a Philosophy, Religion and Ethics offer holder
Find out more about our dual degrees if you are dual degree offer holder
In addition, you will have the opportunity to take tours of our campus, libraries, accommodation and award-winning Students' Union, and you can also visit our open day exhibition. Here, you can discover more about student life, global opportunities and managing your money, and chat to staff from various University support services, including the Careers Service, Sports Sheffield, Financial Support Team, Disability and Dyslexia Support and Student Services Information Desk.
---
Pre-application open days
To find out more about Philosophy at Sheffield before putting in an application, you are warmly invited to come to one of our University pre-application Open Days, which take place in the summer. This gives you an opportunity to see the University and find out more about our courses before making your UCAS choices. You can also attend a talk about our Philosophy programmes by staff in the department and ask questions of some current students.
Dates for 2020 pre-application open days will be announced soon. Join our mailing list to receive updates directly to your inbox.
Course search
Explore. Challenge. Influence. Find the right course for you.