"Why we're setting up a new Philosophy International Undergraduate Student Society"
We interviewed two of our international students – Andreea Huidan from Romania and Dario Trimarchi from Italy – about the new Philosophy International Undergraduate Student Society they are setting up, and how they are finding life at Sheffield.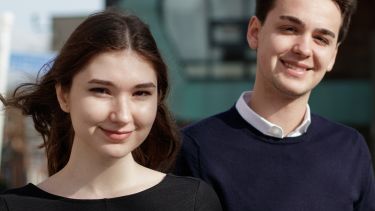 Why are you setting up an international student society, and what do you hope it will achieve?
"We are setting up an international student society because we have experienced ourselves how difficult it is to move to a different country where you don't know anybody and where everything is different. We think it is important to acknowledge how lonely we can get sometimes, and to address this by creating a friendly, helpful and open-to-all community!
This society will try to make life a little bit easier for everybody with useful tips on how to succeed in a UK university, where to go for academic advice and support, and with providing many different occasions to socialize and to meet new people!"
What activities do you plan for the society?
"We are planning activities of all kinds: from night outs and bar crawls, to more relaxed brunches and festive dinners, perhaps even trips around the UK. We are open to any kind of suggestion from our members, as we want to accommodate everybody's needs and preferences and make the environment as enjoyable as possible."
What is it like to be an international student in Sheffield?
Dario: "It is a great experience. It is an occasion to meet people from all around the world and from different backgrounds. You learn a lot of new things simply by socializing!"
Andreea: "I have grown a lot since I came here and I wouldn't have had the chance to enjoy so many different experiences and learn so much, from both my teachers, tutors, and from the friends I made here. The diverse environment really makes you appreciate the various differences between all the people you meet, and it is extraordinary to be able to learn a bit from everybody's experiences!"
Why did you choose to come to Sheffield?
Dario: "Because I really liked the flexible programme offered by the University and the possibility to make a dual degree of Politics and Philosophy in one of the best Universities in the UK."
Andreea: "Flexibility was a key factor for me as well, as I'm studying the same degree as Dario. More specifically, what was fundamental was the long list of Philosophy modules we could choose from – it really emphasizes the individuality of each person's degree and it is allowing you to study exactly what you like, with no restrictions."
What are your top tips for someone coming to Sheffield from outside the UK?
Dario: "Be open minded, participate to as many events as possible, work hard for your degree and eat a John's Van burger once in a while."
Andreea: "Try to enjoy everything you do as much as you can – studying doesn't have to be a burden and having fun doesn't have to require a sacrifice. If you find the right balance, Uni can be the most wonderful experience! And prepare for some cardio while going up and down all the hills that Sheffield has to offer."
Are you glad you came to Sheffield, and if so why?
Dario: "I am more than glad. Sheffield is now my second home. My new life is here, my new friends are here and here I will leave part of my heart."
Andreea: "I believe it is the best choice I could have made. I couldn't imagine myself someplace else. Everything is how I imagined it would be – or sometimes even better!"
A world-class university – a unique student experience
Sheffield is a research university with a global reputation for excellence. We're a member of the Russell Group: one of the 24 leading UK universities for research and teaching.