Ten reasons to study philosophy at Sheffield
From our expert tuition on wide-ranging and flexible choice of modules, to an active student community in a vibrant, friendly city, we list our top ten reasons to study philosophy here in Sheffield.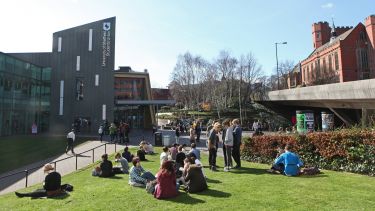 Off
Ten reasons to study philosophy at Sheffield
1. Develop the way you think and behave

Philosophy looks at fundamental questions, across a huge range of areas, from ethics to logic, and from aesthetics to philosophy of science. It also has a fascinating history. It approaches these questions rigorously and imaginatively, and involves dialogue with others who have different points of view. In seeking answers, it can change the way you think and behave, and challenge you to view the world in a radically new way. It is a subject that will appeal to anyone who enjoys debate and discussion, and engaging with issues that are important to us all.

2. Tuition from leading researchers in all areas of philosophy

Our staff have published dozens of books and hundreds of research articles in leading philosophy journals and edited collections. We were ranked number two for the quality of our publications in the most recent Research Excellence Framework (2014), a periodic assessment of all university research in the UK. You will receive the highest quality education from active researchers, no matter what particular areas interest you most. In the 2019 National Student Survey (NSS), 100% of BA Philosophy students agreed "staff are good at explaining things".

3. Choose from a wide range of modules

The department currently has 22 members of staff, all committed to the highest level of teaching excellence. The breadth of our teaching reflects the breadth of our research. We offer a wide range of modules during the three years of an undergraduate degree (and two of our third year modules are umbrella courses each offering a choice of different topics). In the 2019 NSS, 100% of BA Philosophy students agreed "staff have made the subject interesting".

4. Design your own programme of study

Our programme offers students a great deal of flexibility. Core modules in your first year cover the wider subject of philosophy and lay the groundwork for further study. You are otherwise free to design your own pathway, based on your interests, through a wide variety of modules. Our staff approach philosophy in many different ways so it is only natural that we should encourage diversity in student choice too. In the 2019 NSS, 100% of BA Philosophy students agreed "my course has provided me with opportunities to explore ideas or concepts in depth". Find out more about our courses.

5. Learn in a supportive environment

We care about our students. In the 2019 NSS, 100% of BA Philosophy students agreed "I have been able to contact staff when I needed to". Each student, whether single or dual honours, has a Personal Advisor in the Department throughout their time here, offering support in both academic and pastoral areas. We offer students the option of having a Philosophy Mentor, a student from the second or third year, to advise you during your first year at University. Every module you take will involve discussion in small tutorial groups. Students can have one-to-one meetings with staff in their weekly office hours and at other times. And staff meet regularly with student representatives to listen to student concerns, and get your perspectives on departmental policies.

6. A chance to study abroad

You have the opportunity to study abroad during your degree, choosing to take a year or a semester in another country rather than in Sheffield. We have study abroad programmes available with 34 Universities in Australia, Canada, Hong Kong, India, New Zealand, Singapore and the United States, as well as 5 universities in continental Europe. And if you take philosophy as a dual with Modern Languages and Cultures, you will spend an additional year abroad anyway as part of your degree.

7. An active community of philosophy students

We are proud of the various projects which our students have set up on their own initiative. One of the most successful is Philosophy in the City, set up in 2006 by undergraduates wanting to start their own programme of teaching philosophy in local schools, particularly those in underprivileged areas. The award winning programme continues to flourish and has expanded into work with young persons' homeless shelters and probation hostels. And that's not to mention the extremely active Student Philosophy Society, the Philosophy sports teams, the student organised philosophy summer ball, and the Undergraduate Philosophy Journal, PhilonoUS, set up and edited by our students.

8. Fantastic extracurricular activities

BA Philosophy students rated us 96% for student satisfaction in the 2019 National Student Survey.

There is more to university life than academic study. You will also want to be at a university where you'll have lots of extracurricular options, and in this respect you simply can't do better than Sheffield. Sheffield Students' Union has been voted no. 1 in the UK (Whatuni Student Choice Awards 2019, 2018 and 2017): with over 240 student societies, the Union offers something for all interests and hobbies, and goes towards making Sheffield one of the best places to study in the UK.

9. A vibrant and beautiful place to live

Sheffield combines the benefits of a big city with the friendliness and ease of a small town. It has a very active music and theatre scene, as well as fantastic nightlife. And with the Peak District only 15 minutes away, it is easy to get out and enjoy the countryside for walks or outdoor sports. Sheffield also has a very low cost of living and is regarded as one of England's safest major cities.

10. Excellent career prospects

96% of 2016/17 Philosophy graduates secured employment or went into further study (Source: Destinations of Leavers from Higher Education 2016/17)

In the course of your degree you will learn to argue and think clearly, to analyse complex issues carefully and to communicate your ideas in an articulate and accessible manner. Philosophy graduates thrive in a range of careers, including teaching, law, civil services, journalism, publishing, charities, advertising, investment and local government. We offer career advice and guidance throughout your degree, both within the Department and through the University's excellent Careers Service.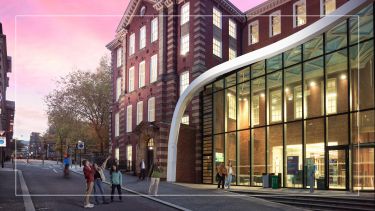 Visit us
Discover what sets Sheffield apart at our undergraduate open days on the Saturday 21 October or Saturday 18 November.